Sebastian's Team Pick:
I get straight ecstatic when I see honest and positive exploration of trans issues in mainstream media. STRAIGHT GIDDY. So imagine my excitement when I saw The New Republic's Tumblr today promoting Breaking Boundaries, a new gallery "of stories and images of transgender Americans.wp_postsIt accompanies Eliza Gray's article about the civil rights of transgender people in our country which opens asking "What will it take for America to accept transgender people for who they really are?"
About Breaking Boundaries, Gray writes:
"This project began five months ago as a simple reporting assignment: investigate how people who were making the transition from one gender to another learned to alter their voices. That relatively simple inquiry, however, opened a vast array of issues and questions, and introduced me to a number of people whose lives—despite any proclamations of banality—were utterly inspiring. The scope and length of the article grew, and eventually it turned into a broad look at the state of the transgender rights movement.
"Several weeks ago, TNR's art director, Joe Heroun, conducted a photo shoot in New York with eleven members of the transgender community. I spoke to them and learned about their lives. There was Maggie Stumpp, who transitioned at the height of a successful career in finance. Or, Laverne Cox, who survived intense bullying as a boy in Mobile, Alabama, and has become a stunning and confident actress and producer. And Sam Berkley, our cover subject, a self-described "scrappy kid from Brooklyn," who decided he was "done with this girl shit" and transitioned a year ago. He is now a plaintiff in a civil rights law suit against New York City.
"It would be impossible to catalog or classify all the varieties of transgender experience. My hope, however, is that the following gallery contributes to our understanding of this community."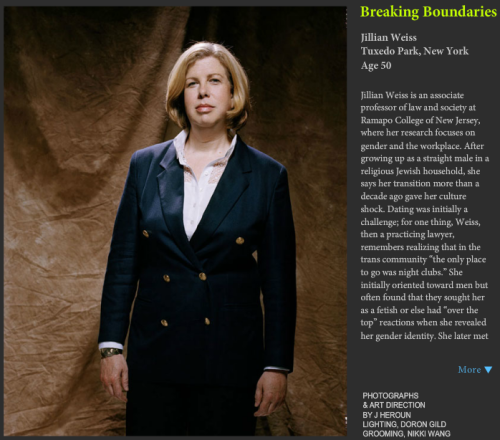 Often the focus in this type of media portrayal is on the transition – a trans woman shaving, a trans man binding his breasts. This gallery is different. These photographs show the men and women they feature as strong individuals, dressed professionally, looking proud, powerful, comfortable, and happy. In two of the photos, two romantically-involved trans women share a genuine embrace and kiss. The gallery is honest but it is about the people, as they really are. How refreshing!