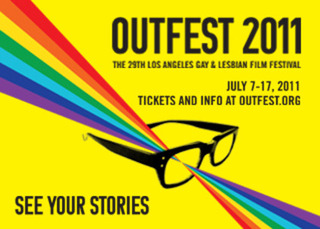 It's that time of year — when gay & lesbian filmmakers begin touring the big, bad world in hopes of finding an audience for the labor of love they poured their creative energy into over the last 12 months. Many of these films are self-financed or funded through generous donations by friends, family and fans without whom these stories would never make it off the written page.
Much like Sundance and the Tribeca Film Festival, LGBT film festivals such as San Francisco's Frameline, LA's Outfest and New York City's Newfest include features, shorts, panels & special events in cities all over US. Even if you can't make it to your city's  festival this summer/fall, be sure to save these films to your Netflix queue as they will surely be released on DVD later in the year.
Upcoming 2011 LGBT Film Festivals:
Los Angeles Outfest: July 7-17
Philadelpha Q Fest: July 7-18
New York City Newfest: July 21-28
Vancouver: August 11-21
North Carolina: August 11-14
Austin: September 6-12
Portland: September 30-October 8
Tampa: October 6-16
Seattle: October 14-23
Films to look out for:
Longtime Auto-friends Jill Bennett and Cathy DeBuono are back as married, lesbian therapists in the second season of We Have to Stop Now, this time reborn as a full length feature film. Interwoven with hilarious vignettes from client sessions, the story follows the couple as they go on a Sweet cruise to promote their book, How to Succeed in Marriage Without Even Trying, and are forced to re-evaluate the complications within their own relationship with help from their own marriage therapist, played by Suzanne Westenhoefer. Meredith Baxter, John W. McLaughlin and genius series writer Ann Noble co-star.
[yframe url='https://www.youtube.com/watch?v=SWxt4z5Ko4s']
Originally premiering at Sundance to great word of mouth, this sci-fi comedy lovingly parodies the black-and-white B-movies from back in the day, complete with cheesy special effects, (intentional) stiff acting and government paranoia. It tells the story of codependent Barr (Cynthia Kaplan), promiscuous Zylar (comedian Jackie Monahan), and sweet Zoinx (Susan Ziegler), three shiny-headed space aliens on a mission of heartbreak. The story follows the adventures of lesbian space aliens on the planet Earth, and the story of the romance between Jane, a shy greeting card store employee, and Zoinx, the woman Jane does not realize is from outer-space.
[yframe url='https://www.youtube.com/watch?v=ecILvyLG4hc']
Though Courtney Love was Hole's chaotic and thereby recognizable front woman, Patty Schemel was its true innovator: a female rock drummer, openly gay woman, and recovering addict once on the brink of homelessness. P. David Ebersole's documentary debut weaves through the most difficult and celebrated moments of Schemel's life at the height of the grunge era. Hit So Hard features members of Hole, Veruca Salt, The Go-Go's, Faith No More, and The Bangles and includes never-before-seen home video capturing intimate family life with Kurt Cobain, Courtney Love, and an infant Francis Bean.
[yframe url='https://www.youtube.com/watch?v=p4ANYA3nvKE']
Pitched as Show Me Love meets 500 Days of Summer (read: dyke drama+random musical numbers), the story follows Jamie (Jacqui Jackson) moving from Chicago to New York to become a Broadway actress. Her best friend Jessica (Jessica London-Shields) is bummed because she's secretly in love with Jamie and begins trying to make Jamie jealous by dating other girls as moving day gets closer. Examining the co-dependent, loyal friendship between these two women, writer/director Wendy Jo Carlton (Hannah Free) was inspired to make the lesbian version of indie faves like Garden State and Lost in Translation based on the universal experience of falling in love with your best friend.
[yframe url='https://www.youtube.com/watch?v=jSbtthe98A4′]
Bet ya never imagined Cinco de Gayo would churn out a feature length film, eh? This intensely personal documentary chronicles the heart-wrenching decision country star Chely Wright makes to come out of the closet despite the potentially crushing response from the industry and her fans. The doc is receiving rave reviews and won the Grand Jury Prize for Best Documentary at the Los Angeles Film Festival this month.
[yframe url='https://www.youtube.com/watch?v=xrC-nw1Oc3M']
This dramatic love story between two liberated 16-year-old girls (Nikohl Boosheri & Sarah Kazemy) in Tehran is potentially incendiary stuff in a country where their relationship could mean the death penalty. The film goes deep into Persian culture, dealing with very real youth and family issues in Iran. If unable to catch it at your city's film fest, Circumstance will be released nationwide in the US on August 19th.
[yframe url='https://www.youtube.com/watch?v=aD7wieh-m-0′]
Set in the ballroom world originally memorialized by the documentary Paris Is Burning, this is an original big, gay musical set in the scene in Los Angeles 2011. Essentially Glee meets RENT meets Dreamgirls, Leave it on the Floor is pulsing with energy, joy, and some of the catchiest and queerest dance songs ever.
[yframe url='https://www.youtube.com/watch?v=NkuuHX1iebE']
This film by Auto-friends Rachel Diana and K. Rocco Shields of Wingspan Pictures challenges our current conceptions of the phrases "gay" and "straight" by switching, not only their meanings, but also the culturally instigated conditions that are commonly paired with the phrases; like suicide in response to bullying. Love Is All You Need? tells the story of Ashley, a young teen who is raised in the 'picture perfect all-American family' – with two moms, two grandpas, two uncles, and a little brother. But Ashley has a problem – she has a crush on a boy at school, which is against everything this world has ever taught her. This undeniable attraction to the opposite sex causes her to be the constant target of verbal and physical abuse until she is driven to a tragic end.
[yframe url='https://www.youtube.com/watch?v=a2OmY_0Ojsc']
This dramedy co-written by Paula Goldberg (Out at the Wedding) revolves around a devoutly Catholic wife and mother (played by Kathleen Turner) who has been nominated for "Catholic Woman of the Year." Emily Deschanel plays her daughter, a successful lawyer who is five months pregnant and about to marry her girlfriend played by Angelique Cabral. As Deschanel's character struggles to come out to her mom, the son (Jason Ritter) has just left his wife for an older woman while her husband is a recovering alcoholic. Through all this, Turner goes about trying to prove she has the "perfect" family for the board's final approval.