Feature image by marius klapatauskas via getrefe.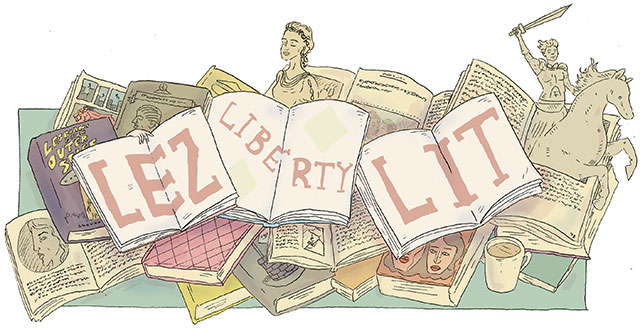 Things About Queer Books (And Other Books Relevant To Your Interests)
Not sure how to find queer books? Danika Ellis recommends seeking out queer publishers (when it comes to comics, here are some suggestions), reviews, books blurbed by obvious queer authors, and anything described as about "boundary crossing," "identity," or "love in an unexpected place." (Danika also writes about how it's time publishers started to say "bisexual".)
The 2015 VIDA count, which examines race and ethnicity, gender, sexual identity, and ability across a selection of mainstream publications, has been released. Spoiler alert: large publications are publishing appallingly few trans women. Other demographics are also still not great.
SJ Sindu and Gabrielle Bellot discussed publishing, marginalization, the label queer and more at Lambda Literary. Sindu notes: "As a queer reader, it's immensely helpful to me to be able to identify other queer writers. And as a teacher, I can easily include queer writers in my syllabi. But as a writer, my relationship with the 'queer' label is complicated." And, on the assumed white, straight, cis-ness of a character unless stated otherwise, Bellot notes: "Certainly, it is not unreasonable to make assumptions about certain character attributes if a story takes place in certain cultural spaces. But these assumptions are ultimately just that: assumptions, ones that reveal biases that often serve to quietly erase us, even if the people making these assumptions are not aware of these biases."
"The story of the important, inappropriate literary man is so common and entrenched as to feel depressingly unremarkable […] In terms of artistic value, this man is often phenomenal, the type that can define and support an institution; in terms of his effect on half the women writers he encounters, this man frequently adds up to shit." At Jezebel, Jia Tolentino writes about exploitative literary men and how their time might finally be up.
It's Beverly Cleary's birthday!
Experimental feminist literature to add to your to-read list could include Oreo by Fran Ross, Inferno by Eileen Myles, and Commentary by Marcelle Sauvageot.
The Lulu Board — Anna March, Jen Fitzgerald, Ashley Ford, and Ashley Perez — has found that 75% of the top 23 literary prizes go to people in academia: "We are not suggesting we do away with the academy. […] What we are saying is: let us honestly talk about the inclusiveness issues in academia; let us look at the data on prizes and the intersection of prizes and academia; let us discuss, all of us, what we need to do to rectify the problems, take ownership, and effect change. Let us commit to upholding inclusiveness as a shared value and then keep one another accountable."
It is time for institutions to stop worrying about the singular "they."
The narrator in Rebecca often almost but does not quite have tea.
Gabby Riviera was profiled in Latina, noting: "I feel like there's this catalog of stories of women who fall in love with other women but they die, whether it's cancer or a brutal murder. There's so much trauma associated with being lesbian, queer or identifying in a non-traditional sort of a way. As a writer, I'm over it."
Here is an occult reading list.
A lot of words that use "cunt" as their root are now in the OED.
You can read a new poem from Claudia Rankine in the New Yorker.
At the Poetry Foundation, Arielle Greenberg writes about Eileen Myles, fame, and American poetry.
A new series at the Rumpus from Deesha Philyaw will highlight women writes of color, starting with Desiree Cooper.
Sometimes you have to do a book report on Moby Dick in ten minutes so you rap it.
At Autostraddle, Mey wrote about which DC rebirth comics you should read and about Lumberjanes.
Book Things To Do In Person
1 April: Submissions for Best Women's Erotica are open until April 1. The editor is looking for more queer stories, looking for stories starring trans women and open to a wide variety of stories featuring queer sexuality as long as they fit the guidelines.
20 April, Los Angeles: The City of West Hollywood Lesbian Speakers Series presents Sarah Schulman in conversation with Michelle Tea at the West Hollywood Library Council Chambers (625 N. San Vincente Blvd.), 7 p.m. Free admission.
Know of a queer event with literary merit? Send it to us! The Liberty Lit is bi-weekly.
---
Books! They are really great. You just won't believe how great they are. You may think that the Internet's great, but that's just peanuts compared to books. In Lez Liberty Lit, we talk about queer books and literary shit that's happening that you should probably care about.
The name "Liberty Lit" was inspired by the short-lived literary journal produced by Angela Chase at Liberty High School in 1994.