Welcome to the third recap of the third season of Faking It, a YouTube tutorial series about how to achieve smoky bedroom eyes on a budget from the network that brought you Snooki & JWowww.
---
Once upon a time in a land far, far away, before Karma embarked on a musical career that included instrumental odes against free iPads and backyard ballads to win her best friend back, there was "Hump Day."
Hump Day, a video clearly inspired by Rebecca Black's "Friday," is the video Amy and Lauren were talking about leaking last week. The video is full of fun ephemera: Karma with Marcia Clark curls, Karma crawling on a desk in a short skirt, Karma oozing about "Hump Day" in a belly-dancer costume in front of a giant plastic camel, Karma with braces, etc.
It's already a Viral Hit on the interwebs!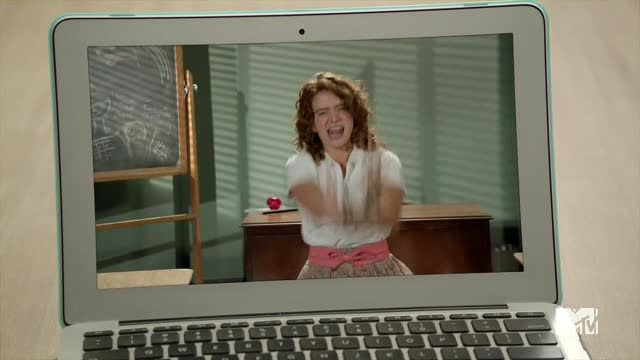 Liam feels sorry for Karma, which Shane thinks is 'cause Liam isn't over Karma. Let's just talk about who is or isn't over Karma forever and ever and ever and ever and ever! Let's never talk about anything else! (Except for how Amy slept with Liam that one time. Let's make room to talk about that, too.)
The kids at school have lots to say about this video, 'cause even Yarn Arts enthusiasts who only eat twigs and gluten-free cornbread and believe in horticulture aren't above some good old-fashioned totally un-funny bullying at Karma's expense.
Thanks to Karma's morning meditation with Dylan, she's able to say that she is completely Zen about the whole thing! She's lying, of course, but Dylan believes her 'cause he's a tool.
Karma confronts Amy on the resplendent lawn of Hester High but it quickly becomes a Karma/Lauren battle rather than a Karma/Amy battle. Lauren says it's impossible for Amy to get over Karma when Karma keeps luring her back in, like that time she kissed her in the pool! But Karma was drunk! Lauren wants to know why Karma thinks everything is somebody else's fault! Karma wants everybody to know that obviously Lauren is just trying to make her the villain so she can keep Amy to herself! Amy is like, "No, you are the villian though."
"You want a villian? You're gonna get one," says Karma, storming off in her tiny shorts.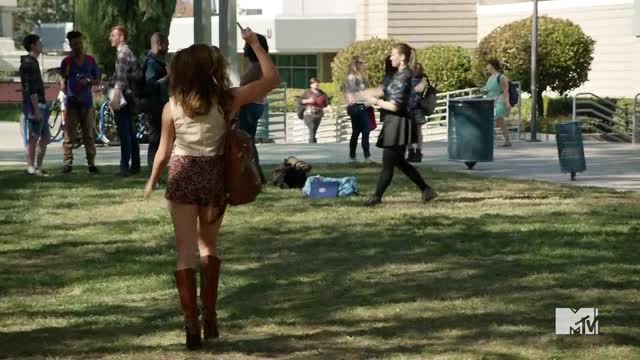 None of this bothers Shane, though, 'cause Shane is Switzerland. He's cool, neutral and very expensive. Therefore, he refuses to take sides, even when Karma attempts to bring him over to the dark side by feeding him trash Amy allegedly talked about him.
Cut to Sustainability Class, where Amy and Liam are so excited to be lab partners. However, this situation does provide Amy with a crucial bit of information: Karma was telling the truth about Zita! Zita kissed HER, not the other way around. Liam confirms it, so it must be true.
Amy heads off to tell Karma she's sorry, because love means having to say you're sorry a lot. Lauren pleads with her to NOT apologize, I mean, don't forget the pool kiss! But Amy knows that if she's truly over Karma, the pool kiss shouldn't matter. Am I right, ladies?
Unfortunately, Amy's plan is thwarted when she turns the corner and faces a hallway strewn with papers. It's like everybody got their Hogwarts letter on the same day, which'd be a big blow to Hester, but I think that Penelope would be okay because she wants her children to follow their dreams. Turns out that these papers are pages Karma ripped out of Amy's top-secret diary, chock-full with scenes like "sex dreams about Karma" and "motel stakeouts with Lo-Lo." I think the only thing scarier to me than everybody reading my diary is not having all my diary pages in order in the diary itself in a drawer in my room for me to read and write in.
Pages: 1 2See entire article on one page