Feature image via shutterstock.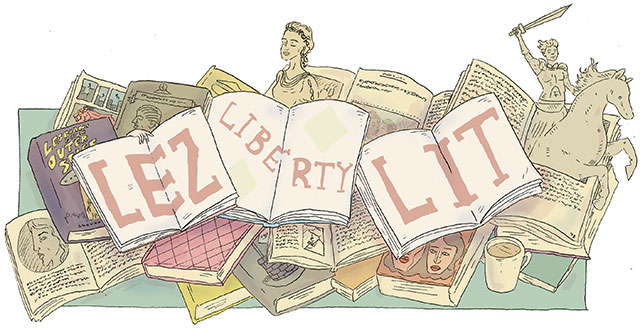 Things About Queer Books (And Other Books Relevant To Your Interests)
If you've been wondering why Hamilton appeals to queers (and at least one of you has, see also the detailed explanation in the comments), Disha Jani's explanation of historical fiction as resistance might help:
"The Hamilton cast's BET Cypher from last October has been widely praised as historic – the first time a Broadway cast was featured on the legendary platform – and its Genius page is dense with annotations on the verses performed by Lin-Manuel Miranda, Renée Elise Goldsberry, Daveed Diggs, and The Roots' Black Thought. Each performer's part rings out with the lyrical complexity expected in freestyle rap, but this particular Cypher thuds in my memory with one theme uniting the verses: justice. The verses resonate as joy-filled fuck yous to systems of exclusion and oppression.

What does this mean to listeners? Why does the Hamilton audience feel such triumph at the line from the show, 'Immigrants: we get the job done'? Where does that feeling come from? I think about the ways in which historical fiction can be a form of resistance to a homogenizing view of our world and our past. There are certainly more immediate and material ways to resist oppression — legislating, organizing, protesting, boycotting, and mobilizing are very powerful ways — but sometimes, just existing and living your life, having your story told, can have an impact."
Sometimes you buy the same book again and again.
The best way to decorate your dream library definitely involves a reading lamp, which "are good for nighttime, or when you need to draw curtains over the light because its presence only further depresses you. I use the term 'lamp' broadly — a chandelier, candelabra, or wall sconce will do just fine. A fireplace also works well for burning painful reminders of happier times." And who doesn't want a rolling bookcase ladder?
What you read influences what you write, writes Victoria Cho, exploring why she kept writing white protagonists.
It's not that women writers disappear, it's that sexism needs to:
"But getting attention for women writers in mid-life or late-life? They tend to "disappear"—even if they never stop writing, attending conferences, holding workshops, giving readings. They just don't get—here's the word—the publicity. Some of this is structural—sexism is at least as big a problem in the literary arts as in every other part of society. The work done on highlighting the disparity in publishing between men and women by groups like VIDA illustrate this powerfully. No matter how unfair this is, the effect is still there. They don't look as pretty, as fresh, as hopeful in their headshots—and the punishment is maybe having a prominent male writer talk about you in a radio piece, praising your work, saying "Where the hell have you gone?" or worse, having no one talk about your work at all.
The Millions has a list of non-fiction to look forward to in 2016.
What were David Bowie's top 100 books?
New York magazine has collected the breakthrough moments of people like Ta-Nehisi Coates, Carrie Brownstein, Dita Vin Tesse, Sheila Heti, Jill Soloway and more.
You shouldn't feel guilty about buying used books. (Do people feel guilty about buying used books?) You could maybe feel guilty about spending several hours designing elaborate wigs on the internet though.
I have never had a feminist action screenplay turned into a blockbuster but I am certain that this is what the letter would look like.
At the Los Angeles Review of Books, Evie Shockley, Maria A. Windell and Roderick A. Ferguson (in part 1) and Catherine Zuromskis, Kenneth W. Warren and Lisa Uddin (in part 2) reconsider Claudia Rankine's Citizen. Organizer Daniel Worden writes: "Citizen must be read as both a poetic work and a political work, a meditation on activist struggles and literary aesthetics."
Love these illustrations of unusual words.
Are there unforgivable sins in literature?
At the Lesbrary, Danika reviewed (You) Set Me on Fire by Mariko Tamaki.
At Autostraddle, Ali wrote about Dryland by Sara Jaffe. I wrote about forthcoming books that are relevant to your interests. Mey wrote about Never Satisfied and comics she can't wait to add to her pull list this year. Heather wrote about the serialized Tremontaine. Maria Popova (!) wrote about eight authors who connect our past to the present.
Book Things To Do In Person
24 January, New York: The first meeting of the Gilmore Girls Book Club, discussing books important to the Gilmore Girls universe, will discuss The Year of Magical Thinking at the Word (126 Franklin St.), 5 p.m.
1 April: Submissions for Best Women's Erotica are open until April 1. The editor is looking for more queer stories, looking for stories starring trans women and open to a wide variety of stories featuring queer sexuality as long as they fit the guidelines.
Ongoing: Help Glad Day Bookshop in Toronto build a library for Canada's first LGBTQ2S youth shelter.
Ongoing: For Books' Sake is looking for unpublished short stories from self-identifying women (especially women of color, queer women, women with disabilities and other marginalized voices) for its weekly Weekend Read. Submit any time.
Know of a queer event with literary merit? Send it to us! The Liberty Lit is bi-weekly.