Feature image via shutterstock.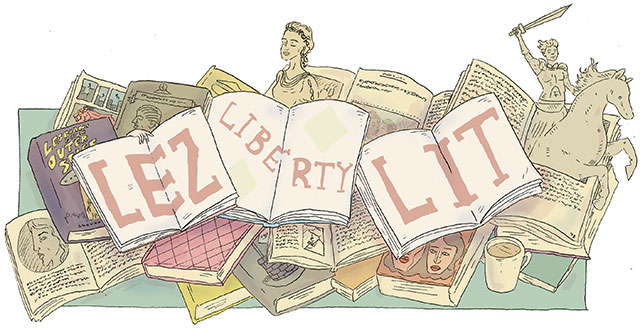 Things About Queer Books (And Other Books Relevant To Your Interests)
Read more weird women! Suggestions include Charlotte Perkins Gilman, anything from Silvia Moreno-Garcia, Caitlin Kiernan and more.
At the shiny, newly redesigned Toast, Laura Passin writes about Anne Carson, "a poet of perversities," elaborating: "By that I don't mean that she writes graphically about sex (though she does) or that she makes art that is unseemly and difficult (though she does that too). What I really mean is that she works on the edges of what's acceptable, in every book and genre in which she participates. She works most with the parts of life that make no sense and do not help you, only somehow she transforms them into poetry that both fulfills and deranges what you think poems should do."
The best queer books to read this Halloween include The Haunting of Hill House by Shirley Jackson, The Gilda Stories by Jewelle Gomez (which Melanie reviewed), White Is For Witching by Helen Oyeyemi and more.
Get excited for more new books this fall, including Long Red Hair by Meags Fitzgerald (which Mey reviewed), Hunger Makes Me a Modern Girl by Carrie Brownstein (reviewed at Lambda Literary) and more.
Tremontaine, a collaborative serial involving Malinda Lo, Ellen Kushner, Alaya Dawn Johnson, Joel Derfer, Racheline Maltese, Patty Bryand and Paul Witcover, launched earlier this week and features swash-buckling, intrigue and queer folks.
Emily Books's latest selection also looks rad: "Imagine a Joan Didion who likes food and drugs and rock and roll and fun, or a Weetzie Bat a couple of decades early: that's Eve Babitz."
Witches of America, by Alex Mar, is excerpted at The Cut: "We're each here, in part, out of a desire to share secrets with the tiniest of in-groups, and if none of this — this specific tradition, or magic in general — is real, then we, the participants, have just forfeited a shot at being special. And we've spent valuable time on a 'practice' that's undeserving of it. And, taking it a step further, everyone in this coven is a wackjob, or at least doing a great impression of one. All religious communities, to some degree, function in this way, bolstered by the collective's dream of specialness — a specialness spun out of practices whose value can never be verified in the practical world." (Mar was also interviewed at the Miliions.)
People used to ask librarians interesting questions.
Publishing! It's still racist and sexist.
Is there science behind writer's block?
Patti Smith's new memoir, M Train, is "obsessively literary."
We can all stop worrying about the death of print now.
People made some art using typewriters.
Sometimes a porch witch is not just a porch witch.
The Night Vale novel is here!
Eileen Myles spoke to Alexander Chee about having new and old work released at once, the integrity of the work, her new book, writing about herself from multiple vantage points and more.
At the Lesbrary, Marthese reviewed Aces by Kathryn Burns. Megan Casey reviewed 1222 by Anne Holt. Rachel reviewed If You Could Be Mine by Sara Farizan.
At Lambda Literary, Mitch Kellaway reviewed Impersonation by Joy Ladin. Sandra Lambert reviewed QDA: A Queer Disability Anthology edited by Raymond Luczak. Sarah Sawyers-Lovett reviewed Signs Point to Yes by Sandy Hall. Helen Eisenbach discussed working in queer publishing in the early 80s.
Here at Autostraddle, Melanie wrote about The Gilda Stories. Mey wrote about Aatmaja Pandya's "Travelogue." I wrote about Girl Sex 101.
Book Things To Do In Person
26 October, Iowa City: Vetch Poetry is a new journal of trans poetry and poetics — one of the first venues that will publish only poems by trans poets. Celebrate its launch at Trumpet Blossom Cafe (310 E Prentiss St.), 8 p.m.
26 October, San Francisco: RADAR is hosting the second installment of its "Queering the Castro" series, featuring Julia Serano, Juba Kalamka, Carson Beker and Dawn Robinson, at Magnet (4122 18th St., San Francisco), 7 p.m.
30 October, New York: Celebrate Bluestockings keeping its space and running a crowd funding campaign at Bluestockings (172 Allen St.), 7 p.m.
31 October, Los Angeles: Tavi Gevinson will present and sign Rookie Yearbook 4 at Skylight Books (1818 N Vermont Ave.), 5 p.m.
1 November: The deadline to submit to Femme to Femme, "a literary non-fiction,varied anthology seeking to explore femme* identity in the 20th and 21st century through poetry, prose, essays, stories/narratives, illustration/art and photography," is today!
11 November, New York: Radicals: Public Sex and Kink Edition will feature Laura Antoniou, Dandy Darkly, D.L. King and other authors at The Eagle (354 W 20th St.), 7 p.m.
20 November, New York: Cheryl Strayed will launch her new book of quotations, Brave Enough, at Housing Works Bookstore Cafe (126 Crosby St.), 7 p.m.
1 December: Submissions for Topside's short speculative fiction anthology by trans writers are due.
1 December: Submissions for #Trans: An Anthology Collection about Transgender and Nonbinary Experience Online are due.
Know of a queer event with literary merit? Send it to us! The Liberty Lit is bi-weekly.