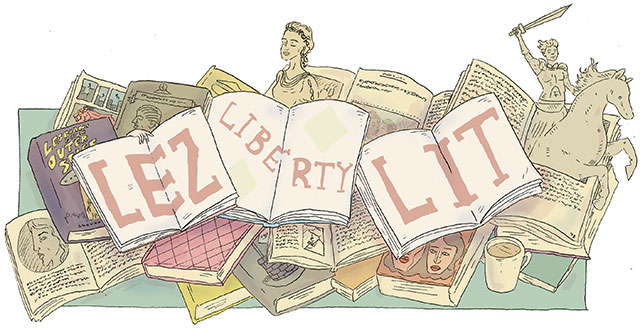 Scratch magazine held a conversation about how writers of color are affected by race and class privilege in publishing:
"I would say what's happening in some of the larger publishing companies is that they're publishing fewer books generally than they have in the past, and so they're trying to publish those to audiences that they think they have mastered, they've already identified. And there's a lot of data now in the way there wasn't in the past, which can cut two ways. The olden days of "gut feelingswp_postsis passing away, and that's not such a bad thing — gut feelings are often laced with implicit and untested biases. But my fear about more data-driven publishing is that it leads to companies engineered to sell books to people they've already identified.

And that means that it's almost like, if you got on the boat already, you're in. But if you're not on the boat already…then the boat's gone, and you're not getting in."
Also, is there a lavender ceiling?
Doll Hospital, an art and lit journal on mental health, will feature contributions from Tavi Gevinson, Latoya Peterson, Esme Wang, Kate Zambreno, Mey Valdivia Rude, Kristina Wong, and Diamond J Sharp, and looks awesome.
Katherine Howe, editor of The Penguin Book of Witches, discussed being the descendant of three accused Salem witches, empirical verification, the machinery of power and more.
Susan Sontag's entire digital life is accessible to researchers, begging the question, "how much information is just too much information?"
Some days there is nothing better than spending some time doing nothing all by yourself. Keep your own company sometimes.
We Need Diverse Books launched an Indiegogo campaign to support its advocacy efforts.
Casey the Canadian Lesbrarian recommends queer Halloween reads, including The Haunting on Hil House, Skin Folk, Affinity and more.
Electric Literature has a few recommendations and some short stories as well.
Novels used to be considered bad for you.
The best book recommendations come from librarians working with algorithms.
LeVar Burton read Go The F*ck To Sleep and it is just as wonderful as it sounds.
The near future isn't scary at all.
The British Library is hosting an exhibition on gothic storytelling.
There might be a Joan Didion documentary.
Anne Helen Peterson's Scandals of Classic Hollywood was reviewed at the Rumpus.
At Lambda Literary, Sara Rauch reviewed Petit Mort by Beatrice Hitchman. Daphne Sidor reviewed Alice + Freda Forever by Alexis Coe. Mitch Kellaway reviewed Make Love to Rage by Morgan Robyn Collado. Victoria Brownworth gathered some lesbian mysteries. Anna Furtado reviewed Eight Dates by Lori Lake.
At the Lesbrary, Rachel reviewed Dare Truth or Promise by Paula Boock. Danika reviewed White is for Witching by Helen Oyeyemi. Danika also reviewed lesbian classic Carmilla. Kate reviewed Unicorn Hunting by A.R. Hellbender.
Recently on Autostraddle: The Speakeasy discussed Sister Outsider. Mey wrote about Lumberjanes' seventh issue.
Events To Watch Out For:
Today, Oct. 30, New York: Alexis Coe, Isaac Fitzgerald, and Molly Rose Quinn will discuss Alice + Freda Forever at the Housing Works Bookstore Cafe (126 Crosby St.), 7:00 p.m.
Know of a queer event with literary merit? Send it to us! The Liberty Lit is bi-weekly.
---
What We've Been Reading:
Riese: I'M READING HARRY POTTER. Yup. I have officially taken the plunge because I am sick of never knowing what y'all are talking about! I'd actually read the first book over ten years ago, 'cause I worked in publishing and so I basically was told that I had to, in order to understand current trends, but I barely remember it, so I started by re-reading that and now I'm on the second and I think Heather and I are gonna write a thing about it. G-d bless my free trial of Kindle Unlimited.