by carolyn & riese
feature image of 1980s YA Book Club pack via ETSY.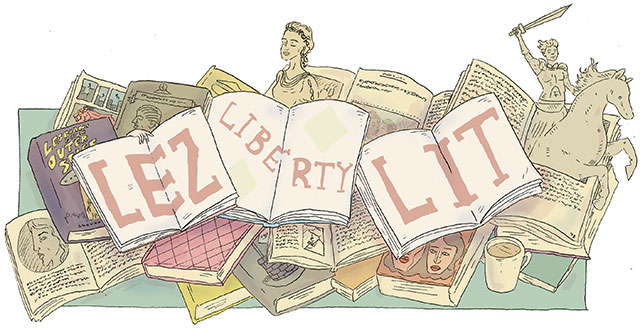 Books! They are really great. You just won't believe how great they are. You may think that the Internet's great, but that's just peanuts compared to books. In Lez Liberty Lit, we talk about literary shit that's happening that you should probably care about. The name "Liberty Lit" was inspired by the short-lived literary journal produced by Angela Chase at Liberty High School in 1994.
---
At Talking Writing, Aimee Phan discussed how mainstream critics fail writers of color:
"Few people read literary fiction, and those who do typically turn to critics to discover which books deserve their time. But if those critics are to be believed, few writers of color make the cut. According to rough counts for 2011 to 2012 compiled by writer and teacher Roxane Gay and a graduate assistant, 90 percent of the books reviewed by the New York Times during that time period were by white writers, leaving a 10 percent sliver for writers of color.

These depressing estimates, first published in the Rumpus in 2012, confirm what many writers of color like me have always feared: that the words over which we've labored and sacrificed ourselves for years—the books we've written, revised, edited, and finally published in order to contribute to the literary landscape that's inspired us—don't matter to the influential gatekeepers of the reading population."
If you read novels, you might be (or become) less anxious.
At the Billfold, Nicole Dieker discusses how freelance writers actually make a living.
More than 120 academic papers are being removed from a subscription service after being revealed to be computer generated.
Raachel Luban reviewed Janet Mock's recent memoir, Redefining Realness.
On writing from photographs instead of from notes.
At Emily Books, Tits and Sass editor Caty Simon discusses Notice by Heather Lewis.
This six-year-old collecting books for homeless kids will make you feel like you need to accomplish more with your life.
"Huh?" is one of the first universal words.
Writers seem to have a thing for working on trains.
People in India read an average of 10 hours and 42 minutes a week, according to the NOP World Culture Score Index. People in Canada read 5:48 hours per week, while people in the US read 5:42 hours.
Books that win literary prizes become less popular.
At the London Review of Books, Mary Beard writes about women and voice in the public sphere:
"My aim here – and I acknowledge the irony of my being given the space to address the subject – is to take a long view, a very long view, on the culturally awkward relationship between the voice of women and the public sphere of speech-making, debate and comment: politics in its widest sense, from office committees to the floor of the House. I'm hoping that the long view will help us get beyond the simple diagnosis of 'misogyny' that we tend a bit lazily to fall back on. To be sure, 'misogyny' is one way of describing of what's going on. (If you go on a television discussion programme and then receive a load of tweets comparing your genitalia to a variety of unpleasantly rotting vegetables, it's hard to find a more apt word.) But if we want to understand – and do something about – the fact that women, even when they are not silenced, still have to pay a very high price for being heard, we have to recognise that it is a bit more complicated and that there's a long back-story."
If you or someone you love is a member of a book club, here are some defence mechanisms that may be relevant to your interests.
Some people organize their bookshelves by color and some people organize their bookshelves by content and some people don't organize their bookshelves and the only way to be a moral failure is by not having any books at all.
Casey the Canadian Lesbrarian reviewed On Loving Women by Diane Obomsawin.
Some favorite characters are exactly like us, but the best favorite characters are nothing like us: "Call it radical empathy, as Colum McCann does. Call it the moral necessity of metaphor, as Cynthia Ozick does. Call it containing multitudes, as Walt Whitman does. Call it anything you like — so long as you think it's important. So long as you understand that gaining access to identities, consciousness, and experiences different than your own is one of the most powerful and humanizing things a piece of art, particularly a book, can do for you."
At the Lesbrary, Danika reviewed Prairie Ostrich by Tamai Kobayashi. Kit reviewed Valhalla by Ari Bach. Jess reviewed Fire and Ice by Gaelle Cathy. Nicole reviewed Amara's Daughter by E.H. Howard. Jordan reviewed Nevada by Imogen Binnie. Abigail reviewed Riding Fury Home by Chana Wilson. Danika reviewed The Whip by Karen Kondazian. Marcie Bianco reviewed Baby, You Are My Religion: Women, Gay Bars, and Theology Before Stonewall by Marie Cartier. Chase Dimock reviewed Butch Queens Up in Pumps: Gender Performance and Ballroom Culture in Detroit by Marlon M. Bailey. Viet Dinh reviewed An Unnecessary Woman by Rabih Alameddine.
At Lambda Literary, Arielle Yarwood reviewed Revolutionary by Alex Myers. Sarah Burghauser reviewed Eating Fire: My Life as a Lesbian Avenger by Kelly Cogswell.
Recently, on Autostraddle: Loraine Kanervisto wrote about reading apps. Mey wrote about Kate Leth and Comics Alliance. Maggie wrote about Moleskines and feelings related to Moleskines. Carmen wrote about Playing the Whore. Audrey wrote about her top five books.
Events To Watch Out For:
7–9 March, Las Vegas: Queerography, a book of queer photography, will be at the LGBTQ Center Las Vegas (401 S Maryland Pkwy) for a book signing and behind-the-scenes stories.
10 March, New York: Melinda Chateauvert, author of Sex Workers Unite, discusses sex workers and social justice movements at Bluestockings (172 Allen St) 7 p.m.
19 March: Sister Spit's 2014 tour begins.
27 March, San Francisco: Queerography, a book of queer photography, will be at the LGBTQ SF Center (3rd floor lobby, 1800 Market St), 7 to 9:30 p.m.
29 March, New York: The sixth annual New York Rainbow Book Fair will feature more than 100 publishers, writers, poets, editors, booksellers and a crapload of readers (Holiday Inn Midtown, 440 W. 57th St.), noon to 6 p.m.
Know of a queer event with literary merit? Send it to us!
What We've Been Reading:
Carolyn: I started but have yet to finish The Flamethrowers by Rachel Kushner and The Ocean at the End of the Lane by Neil Gaiman. I also read the zine Julie Andrews and Cabins from Grace Ellis's hit tumblr by the same name.
Rachel: I recently unearthed my copy of NW by Zadie Smith and am excited to get back into it!
Riese: I read Joan Didion's The White Album — I was super thrown off by her essay about feminism, although it contained a few valid remarks, but obviously I love her pretty much unconditionally regardless. To be 100% honest I didn't read the last essay in the book because I'm an idiot and I left it on the airplane. But them, in a five-hour flight back home from Washington DC to San Francisco, I finally read Giovanni's Room. Spoiler alert: nobody told me that it was gonna have a depressing ending! I had Well of Loneliness flashbacks.
---