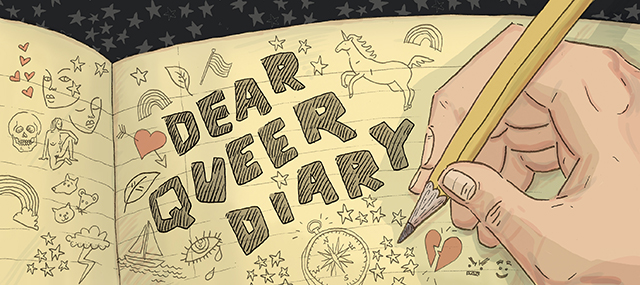 The time has come, my dear queer diarists, for this column to address an extremely controversial subject. Prepare yourselves for the ferocious arguments that will take place in the comments, and the relationships that will founder on the rocks of disagreement.
Today, we discuss the Moleskine notebook.
I, for one, have always been torn when it comes to the trademark black beauty that is the Moleskine. Which is not to say that I have not owned many. There was the original hardcover Moleskine that I toted about in order to record the innumerable "inside jokes" and hilarious teacher quotations that were an integral part of every high school day. Then, there was the reporter's notebook I received as a token of my tenure as the editor-in-chief of the school paper. My father, who has always had trouble grasping the idea that he can purchase me notebooks much faster than I can fill them up, has bestowed upon me multiple packs of the softcover Moleskines—including the almost impractically tiny pocket-sized model, in which I occasionally took notes during rehearsals for whatever play I was slaving over at that particular moment of college.
My current journal is, in fact, a Moleskine— the plain old 5"x8″ soft-cover version with thin lines that are the perfect size for my exceptionally small handwriting. One corner of the cover has been creased in transit from some location to another, and the stitching towards the bottom of the spine has begun to come undone; however, all things considered, my journal is hanging in there.
By now, I have lost the tastefully ivory-colored paper slip that was originally stowed in the back pocket of my Moleskine. You know, the one that claims the Moleskine is "the legendary notebook used by artists and thinkers over the past two centuries: among them Vincent van Gogh, Pablo Picasso, Ernest Hemingway, and Bruce Chatwin"? Back in my high school days, I recall being extremely impressed with that little slip of paper. However, as I have aged, my ability to romanticize what can only be described as an excellent marketing campaign has steadily diminished.
First of all, Moleskine, you didn't exist until 1997, so I'm pretty sure Ernest Freaking Hemingway probably wrote in a regular old non-"Moleskine" notebook.
Second of all, you couldn't think of single woman who might have used classy paper products in days of yore?
That's right, my fearless journalers. My Moleskine skeptic is about to bust out all over this column. And I'm guessing I am not alone.
Wikipedia details several manufacturing-related "controversies," one blogger is devoted to finding Moleskine alternatives, and the fountain pen nerds have stirred up quite a fuss about the shoddy paper quality, which allows ink to bleed from one page to another. A whole other camp of skeptics takes out their poison pens on behalf of their bank accounts: there is no doubt that there are cheaper notebooks out there.
I must admit that my objections to the Moleskine are less practical ones. There's something about the gratuitous "e" at the end of the name that I can't quite stomach, yes, but more, I can't quite come around to the idea that a company so entrenched in capitalism as to have released a "LEGO Limited Edition" notebook vaunts itself as a champion of individual creativity. Would Pablo Picasso have appreciated the opportunity to record his wine-tasting experiences in a handy dandy pre-printed notebook, complete with cutesy stickers?
And yet. And yet, and yet, and yet. There is still something so tasteful about a set of notebooks in different sizes, shapes, thicknesses, and designs that match one another in perfect minimalist fashion. There is still something so delectable about the millions of beautifully illustrated Moleskines that seem to populate my favorite corners of the internet. There is still something so alluring about the shiny black cover of a new Moleskine, the perfectly cut pocket in the back cover, and the sexiness of smooth paper and simple gray lines. This, my dear queer diarists, is why I am torn.
Where do you fall on the spectrum of Moleskine love and hate, Straddlers? Which is your favorite Moleskine model? Your preferred Moleskine alternative? Tell me all, my journaling geniuses. Let the Moleskine wars begin!
---
Dear Queer Diary is a column about the joys (and occasionally, the pains) of journaling. We crack open our tiny notebooks and break out the rainbow-colored pens on the regular, so get ready to limber up your writing hands and document all your beautiful feelings!
Header by Rory Midhani
Feature image via Soula