by carolyn & riese
Books! They are really great. You just won't believe how great they are. You may think that the Internet's great, but that's just peanuts compared to books. Welcome to Lez Liberty Lit, our column about literary shit that's happening that you should probably care about.
The name "Liberty Lit" was inspired by the short-lived literary journal produced by Angela Chase at Liberty High School in 1994.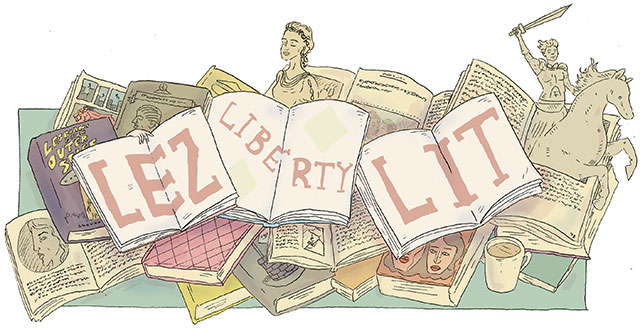 Lit Links
The Millions' Year In Reading, in which authors talk about all the awesome things they read in the past year, is running throughout December. Authors already featured include Edwidge Danticat, Choire Sicha, Rachel Kushner, Sarah Waters and more.
And 92 writers, including Julia Serano, Justin Hall, Monica Nolan, Sarah Schulman, Sassafras Lowrey, Mattilda Bernstein Sycamore, Mary Cappello and a ton of others, also talked about the favorite queer books they read in 2013 at Band of Thebes.
Alice Munro couldn't accept her Nobel prize in person, so she did it by video.
At Stacked, Kelly breaks down lists about the best YA published in 2013 by gender, experience, genre, diversity and more.
Reading fiction gives you more empathy, according to a new study discussed in Scientific American.
Norway's national library is going to be entirely digital by 2020.
The next set of Harry Potter editions will be fully illustrated by Jim Kay.
Books are still a pretty good way to store information if you want it to last.
Unless you use them to make holiday-themed crafts.
The old, unloved books of yesterday can be the secret stash boxes of tomorrow.
There will soon be a virtual world for Jane Austen fans.
The New York Times selected the 100 most notable books of 2013.
At the Rumpus, Stacie Williams reviewed Hyperbole and a Half, calling it "honest, funny, a little sad, hopeful, imperfect, and ultimately unfinished as part of her ongoing lived narrative."
Maria Popova picks the best art and design books of 2013.
At the New Yorker, Kenneth Goldsmith talks about why errors in Google Books scans are neat:
"The obsession with digital errors in Google Books arises from the sense that these mistakes are permanent, on the record. Earlier this month, Judge Denny Chin ruled that Google's scanning, en masse, of millions of books to make them searchable is legal. In the future, more and more people will consult Google's scans. Because of the speed and volume with which Google is executing the project, the company can't possibly identify and correct all of the disturbances in what is supposed to be a seamless interface. There's little doubt that generations to come will be stuck with both these antique stains and workers' hands."
At the Lesbrary, Anna reviewed How Sweet It Is by Melissa Brayden. Danika reviewed Fist of the Spider Woman, edited by Amber Dawn. Lena reviewed Andi Unwrapped by Riley Adair Garret. Rachel reviewed Innocent Hearts by Radclyffe.
At Lambda Literary, Anna Furtado reviewed Pale Wings Protecting, a mystery by Lesley Davis. Jefferey Berg reviewed The Late Parade, by Adam Fitzgerald. Courtney Gillette reviewed Sisterhood, by Julie R. Enszer. Julie MarieWade reviewed Collateral Light, by Julia Cohen.
Don't forget to check out all the awesome book-related things we published recently:
Events To Watch Out For:
December 13, New York: A silent auction and dance party for the Belladonna* Collaborative will be held at the Belladonna Studio (925 Bergen St., suite 405), with the silent auction starting at 7 p.m. and the dance party starting at 9.
December 31, New York: The Women's/Trans' Poetry Jam & Open Mike will be held at Bluestockings (172 Allen St.), 7 p.m.
Know of a queer event with literary merit? Send it to us!
What We've Been Reading:
Rachel: I've been rereading parts of The Pillow Book of Sei Shonagon for a project, and am finding that I am just as obsessed with it as ever. I also think I'm going to see if my dad will get me Flannery O'Connor's diary for Christmas; since it's called A Prayer Journal I'm hoping he'll think it means I found Jesus and will buy it for me without question.
Riese: So, I'd started reading the Hyperbole & A Half Book a few weeks back, but I determined right away that it was all stuff I'd already read on her blog, and so I set it aside for a rainy day when I felt like re-reading the blog (which is more often than you might think). Then an especially lovely human mentioned loving the book in a comment last LibLit, I believe, and I was like, hm, I should revisit it and be sure that I'm right that it's all stuff I've already read. WELL READER, I was wrong! There was lots of new stuff in there and I ate it all in one night and it was not what I expected, it was even better than that, and after reading that book AND Meaty, I had lots of self-revelations about self-acceptance that maybe I'll write about one day. Anyhow, now I'm about 52% of the way through Susan Choi's My Education, about a young grad student named Regina who has an affair with her former professor's wife. So far I want to bash Regina in the face with a large rock repeatedly, I'm making Carolyn read it too so she can tell me if she feels the same way.