Oh, commenters — I've missed awarding you all. But the one good part about being away from Autostraddle for a while? Coming back to a wealth of witticism! There are always shiny things to catch up on, like Audiostraddle's latest Weekly Music Fix and Technostraddle's Apple Tablet preview. Life-changing ladies like Lady Gaga and Miss January. And with the crazy goings-on of the Prop 8 Trial, it's good to know I can always rely on Autostraddlers to make sense of the world:


Lezoologist Award to Frankie The Tankie on Crystal's Team Pick: Lesboalas: "First scientists brand all koalas as drunks – our fluffy friends apparently known for getting severely 'snozzled' on eucalyptus leaves. Then they tell us that Chlamydia is rampant amongst the koala population and now…? Now they're "sexually fluid" marsupials. I'm sorry but when did the humble koala turn into Lindsay Lohan? Just joking – I'm sure Lindsay doesn't have… access to eucalyptus leaves."
Chicken Soup for the Lesbian Soul Award to JentheJew on Day 6 of the Prop 8 Gay Marriage Trial: "Whoever made the Family Circus graphic needs to explain to my boss why I am laughing explosively at my soul-crushing job."
Breaking Riese's "No Awards for Autostraddlers" Award to Riese on Golden Globes 2010:

R.I.P. Dana Fairbanks Award to Vikki on Weekly Music Fix: An Horse & Kaki King, Ke$ha, Coachella, & More!: "Slander against Annie. Write that down."
On Autostraddle Calendar Girls: Jennifer is Miss January:
"Is that a calendar in your pocket, or are you just happy to see me?" Award to RachelwasHere: "My parents mailed me a pocket-sized puppy calendar with a CARABINER CLIP for Christmas. Just in case I need to attach it to my belt loop so I never forget what day it is. Yes, I love it. And no, it will never leave my apartment."
Free Time Award to geneva: "i liked it the first way. because now i am trying to come up with different ways to pronounce preorder that make it sound like you are asking to do something other than pre-order, and coming up with definitions based on the pronunciation that are inappropriate and should not be repeated. i am doing this out loud alone in my apartment."
Time of the Month Award/bcw award for bcw to bcw & DemiArianna: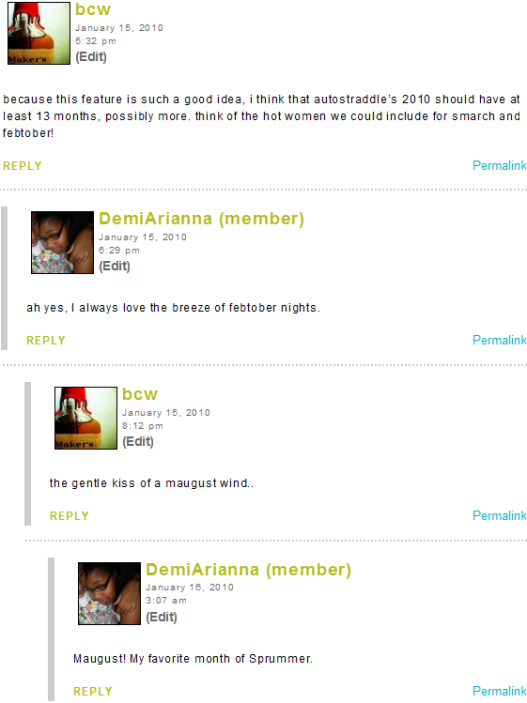 On NSFW Sexy Sunday:
Um, You're Welcome? Award to Saphicsass: "It's a good thing that Megan Fox is so damn unlikeable, otherwise my head may explode at how hot she is. Thanks for being an asshole, Megan. I can go to sleep now."
Kneel if You are Able Award to sarah: "My girlfriend and I were worried all day that the NSFW post was canceled, which doesn't really work for us, because we prefer to worship on Sundays."
On Prop 8 Gay Marriage Trial Explained Pt. 2:
Friendly Neighbor Award to Lexi – "I LOVE YOUR COUNTRY, it's like reality TV only way more sad and real."
Dean Porter Award to southpaw – "… then i come over to AS and all this is so easily explained by a kickass smoking lesbian lawyer. makes me reconsider that pricey 'ivy-of-the-west' education. Autostraddle University, anyone?"
Actual Straddle Award to DemiArianna & wasteunit on Prop 8 Gay Marriage Trial, Explained:


RETURN OF THE SCISSOR SISTER AWARD to cavekid on : "I was watching an episode of UK Celebrity Big Brother (don't ask) and they were playing a word scramble game and one the winning answers was Tribadism. Score one for mainstream scissoring acceptance!"
And the "I'm Just A Girl Standing in Front of a Website Asking you to Love Me Award" goes to Julia in MI on Gay Families Are Stylish, Speaking Out & Forever-Ever:
"I was looking for the "A Family Is A Family Is A Family" trailer earlier today, and couldn't find it. So OF COURSE you'd have it on your site when I got home tonight. Autostraddle, you're like my best friend who I have a crush on, 'cause you seem to remember the little off hand comments I make and you always make me feel better at the end of my day. But I don't want to admit it, because I worry how our relationship would change if you knew that I liked you."
Never change, Julia. Never change!