FAMILIES: The New York Times has a feature today in the Fashion & Style section on Children Taking the Stage in Same-Sex Marriage Push." [Sidenote: The Fashion & Style section? Really? I'm not sure if this reflects more on the gays as a fashion accessory or on the fact that Thursday Styles has always been a bit of a stretch.] Unfortunately it's not a style guide for parents attempting to dress their kids for court to best reflect superior parenting skills (although we'd suggest erring conservative; perhaps a nice sweater with a happy face on it because who wants to yell at a kid in a happy face sweater. nobody.)
It's actually about how there are a ton of gay families with kids and they are ok, and they are everywhere, and these kids want their parents to have rights:
In 2008 about 116,000 same-sex couples across the country were raising a total of about 250,000 children under age 18, according to an analysis of Census data by Gary J. Gates, a demographer of the gay and lesbian population at the Williams Institute at the University of California, Los Angeles, law school.
Speaking of gay families, The O'Donnell clan was out in full force for the premiere of Rosie's new HBO documentary "A Family Is a Family Is a Family." A true reflection of the film's message; these (now broken up) ladies remain committed to their family life. And they look great!
The film looks at a diversity of families today, highlighting same-sex parents, mixed-heritage families, single parents, and stories of adoption. The debuts on HBO on January 31.
A preview from the film might make your eyes water a little. Also these kids are freakin' articulate. They must have really good parents FOR REAL.
RFAMILY: Kelli gives an update on R Family Vacations without Rosie's involvement:
Gregg and I are going to continue to run the company just as it's been run before. We could never have had this company had it not been for Ro and her contributions, vision and participation and we are eternally grateful. The vision will remain the same. She put her imprint on it and it's going to move full steam ahead.
We love R Family Vacations and so it's awesome to hear about their plans for the future including a land-based Club Med vaycay!
GYNO: It's estimated that 80 percent of lesbians are estimated to have slept with a man at some point in their lives so even though historically it's believed that HPV could only be transmitted through sexual contact with men, research has found it can be transmitted through sexual contact with women too. (Remember Natalie's awesome article about why lesbians are afraid of the gyno?)
A 2008 Stonewall survey on health found that one in five lesbian and bisexual women were told that they did not need a smear test. It was estimated that 37,000 lesbian and bisexual women had been refused access to screening, despite requesting it.
The NHS Cervical Screening Programme 2009 annual review looked at the "myths" around lesbians and cervical cancer and will focus on increasing awareness amongst the medical community. (@pinknewsuk)
MCCAIN AGAINST H8: Homophobic Politicians, Enlightened Wives: Why Are Women Always the Better Half? Are political wives more liberal, or are they just saying what their husbands are too chicken to admit? (@gawker)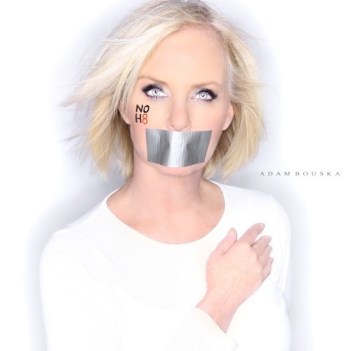 STRAI: John Edwards's Love Child Admission: This Is the Institution of Heterosexual Marriage We're Trying So Hard to Protect? (@queerty)
MONEY HONEY: It costs gay people $9960 more than straight couples to obtain benefits guaranteed by marriage."Gay couples have to go to an attorney, have a will drawn up, get durable powers of attorney. Not only is it a financial expense, but many of those things can be challenged by people's biological families. A heterosexual couple that barely knows each other can walk into the county clerk's office, get a license, get married by an administrative law judge, and all their rights and all their protections are there." (@chicagotribune)
TRAVEL: Are you more likely to stay at a hotel if it's gay-owned? 71% of respondants of a new travel survey by Pink Choice said yes. "We were surprised that over 50% of the respondents said they would be comfortable staying in a non gay owned establishment. It might reflect society's changing attitudes towards gay and lesbian travelers." (@queerty)
HAITI: Cruise Ships Still Find a Haitian Berth: Sixty miles from Haiti's devastated earthquake zone, luxury liners dock at private beaches where passengers enjoy jetski rides, parasailing and rum cocktails delivered to their hammocks:
The decision to go ahead with the visit has divided passengers. The ships carry some food aid, and the cruise line has pledged to donate all proceeds from the visit to help stricken Haitians. But many passengers will stay aboard when they dock; one said he was "sickened".
"I just can't see myself sunning on the beach, playing in the water, eating a barbecue, and enjoying a cocktail while [in Port-au-Prince] there are tens of thousands of dead people being piled up on the streets, with the survivors stunned and looking for food and water," one passenger wrote on the Cruise Critic internet forum.
CHA CHA: A man who doesn't blink once in the entire video is here to teach is The Sanctified Slide – "The best part about the video is his background dancer s who diligently execute the Sanctified Slide; they seem rounded up at the very last minute for the video. The woman looks like she works in the cafeteria while the guy in the WalMart sweatpants has that classic creepy pedophile look and resembles Kip from Napoleon Dynamite." (@true/slant)
RAGE: Research from the University of California says Pretty Women Are More Likely to Get Angry – "Researchers found women who rated themselves as pretty displayed a war-like streak when fighting battles to get their own way." Is it just me or is this another case of caling women bitches for no reason? There's no reason to get angry [we think you're all pretty anyway]; one psychologist says "This is a small study on a very limited sample group so it is not possible to generalise." (@bbc)
FOOD: The American Psychiatric Association is working on re-defining Eating Disorders Not Otherwise Specified but Many People Still Think Anything That Doesn't Kill Them Is Just Fine – "According to a recent survey, 80% of Americans approve of their own eating habits, but 73% think others need to eat healthier. This should be no surprise to anyone who reads comments on stories about diet at the Times or elsewhere — the Internet is an especially popular forum for people who think they know what others need to do in order to avoid the specter of fat." (@jezebel)