Hello my little blue-bellied lizards! Remember last year, when we all met up with other like-minded music-loving queermos for International Record Store Day? If you happened to miss it (like I did), here's your chance to fix all that.  This year's International Record Store Day takes place on April 19, and you can support your local shop while collecting super-rare and limited releases, re-releases, 7-inches, picture discs, brand new singles and other magical musical ephemera. Jack White is working to record, produce and distribute a new single in an attempt to break a world record, and some of the greatest rock bands in the world are putting out exclusive material just for the occasion.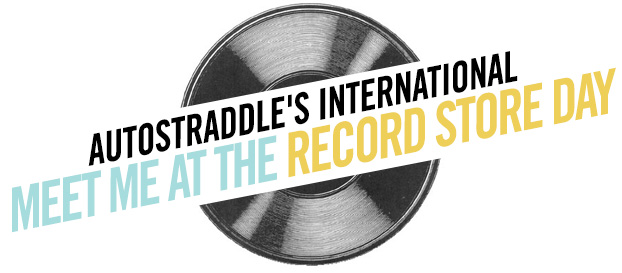 To celebrate, Autostraddle want you to go out and meet other Straddlers in your city. If you have not been to a meetup before, here are some posts about ones we've done in the past:
It's a great opportunity to meet some like-minded weirdos, and what better way to break the ice than by talking about your amazing taste in music?  Click here for a comprehensive list of participating record stores, and here is a comprehensive breakdown of all the exclusive releases. For what it's worth, here's a small list of some of my top picks for Record Store Day:
Veruca Salt – Seether (10-inch)
Garbage f/ Brody Dalle – Girls Talk Shit (10-inch, 4000 copies)
The Julie Ruin – "Brightside" / "In the Picture" (7-inch, 2000 copies)
Chvrches – "Recover" (12-inch, 2500 copies)
Joan Jett and the Blackhearts – Glorious Results of a Misspent Youth (LP on pink vinyl, 4000 copies)
Sky Ferreira – Night Time, My Time (Explicit picture disc LP, 800 copies)
The Dresden Dolls – The Dresden Dolls (2LP)
Cure/Dinosaur Jr. – "Just Like Heaven" (7-inch, white vinyl)
Bis – Data Panik Etcetera (180g white vinyl LP)
Bat for Lashes – "Gardens Heart" (7-inch)
Lydia Loveless – "Mile High"/"Blind" (Ke$ha cover) (7-inch, 1000 copies)
Henry Mancini – The Pink Panther (LP, 6000 copies on pink vinyl) (like, come on)
Helen Marnie – The Hunter Remixed (12-inch clear vinyl, 500 copies)
Alanis Morissette – Live at Montreux 2012 (140g 2xLP)
Dolly Parton – "Blue Smoke"/"Home" (7-inch, 3000 copies on blue vinyl)
Little Dragon – "Kapp Klapp" (12-inch)
Nina Persson – "Sometimes"/"This is Heavy Metal" (demo) (7-inch on white vinyl)
School of Seven Bells – Put Your Sad Down (LP featuring 5 unreleased tracks, with all proceeds used to benefit the foundation of Ben Curtis, 300 copies)
Jill Sobule – Dottie's Charm (12-inch)
Ronnie Spector & The E-Street Band – "Say Goodbye to Hollywood"/"Baby Please Don't Go" (7-inch, 4000 copies)
Jon Spencer Blues Explosion – "She's On It"/"Jack the Ripper" (Beastie Boys/Link Wray mashup) (12-inch)
The Wizard of Oz: Original Motion Picture Soundtrack (LP on yellow vinyl, 3500 copies)
As with past Autostraddle meetups, if you're interested in hosting / coordinating a Record Store Day meetup in your city, email Carmen and Editorial Assistant Chelsey (carmen at autostraddle dot com / chelsey at autostraddle dot com) with the following info, and we'll update this post to include your meetup!
Name
City
Record Store
Time
RSVP info (Public FB event page or email)
Special Instructions / Other Info
Sounds pretty great, right?  We'll update this post with meetups as they roll in, and we'll see you there.
---
Ann Arbor, MI
Hosts: Sabrina Cook & Alice Bowe
Record Store: Encore Records (417 E Liberty St)
Time: 6pm
RSVP: FB event page or e-mail sabcook [at] umich [dot] edu
Other Info: Encore closes at 8pm, when you can join up with us at Aut Bar in Braun Court
Austin, TX
Host: Vivian
Record Store: Waterloo Records (600A N Lamar Blvd.)
Time: 3 pm
RSVP: Vivian at: mapleeis [at] gmail [dot] com
Boston, MA
Host: Cara
Record Store: Somerville Grooves (26 Union Square, Somerville)
Time: 1pm
RSVP: cara[at]autostraddle[dot]com
Other Info: We can go to Bloc 11 afterwards and use our records for coasters!
Chicago, IL
Hosts: Kay & Lanie
Record Store: Reckless Records (3126 N. Broadway)
Time: 9:30am
RSVP: FB event page or KaylienInvasion [at] gmail [dot] com for non-facebookers
Other Info: After the record store, interested persons will be going to a nearby restaurant for brunch and smiling and friendship!
Cincinnati, OH
Hosts: Caroline & Claire
Record Store: Shake It! Records (4156 Hamilton Ave.)
Time: 4pm
RSVP: FB event page
Claremont, CA
Hosts: Brittany & Sydni
Record Store: Rhino Records (235 Yale Ave.)
Time: 3pm
RSVP: FB event page
Other Info: Gay-owned The Spot Cafe for food afterwards. Then Rhino's sister store Mad Platter Records in Riverside. Also also also lesbian-fronted indie rock band Maria Sweet is playing a show in Riverside at Clash City Studios/Casbah Lounge later in the evening.
Denton, TX
Host: April
Record Store: Mad World Records (115 W Hickory St.)
Time: 5pm
RSVP: FB event page to come!
Other Info: Let's listen to some tunes, support local music, and make friends! Woo!
Tempe, AZ
Host: Cynthia
Record Store: Revolver Records (3306 S McClintock Dr.)
Time: 2:30pm
RSVP: cynthia.lujanjenkins [at] gmail [dot] com
Other Info: We'll probably grab coffee and/or food&drinks after.