Are you ready to hang out with your local queer friendlings at a nearby record store?? WELL YOU BETTER GET THAT WAY because April 20th is Autostraddle's International Meet Me at the Record Store Day, as the title of this post would suggest. Exciting! See, April 20th is also Record Store Day, which is when bands release limited copies of certain albums, or new albums, or little 7″ babies you'll want for the album art alone; weird collaborations and picture discs and gimicky colored/shaped vinyl and label compilations and FREE STUFF and — probably the best part — supporting independent, local businesses!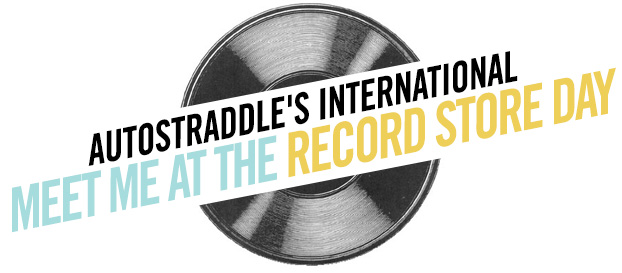 Is there a record store near you? They're probably doing something super fun for RSD. You can call them up or take a lookie loo at this participating-store-finding apparatus. Then, the very most important thing you'll do today is pluck your way through the epic list of releases and this in-depth list of special releases, after which you'll be completely ready to spend all/most/some of your monies on THE ART OF MUSIC.
Highlights include:
Ani Difranco – Buffalo (Official Bootleg)
Josephine Foster – Little Life
Kate Nash – Free My Pussy < — 7″ HEART SHAPED VINYL HOLY LORD
Georgi Kay – Ipswich 7″ vinyl (Australia only, sorry)
Girl In A Coma – Both Before I'm Gone 12″ vinyl
Joan Jett & The Blackhearts – Album 12″ vinyl
LP – Into The Wild 12″ vinyl with two bonus tracks
Tegan & Sara – Closer Remixed (8 TIMES) 12″ vinyl
AND MANY MANY MORE.
If you're new to Autostraddle meetups, please see:
+ It's A Thing: International Meet An Autostraddler Week
+ International Know Your Autostraddler Week
+ You Should Come: International Brunch Situation
Doesn't that look like fun? You're damn right it is.
As with past Autostraddle meetups, if you're interested in hosting / coordinating a Record Store Day meetup in your city, email Interns Chelsey and Geneva (chelsey at autostraddle dot com / geneva at autostraddle dot com) with the following info, and we'll update this post to include your meetup!
Name
City
Record Store
Time
RSVP info
Special Instructions
Autostraddle's Meet Me at the Record Store Day locations and times are below. Wanna go to your local meetup? Just RSVP on Facebook and you'll be on your way. Have fun! Be safe! Make good choices!
United States
Boston, Massachusetts
Hosts: Cara, Liz & Rose
Location: We're meeting at Newbury Comics in Harvard Square (36 JFK Street, Cambridge MA in that little mall complex thingie), but will hopefully also hit up Planet Records (144 Mt. Auburn St.) and/or In Your Ear! (72 Mt. Auburn Street) since they're right down the road. Drinks afterwards at someplace TBA.
Time: 3:03pm
RSVP: Facebook event page
Special Instructions: I'll wear a hat if you wear a hat.
Chicago, Illinois
Host: Katie Millar
Location: Reckless Records (Milwaukee Ave in Wicker Park)
Time: 11am
RSVP: Membership on the Chicagostraddler Facebook is needed to see the event page! Join there, to RSVP to the event
Special Instructions: Brunch to follow at Bongo Room!
Denver, Colorado
Host: Sarah Hansen
Location: Twist And Shout Records
Time: 11am
RSVP: Facebook event page
Special Instructions: Lunch afterwards: Location TBD
Jacksonville, Florida
Host: Alicia Canessa
Location: Meet at Memorial Park (Off Park and Margaret) at 12pm, then to Deep Search Records (822 Lomax Street)
Time: 12pm-6pm
RSVP: Facebook event page (coming soon!)
Special Instructions: We will meet at 12pm at Memorial Park for a picnic and frolic then saunter over to deep search for a fantastic selection of records, local music and babes. Or folks can meet us at Deep Search anytime.
Los Angeles, California
Host: Drea
Location: [Secret Location]
Time: 4:20
RSVP: Private event page. RSVP your info to http://facebook.com/chandreapatterson with the subject: 'High Tea w/o the Tea'
Special Instructions: Be prepared to listen to lots of Bob Marley records and a possible screening of a Bob Marley documentary.
Louisville, Kentucky
Host: Basie
Location: First off, we'll grab breakfast and coffee at Highland Coffee (1140 Bardstown Road) where we can get friendly and not set ourselves up to shop as strangers, and of course get our dose of caffeine. Then we'll head out to Underground Sounds, Better Days and Astroblock.
Time: 11 am
RSVP: Email me at theyoungone24 at gmail dot com
Special Instructions: Be comfortable for walking or Tarcing.
New York City, New York
Host: Stephanie R.
Location: Meet at the NYU Arch for brunch, then Bleecker Street Records (239 Bleecker St)
Time: 12-5pm
RSVP: Facebook event page
Special Instructions: I propose we meet at by the NYU arch and have some brunch before we head over to the record store.
Oakland, California
Host: Cheryna
Location: Amoeba Record shop in Berkeley, CA.
Time: 8-9 am
RSVP: Facebook event page or email me: punkster389 at yahoo dot com
Special Instructions: Maybe meeting up for breakfast area the area beforehand. Bring a book and a backpack/bag and get ready to have a blast!
Portland, Oregon
Host: Steph Claypool
Location: Jackpot Records- Downton (203 SW 9th Ave)
Time: 2pm
RSVP: Facebook event page
Special Instructions: Wear your favorite band t-shirt maybe?
San Francisco, California
Host: Liz
Location: Amoeba Music (1855 Haight Street)
Time: 11am
RSVP: Facebook event page
Special Instructions: Let's meet for breakfast bagels at Lava Java (852 Stanyan St, btwn Beulah St & Frederick St) and then we can walk over to Amoeba (1855 Haight Street). I'll have a flower in my hair.
Washington, DC
Host: Carmen
Location: We'll meet for lunch at a restaurant TBD
Time: TBD
RSVP: Facebook event page
Special Instructions: After lunch, we'll go to Red Onion Records & Books
Abroad
Lethbridge, Alberta, Canada
Host: Amy Bronson
Location: Blueprint
Time: 11am-6pm
RSVP: Facebook event page 
Special Instructions: There will be a lesbian singer-songwriter, Amy Bronson, at 1:30pm as well as some general lesbianish appeal to the event. Head over to the Girls Rock summer camp fundraiser after.
Bristol, United Kingdom
Host: Rosa
Location: Rise
Time: 4pm
RSVP: rosacmiddleton at gmail dot com
Special Instructions: Meet and Rise and then lunch at No. 1 Harbourside
London, United Kingdom
Hosts: Kate & Anna
Location: Sister Ray (34-35 Berwick St., Soho) We'll have lunch/brunch in Soho then to Berwick Street Mini Festival!
Time: 1pm
RSVP: Facebook event page
Special Instructions: Berwick Street in Soho has loadsa indie record stores who have decided to get together for Record Store Day to throw a street party. The street will be closed off for the day and a stage built. Bands playing include: Wire, Frank Turner, Gabrielle Aplin, Smoke Fairies, Matthew E White, Steve Mason and The Brainiac Five. There'll be a film projected on to the street and the iconic Berwick Street market will be serving the usual street food, as well as hosting a vinyl fair and a music history experience from the Museum of Soho just for Record Store Day.
Sydney, Australia
Host: Crystal
Location: Meet at Camperdown Memorial Rest Park (Cnr Federation Rd and Australia St, Camperdown)
Time: 10:30am
RSVP: Facebook event page (coming soon!)
Special Instructions: Meet at Camperdown Memorial Rest Park at 10:30am for a brunch picnic, after which we'll stroll up to Hum on King in Newtown for some record shopping.
Toronto, Canada
Host: Rachele Clem/Gott
Location: Sonic Boom (728 Bloor St),  then moving on to She Said Boom (College St location) and Sonic Boom (Kensington Market location). Cause we roll like that!
Time: 11am – whenever we want
RSVP: Facebook event page
Special Instructions: We will be thinking of something or other so people know where/who the group is. this info will be updated on the facebook event page.
Vancouver, Canada
Host: Xenia / Geneva
Location: Red Cat Records (4332 Main)
Time: 11 a.m. – The world ends
RSVP: Facebook event page
Special Instructions: Lunch after! Details TBD
Victoria, British Columbia, Canada
Host: Blake
Location: Ditch Records
Time: 12:01pm
RSVP: lavendersprout at gmail dot com