In honor of National Poetry Month, Autostraddle is highlighting the great work of a queer women poet we think you'll love each Monday of the month.
---
The first time Lauren Zuniga ever performed in a poetry slam in 1999, she won $12, two cigarettes and a condom. Today, she makes her living selling poetry books, touring and leading workshops. In between she married a man, had two kids, divorced, and began dating women and identifying as queer.
Zuniga is a mom, an activist, and a leader in Oklahoma City's arts community. Plus, Autostraddle thinks she's pretty hot. In 2012, she published the poetry collection The Smell of Good Mud on Write Bloody Publishing, home to many queer poets including our beloved Andrea Gibson. The book is full of questions and fear, yet the end result feels pointedly optimistic. As much as all this shit — this oppression, this racism, this terror — sucks right now, it will get better, and so will we. Her poems about identity, parenting, her radical housing cooperative and politics make me believe it is ok that I haven't figured it all out, and that maybe I will eventually.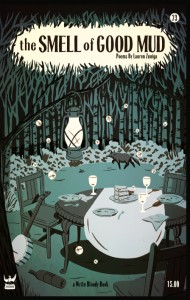 As powerful and lovely as her written poems are, she truly shines as a reader and performer. She has traveled to every state in the U.S. except Hawaii to read poems about topics like sex:
family and marriage:
and the capitalist, racist oppression of the prison industrial complex:
They will all make you shiver.
I got a chance to Skype with Zuniga while she waited for a flight in the Corpus Christi airport and I sat in a Managua coffee shop. These were both uncomfortable places to say words like "queer" and "lesbian" over and over again, but if it were comfortable none of it would be nearly as fun.
What kinds of things inspire you to write poems?
I just started working on a piece that's a mash up of Neil Degrasse Tyson and Nicki Minaj. I was watching Cosmos and flipped the channel to The Fabulous Life of Nicki Minaj, and I thought, "what if I did a mashup or a battle poem." And since then I've been listening to hours of Neil Degrasse Tyson and hours of Nicki Minaj. It's been a weird research process, because basically Neil Degrasse Tyson is saying, "I'm so small, we're so small" versus Nicki Minaj saying "I'm so big, I'm so big, my dick is so huge."
What's it like being a queer poet in very conservative Oklahoma?
Socially and politically it's difficult obviously, for example as of right now I couldn't marry my girlfriend if I wanted to even though it would be nice to have some health care benefits. But I like to be there because I feel like its where I'm the most useful. I feel the work I do is not drowning in a sea of lots of other people just like me and I feel like my presence there makes an impact. My network is so supportive so it's hard to even be mad at it. Because the main culture is so oppressive, the counterculture has to be extremely creative. You find your pockets of people that are doing amazing things. And anything that I do, people just show up for it. It's unreal. I can't imagine being in another city where there's so much going on, it's unreal. You'll see Wayne Coyne just walking down the street.
You write a lot about the words you use to identify your sexuality, your relationships and your partners. Let's talk about that!
I like to make up words and I always ask students to teach me new words that they've made up. This is how I learned the word Dage: to get day drunk. I feel like we are living in a time where we are creating new realities so fast our old language isn't equipped to handle it. Also, when you name a thing, it makes it less scary. I tried to explain my sexuality to someone on Tumblr once and it led me to making up the word GEBO. It stands for Gender Expression Behavior Orientation. You know, it's our unique combination of gender/sexuality plus how we like to do power, sex and relationships. I also like to say it stands for:
Give Everyone Bigger Options
Gay is Everyone Being Open
Gold Echoes Bright Oceans
Grown Emotional Babes Offering
Glorious Ever Blooming Orgasms
Gorgeous Evenings Bent Over

I think the queer community is especially good at making up our own language so I just wanted to share that new word and hopefully other Autostraddle readers will share words that they've made up to make sense of their bodies and desires.
Why do you think so many performance poets are queer women? What about poetry attracts queer ladies as readers, writers and performers?
When I first started [again in 2007], I was really nervous about coming out. I was out in my family and community here, but not so much in the poetry community. That seems weird to me know, because it is so queer. When I wrote the book I didn't realize it was queer, I didn't realize that's what it was until Write Bloody packaged it that way, and I was really nervous. But Andrea Gibson told me, "There aren't very many femme queer moms that are out there speaking out and saying poems." Especially in the audiences and rooms that I'm in. Now I can't imagine it any other way, but at the time it was a bit of a hurdle. I would imagine that there's a certain, just, expansive way of being that most queer women are that also lends itself really well to being a poet and vice versa. The way we navigate the planet is often very fluid and open and all consuming. They seem kind of hand in hand.
How do you balance traveling and motherhood?
I am lucky that I have a really amazing support system. Their father is actively involved in their life, and my mom, my family, we have a whole team of people. My girlfriend is there. Everyone is involved. I feel like they're ok, but I miss them so much so it's hard. But I get to be home often enough, and from May to September I don't do much. Some kids have their parents on the weekends and that's it. I'm not there a lot of the school year but then May to September I'm there the whole time. It works for us. I think it'll probably change in the couple years, but right now it's the only way I can really do it. They are 9 and 11. We do a lot of phone chatting, but it gets hard. I think maybe it's harder for me than it is for them.
Who are your favorite poets? What do you look for when you read poetry?
Aracelis Grimay, Angel Nafis, Shira Erlichman, Jeremy Radin, Tara Hardy, Natalie Diaz, Sam Sax, Danez Smith and Rachel McKibbens are my most frequented alive poets and then Anne Sexton, Rumi and Hafiz are some already done that life thing poets I dig. When I read, I want to be taken out of my body a little bit and pushed into something bigger. That's the kind of stuff I really like, people that have a wider lense than what's going on with their personal struggle. That's the thing you know better than anything, but if you can see the higher purpose or vibrational experience of it and communicate that, I'm super into it.