In so many ways, it seems like lesbian shower sex is supposed to be better than straight shower sex. It's not as caught up in heteronormative ideas about what sex looks like, it's not obsessed with putting very specific body parts near very specific other body parts in very specific ways, and it's all about hands and mouths, which are versatile even when you're using one hand to brace yourself against a shower wall.
According to Autostraddle's Ultimate Lesbian Sex Survey, open to queer women and anyone who identifies with that experience, 19% of us are into shower sex and do it often; 33% are into it and do it sometimes; and 9% don't like it and don't do it, don't want to, or do it only reluctantly. The thing is, "better than for straights" doesn't mean "actually good." Anecdotal evidence suggests that shower sex — full-on fucking in the shower, as distinct from showering together for foreplay or mutual hygiene — even though it seems like it should be incredible if it works for your bodies' sizes and abilities, can sometimes be pretty hellish.
You start off in limbo, waiting forever for the water to warm up. You walked by some aesthetic succulents on your way into the bathroom, but you might as well have passed through gates that read "abandon hope, all ye who enter here." If the water ever does warm up, you and your partner (because trying this with more than two takes ungodly dedication) will spend eternity fighting for a place under the stream of water, which is likely rapidly running cool, in a howling darkness of helpless discomfort. If you try a position where one or both of you is on the shower floor, you risk lying in a vile slush and coming face-to-face with the reality of whenever you last cleaned. If you try a standing position, everything might feel hopelessly slippery — except for your vagina if you have one, because water washes natural and water-based lube away, making microtears and irritation and burning sand and burning rain more likely. And like the ninth circle of hell, your lesbian shower sex experience might end in treachery, when the silicone lube that didn't wash away from your bodies also didn't wash away from the floor of the bathtub and betrays you. So how do you take your lesbian shower sex from Inferno to Paradiso?
Foreplay. If you'd like to see again the stars, start by making out while the shower warms up. Like with any lesbian sex, foreplay just feels better — and if you're in an apartment and can't do a whole lot about the speed at which the water warms up, take comfort from the fact it will likely take longer to run out.
Double your shower head. If it seems like only one partner can get under the stream of water at a time, try a double shower head. Changing out a shower head is usually a tool-free installation and can make your shower so much better, for sex and for life. Even if you can both get under the water at the same time, or even if your only shower sex is with yourself, a detachable shower head can let you send some water to your clit while the rest keeps you warm. (Just be careful not to direct a strong stream of water directly into your vagina if you have one.)
Keep your shower or bathtub clean. The best way to keep your bathtub from being disgusting or slowly filling with a vile slush as you vainly try to bone is to not let it get that way in the first place. In dire circumstances, a drain snake is a good place to start. So is bleach, or tea tree oil if you prefer organic cleaning products.
Use positioning aids. Showers don't often have a lot of pre-installed hand holds or easy ways to get leverage, but adding your own suction-based shower grab bars can make bracing yourself against the walls easier and safer. An anti-slip shower mat is also a really good idea — in addition to safety, the right one will give you traction for standing positions and cushioning for kneeling or sitting positions.
Use silicone-based lube. It's harder to have safer sex in the shower — dental dams can get slippery and harder to hold when they get wet, condoms are less effective and have a greater risk of tearing, and water-based lube or your body's natural lubrication just washes away. Instead, to avoid irritation or microtears, use silicone-based lube, but remember that although it'll make your bodies slipperier, it'll also make the bathtub slipperier (and doesn't play nice with silicone sex toys).
Bring waterproof sex toys. Being in the shower doesn't mean you have to forget about vibrators. Try a waterproof g-spot vibrator like the Lelo Mona 2, a butt plug like the We-Vibe Ditto or a small external vibe like the Jopen Lust L2.5.
Try a few different positions. Being in the shower can be limiting, but it can also be an opportunity to try different positions and see what works. Try: fingerbanging with both of you facing each other; fingerbanging with both of you facing the same way; doggy style with the receiving partner's hands on the wall or on the edge of the bathtub; oral with one person standing and one person kneeling in front of them or on the edge of the bathtub; or, for the athletic and well-balanced, standing with one person's legs wrapped around the other's waist.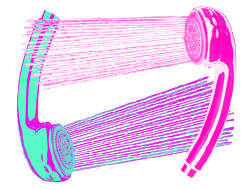 Lesbian Sex 101 is Autostraddle's series on how to have lesbian sex for queer women and anyone who finds this information applicable to their bodies or sexual activities.
Sex ed almost never includes queer women or our experiences, so we're exploring pleasure, safety, relationships and more to make that information more accessible. A lot of the language in these posts is intended to make them easy to find on search engines.
Some of the body parts we talk about will be yours or your partners' and some won't. Some of the pronouns will be yours or your partners' and some won't. Some of the sexualities will be yours or your partners' and some won't. Some of the language will be yours or your partners' and some won't. Take what you want and what applies to you or what you can make apply to you and your partners and your experiences, and leave the rest!