LESBIAN SEXYTIME: Last week we gave you 27 things lesbians think are sexy and asked you to tell us more things that you think are sexy and luckily per ushe you have a lot of feelings! We got soooo many responses that probs we will be able to continue this feature for at least another two weeks. You keep our interns very busy!
So today, culled from your carefully perverted minds, we present 60 more things that lesbians think are sexy!
QUEER PORN: Trouble Reigns: "Courtney Trouble is the self-described "Maven of Queer Porn." Her DVD line, Reel Queer Productions, is one of three in Good Vibration's video production and distribution company, Good Releasing, which also features Carol Queen and Coyote Days' Pleasure Ed and Madison Young's Heart Core." (@carnal nation)
ORGASMS: When the Big O is a No-Show: "I know a lot of people say "you'll just know" when you have an orgasm. Often, I think that's true. However, I also know from years of doing this work and talking to young women that it's clear some women are reaching orgasm and don't "just know." (@scarleteen)
PILLOW QUEENS: Boob Pillow to Resemble Lady's Bosom, Thanks Japan:"Because there's nothing better than snuggling with a pair of boobs, Kanojo Toys created the Oppai boob pillow, $59." (@69gadget)
CUTE TUMBLR ALERT: Fuck Yeah Geek Girls: "Geek girls are hot. Maybe it's the glasses, the impression of intelligence, or that they often don't seem to know how attractive they really are, but they are definitely hot."
CASUAL SEX: Is Casual Sex the Problem or the Solution? While Jong used the word "zipless" to denote the way "zippers fell away like rose petals, underwear blew off in one breath like dandelion fluff", it seems that today's generation is taking the zipless romp to all new emotionless heights.
Hey it's almost Valentine's Day!! What are you gonna get for your girlfriend or for yourself or for your friend you have a crush on or just because you want to get something?
…. Read/Look at sexy photo-books like SuicideGirls ("The large format book is well designed and finely printed, with over 150 full-color photos of Scarlett, Flux, Fractal and the rest of the pierced, tattooed, leather-'n-lace-lovin' gang. The bulk of the book consists of Missy's portraits of the girls, but a section at the back allows the girls to speak for themselves through diary extracts, their own photos and their answers to questions."), Ellen Von Unwerth: Couples ("unpretentious, intimate photographs reveal a sensibility that lies somewhere between the sexiness of Helmut Newton and the playfulness of Jacques Henri Lartigue"), the latest SG book SuicideGirls: Beauty Redefined or Burning Angel's alternababe book.
…. or Best Lesbian Erotica 2010 ($10.85), First-Timers: True Stories of Lesbian Awakening ($10.85), The New Lesbian Sex Book, 3rd Edition ($17.12).
… Wear Calvin Klein Boyshorts or Diesel Boyshorts.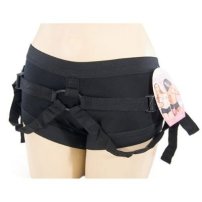 … Use K-Y Intense for her and then let us know if it actually works or if those crazy ads are a bunch of bullshit. The famous g-spot vibrator from fancy sextoy maker Lelo, Gigi – Petal Pink, is 70% off. Also if you feel silly in a normal strap-on harness thing, someone totally read your mind and made a boyshort/strap on situation for you. Srsly, meet the Grrl Toyz Grrl Shorts Strap-On Harness (get something to use it with if you don't have that already!)
Okay everyone! You all look really cute today and sexy, someone should kiss your face!