Hello friends! As you may have heard, it's our birthday, and for our birthday, we would like you to join A+. In order to sweeten the deal, we're throwing an all-day Ask-us-Anything / Advice-a-Thon on A+ with heaps of special guests, like Mallory Ortberg from The Toast, Dannielle Owens-Reid and Kristin Russo of Everyone is Gay, Ana Bel of La Loba Loca, former Miss Kentucky Djuan Trent, and so many more! Plus Riese, Laneia, Heather and Rachel will be there basically all damn day long.
Also, you can get 16% Autostraddle Merch today with the code autostraddle6! (But you could get 20% off if you joined A+! See, it seems like a way to spend money but it's really a way to save money!)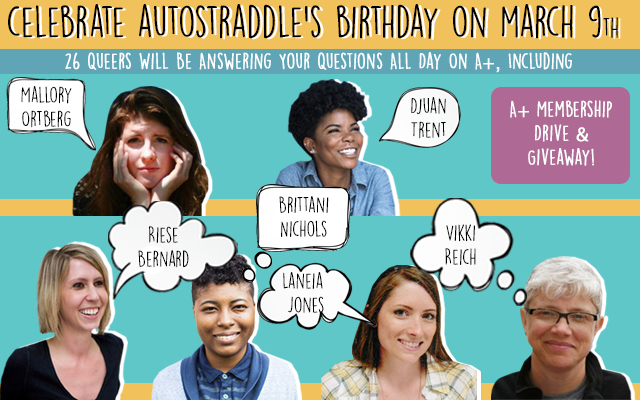 Now, on Friday we announced that this thing was happening and we also announced that we'd be giving away some A+ memberships to Straddlers who couldn't otherwise afford them as well. I bet you wanna know who won!
We've drawn names out of a hat and will continue to draw another winner for every six new sign-ups. We didn't film it because we wanted to do this as quickly as possible, so just trust us:
Nine Bronze Winners (6 donated by Autostraddle, 3 donated by other kind and generous A+ members, 4 bonuses):
1. lisaw
2. lex / gunnna-see-the-light
3. eunoia
4. alexielr
5. launa
6. rachellauren
7. in the sky / colleen
8. mejampo
9. rebcalle
NEW WINNERS BECAUSE MORE PEOPLE SIGNED UP FOR A+ TODAY:
10. queennerval
11. tvini
12. jo.jessica
13. the cirrhosis machine / orange
NEW WINNER BECAUSE SOMEBODY BOUGHT YOU AN A+ MEMBERSHIP
14. sarah-kate / sarah
Eight Silver Winners (6 donated by Autostraddle, 2 donated by other kind and generous A+ Members)
1. pianaj
2. smb4948
3. jenlabarbera
4. al / alsayyid
5. marebear
6. purplefuku
7. toluaderonke / tolut
8. rlmpls
If you win, your next step is to send an autostraddle message to @napkined and identify yourself, and she'll give you the code you need to sign up for your annual membership. Also, you're basically obligated to ask a question if you win, soooooo…
ETA: We're doing this giveaway to make sure that LGBTQ humans who can barely afford their own food, shelter and bills still have a chance to be a part of A+ … and in hopes that those who can afford it will join up to make it possible for us to be able to give these away in the first place. Last time we did a giveaway, sign-ups slowed down as people waited to see if they could just win one, but we thought that was a fluke. But it's happening again today! Please join if you can afford it or we won't be able to keep doing these! Thank you to all the generous humans who have joined A+ and donated memberships today!
---
Facts:
* We want to pay queer people to make uncensored queer media.
* I personally know that a lot of our A+ members are readers who have to budget really carefully in order to be able to afford A+, but they do it because they know paying for indie media is important. If you can comfortably afford it and you've been reading us for free, please consider pitching in!
* If you wanna read interviews with our ex-girlfriends, extensive g-chat transcriptions accompanied by groundbreaking graphics, listen to humorous podcasts, read about secrets we can't share with the entire internet, and lip sync along to some of the best video editing work I've ever done, consider tossing in, 'cause you'll get that stuff, too!
* We keep costs as low as we can: we don't have an office or even a paid membership to our "virtual office" on Slack. We see each other once, twice or zero times a year. I personally handle three jobs that'd be full-time in and of themselves: CEO, Editor-in-Chief, and CFO (which includes all accounting).
* It costs us about $24k a month to pay six full-time staffers, three part-time staffers, 40+ writers/editors, as well as cover taxes, server costs, merchant fees and numerous other office, travel, research and internet-related expenses. To get to our next stage of development and to better compensate (read: value) our team, we need to pull in $35k a month. To do this we need everything that's steadily gotten better to keep getting better (e.g, affiliate sales), everything that has steadily gone really well to keep on going really well (e.g., camp), and everything that is going mediocre to stay at that same level of mediocrity (e.g., network ads). We also need:
1. At least 2,000 A+ Members (we currently have nearly 1,100).
2. To increase how much merch we sell — which requires more capital to print the merch and more money for the labor to ship it.
Only 12% of our income comes from direct and network advertising. The network ads that run on our site run at a CPM (cost per thousand impressions) of about 23 cents and we can't run them on any posts that reference sex. So we rely on you to fund this company or we sink. 87% of our monthly budget goes directly into the pockets of queer people making queer media.
* There's money — big money — flooding large media companies who have recently become interested in covering the same LGBTQ stories we do and courting the same writers we need. Of course, we're not as large as Buzzfeed or Vice, and most of these companies are doing great work. But to even pretend to bat in the same league as their LGBT verticals, we need at least one quarter of the proportionate amount of funding for our size. As you can see, that's not happening just yet:
* Furthermore, many of those companies have yet to turn a profit or figure out reliable revenue streams, and some of them pay their writers and staffers the same that we do, despite clearly being able to afford more. Here's the deal about this company: we do know how to make money. Yup! We sure do. We've got zero debt, we've never been unable to pay somebody a promised amount at a promised time. Our merch sells out, our camps fill up, and we have heaps of ideas for more revenue streams — we just don't have the money to go pursue them. I'd like to write more, but I can't when half my time is occupied with business stuff. With the right funding, we could become what we've always wanted to be: a revolutionary employer and job-creator, funneling millions back into the queer community and queer media without corporate oversight.
* A-Camp has been super-successful, but doing it twice a year was a huge strain on the staff, and the website suffered. We hoped we could cut down to once a year and make up for the lack of revenue with A+. MISSION ACCOMPLISHED. Here's what we've been able to do since launching A+ that we wouldn't have been able to do without it:
Hire Heather Hogan as a full-time editor
Promote Yvonne Marquez to full-time
Pay Rachel and Laneia a not-unethical salary
Pay nearly 100 queer writers and illustrators to do the work they love
Pay the majority of our writers as well as all of our cartoonists and illustrators
Print and sell a lot more merch, therefore making a lot more money!
Now 45% of our content is by women of color, up from 20% two years ago.
So, if you like what we do, or you like what we do but think we could do much better, then consider throwing some cash in our direction!
If not, you'll keep on enjoying Autostraddle dot com for free as always, forever and ever more, and thank you for being a valuable member of our community and showing your support in whatever way you can. Also, your hair looks UNFUCKINGBELIEVEABLE today.