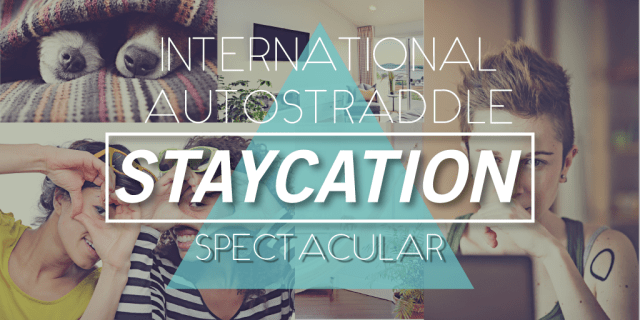 On March 14, we want our readers to stay in together as part of Autostraddle's International Staycation Spectacular! Follow along with everyone's hotel parties, spa days, and indoor picnics around the world with the hashtag #StaycationSpectacular, and join us on the day of for the A+ livestream!
---
With all the things you could be doing with your Staycation, I'm going to make the argument for books. Yes, perhaps you want to boot up your old Nintendo 64 that you just dug out of boxes in your parents house, and you can and should do that too (I'm doing that!), but there's nothing more relaxing and recharging than reading a book. It comes with a feeling of moral superiority and the added bonus of actually improving your brain, instead of melting it in a pool of Zelda: Ocarina of Time. Building a reading habit comes with so many benefits, and what better time to start (or continue, I don't know your life) than on a relaxing weekend where you go nowhere.
Here are some recommendations to get you started that can totally be completed in a weekend (and I'm actually a very slow reader despite the numerous books read in graduate level literature seminars, so probably you will finish faster).
---
Books With Queer Content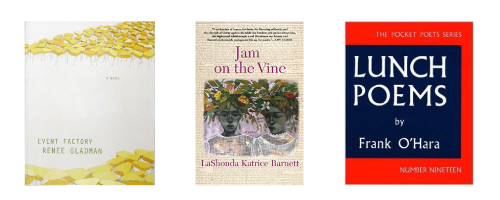 Event Factory by Renee Gladman 
This novel is very concerned with language, the protagonist is queer and it contains a fisting scene which, I would argue, is a metaphor for the author-reader relationship (but tell me if you think I'm full of shit). This book would appeal to people who like poetry and idiosyncratic protagonists.
Jam on the Vine by LaShonda Katrice Barnett 
This is a historical fiction meets literary fiction story with elements of jazz music worked into the cadence of the words on the page. Ivoe Williams, the protagonist, is a queer (though that's not what she calls herself in 1919) black journalist covering the American prison system in the early 20th century. This book would appeal to people who like epic timeline spans and history.
Okay, yes, this is a gay man. But there's something kinda wonderful about being led by the hand through 1950's and 60's New York City by a Frank O'Hara poem, with all the humor and campy Hollywood references that a gay man of that era tended to deliver. If you're like, ugh, Ali, just ONE place where we don't have to worry about the men and you remain unsold, I dare you to listen to Frank O'Hara reading one of my very favorite poems, entitled Poem. This book would appeal to people who like urbane, clear lines and movie stars.
---
The Canon You Never Got To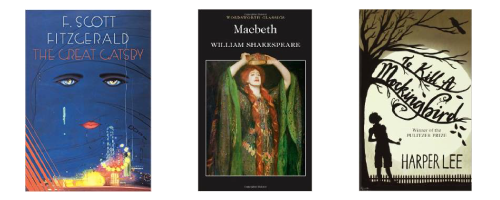 (As much as I disagree with the "canon" as a thing because it is often straight, white and male, here I am using it to refer to stuff that some of us read in high school and some of us didn't.)
The Great Gatsby by F. Scott Fitzgerald 
I am about to admit a thing — due to our two-track English system in high school, The Great Gatsby is one of those books that I completely missed. But it is now on my Kindle and I am ready to go! In fact, I am so ready to go that I've read a bit of it. So far, I think this book would appeal to people who would like to attend the Jazz Age Lawn Party and those who love, hate, love to hate, and hate to love the society pages.
Macbeth by William Shakespeare 
While The Tempest is actually my favorite Shakespeare, Macbeth is a close second and, in my opinion, easier to digest in a weekend— turns out the language of jealousy, greed and violence hasn't changed much since the 1500s. I always say Shakespeare is meant to be seen, so while you're at it, treat yo' self (ack, Parks and Rec is over!) to some tickets if you can find the show playing near you. If you're in New York City and you'd like to combo pack Macbeth with the Jazz Age from Gatsby, you should snag tickets to Sleep No More. Then I will be very jealous of you. This book would appeal even to people who historically don't care for Shakespeare, and people who like murder and mayhem in their books.
To Kill A Mockingbird by Harper Lee
It's a timely time to discover or revisit Harper Lee's one and only published novel because she (or her attorney) is releasing a second book. When we read this in high school, it was the rare moment that everyone (even the people who hated reading) was so super into it. It's also one of those books that turns up in all the pop culture references. I highly recommend filling this hole. This book appeals to fans of history, cinematic storytelling and Gregory Peck.
---
Recent Award Nominees
Land of Love and Drowning by Tiphanie Yanique
I'm a bit biased here, because Tiphanie is one of my professors. And this book is also a little long for a weekend (like at the upper limit for a weekend read, I think), but still totally possible to finish in two or three days — mostly because, like her teaching style, Yanique's novel is both accessible and intellectually rigorous. You will not want to stop turning pages, and that's how you can get through such a hefty book so quickly, even while savoring every gosh darn word. It's an epic timeline and one of the characters speaks entirely in beautifully rendered dialect. Partially first person and partially narrated by the old wives, the language and style of this novel are just as wonderful and intriguing as the plot. This book appeals to folks who enjoy epic timelines and history, and also musicality of language that I find totally unparalleled anywhere else right now. Land of Love and Drowning recently won the Flaherty-Dunnan First Novel Prize.
Station Eleven by Emily St. John Mandel 
Holy crap, this book. It's perfect for a Staycation because this apocalypse narrative is not something you should read before, during or directly after you get on a plane (just, like, fucking trust me on this one, because I read it on a plane and NOPE). It's also a story you'll whip through, because apocalypse. It's, frankly, the most realistic imagined apocalypse I've ever encountered and it is haunting. This book would appeal to anyone who likes a dystopia and doesn't easily get nightmares (or can power through their nightmares for the good books). Station Eleven was nominated for the National Book Award last year.
Geek Sublime: The Beauty of Code, The Code of Beauty by Vikram Chandra
This book is the nerdiest thing I've ever read, and I'm the Geekery Editor. While it's dense, Geek Sublime is definitely the right length for a weekend — just be prepared for your brain to smell like bacon as it works really hard, okay? Chandra (best known for his novels) takes us down a winding, nonfiction/criticism path where he both draws connections between writing code and writing novels and poems, and then problematizes those connections. He describes for us the way computers work (which, like, I understood before but I understand X1000 now), and takes us on detours that include Sanskrit grammar and the history of violent masculinity in technology. This book appeals to people who are nerds and people who love nerds.
---
Now it's your turn — what are you reading for your Staycation 2015? Do you totally hate my choices? What can you add to the categories I picked (which are almost arbitrary, there are so many good weekend-length reads)?