Once upon a time we had a dream. It involved 46 or 200 lady-identified ladies, a charred valley in the shadow of the San Bernadino Mountains, platform tents constructed from discarded copies of The Daily Mail, canned pineapples with warm cottage cheese, a staff comprised of former Autostraddle Interns Who Disappeared Without Officially Quitting, and a weekend packed with workshops, panels, activities and performances designed to pass the time.
It was a dream called B-Camp.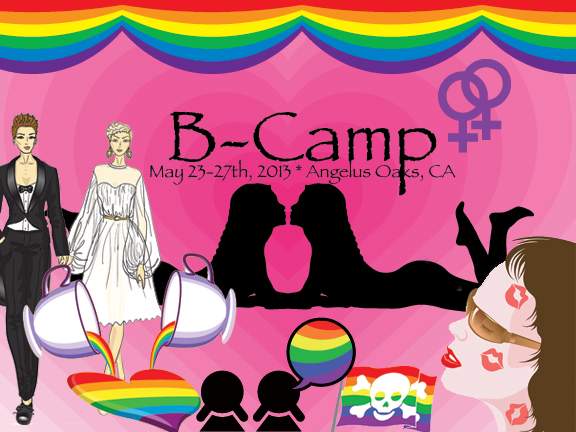 The overwhelming success of A-Camp has led to a jam-packed waiting list and hoards of young lesbians unable to fulfill their fantasies of possibly having sex with Sarah Croce or overhearing somebody else having sex with Carmen Rios. Thanks to a recent newsworthy event in the Angelus Oaks region, we were able to secure a potentially carcinogenic patch of land only slightly down the hill from A-Camp, where we intend to provided a fulfilling experience for those unafraid of ghosts, processed meats, and spending a little extra for a truly authentic lesbian vacation.
---

When: 
Thursday May 23rd – Monday May 27th, 2013, the same dates as A-Camp
Where: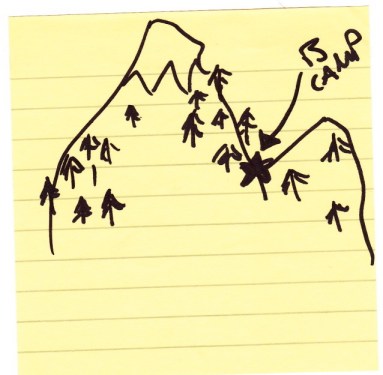 Your $875 tuition includes:
Lodging
Three nights of access to an umbrella and a carpet square. For $50/hour extra, access to platform tents.
Food
Three "meals" a day, including a last-day Rise & Shine Heart Attack Breakfast co-sponsored by the Jack-in-the-Box Ultimate Breakfast Sandwich and Beano®. Vegetarians, vegans and gluten-free campers are encouraged to bring your own weirdo crap, as our corporate sponsors do not have time for your hippie bullshit.
Programming
Full access to a variety of activities, workshops, panels, sports and arts & crafts, some of which you may have to lead yourself because we don't actually know how to make friendship bracelets.
Transportation
If you're flying into LAX, you will be picked up by one of several large vans driven by Autostraddle staffers arriving at uneven intervals, as coordinated by a bunch of girls who just met for the first time. Your van may or may not break down on the highway. Includes snacks.
Kickass Tote Bag!
Our official B-Camp Gift Bags will be jam-packed with amazing things such as the official B-Camp T-shirt (designed and printed by Urban Outfitters), a CD copy of the hit single "Dirty Knees" by Dusty Ray, a coupon for a free trial membership to eHarmony, a picture collage of our cats, a fresh pack of Bic Pens For Her, an autographed bootlegged copy of The Real L Word Season One and a paperback edition of The Well of Loneliness. The first ten campers to make it up the mountain will receive a 3 1/4″ floppy disk full of desktop backgrounds Carly made when she was 18 featuring images of strong women.
---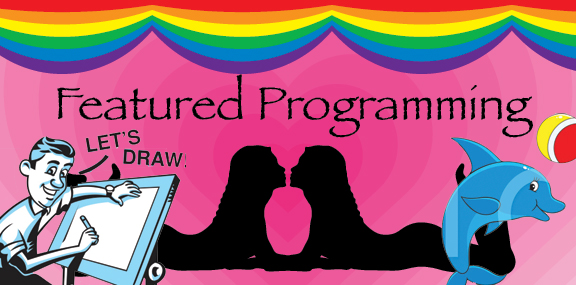 Rise & Shine Workout!
B-Campers will rise with the sun for a morning workout, which will focus on whittling away excess arm fat, toning your abdominal region, and getting rid of those thighs! (Sponsored by Jillian Michaels Maximum Strength Fat Burner®.)
Skim a F*cking Book Club
You've been waiting your whole life to devote two hours to discussing Eat, Pray, Love: One Woman's Search for Everything Across Italy, India and Indonesia by Elizabeth Gilbert or Bitch, Are You Retarded? by Carlos Lee. Your time is now!
Slow Dating: Because Speed Dating is For Sluts
This three-day intensive workshop, led by Maggie Gallagher of NOM, is a great opportunity to really savor the flavor of your future match, feasting on lengthy dissections about Halberstam over Frutopia and staring at each other until your eyes hurt. Workshop will culminate in fully-clothed scissoring and hand-holding ceremony, followed by a romantic walk in the forest, which may or may not be haunted.
Transgender Representation in The Media Panel
Listen to special guests Ryan Murphy and Ilene F. Chaiken discuss the difficulties, challenges and rewards of accurately representing transgender people on Television. Panel will be followed by autograph session. Ally cookies and fruit punch will be served. Moderated by Sheila Jeffreys.
Conservative Lifestyle Haircuts
Inspired by the success of Katrina's Alternative Lifestyle Haircuts at A-Camp, conservative lifestyle haircuts will inspire you to tone it down a little. You're not planning on going to Target like that, are you?
Taylor Swift Appreciation Club/Songwriting Workshop
Campers interested in this workshop must bring their middle school diaries and/or printouts from defunct Xanga journals to camp! In this workshop, you'll learn how to transform self-indulgent adolescent emotion into metered rhyme and then into music! You'll then practice how to look surprised about everything all the time.
DIY Wax-a-thon
Your underarm hair is gross. Ew.
Getting Your Shit Together Workshop
You have so many feelings, and we all know what that means — you have too many feelings. Role-playing exercises will school you in the art of bottling it up, denial, and other ways to express your feelings besides expressing your feelings, such as insomnia, violence and aggressive internet commenting.
Advanced Unfisting
All the way up in there and re-evaluating your decision? This workshop will go over the basics of how to remove your fist from an unexpectedly inflexible vagina. (Pre-Requisite: Unfisting For Beginners)
Ropes Course
Just because we don't have access to the fancy A-Camp Ropes Course doesn't mean we can't make you climb a tree and then jump out of it!
Gender Roles Panel
Let A-Camp have their "edgy" "liberal" "hipster" "gender panel," down at B-Camp we're keeping it real with boys and girls with a special focus on why Leaning Over is better than Leaning In. Boys will collect internet porn while the girls organize their spice rack. Topics will include figuring out "who's the man" and why that person should be paying for dinner.
Glamour Shots!
A-Camp Co-Director Robin Roemer will not be doing this activity as she'll be busy with her own photography situations up the mountain. Luckily we found somebody really talented on cragslist who actually worked at Glamour Shots in the Briarwood Mall in 1994, which's when Riese got her glamour shot. (BRING YOUR OWN PROPS AND HAIR CRIMPER)
---
That's not all. We have overwhelming programming options. What can I say, we're a team with a lot of ideas in our melons!
Butching It Down
Queer Your Kombucha: Put Your Vodka Into Anything
Damsels in Distress: Self-Defense For Tiny Females With Strong Handshakes
40 Hottest Women In Tech: A Slideshow
MRAs Anonymous
Pictures Of My Cat Workshop
Death Panel
Swag Workshop: How To Attract Dudes By Making Out With Chicks
Dana Fairbanks Memorial Hike
Harnessing The Power Of Your Clam
Queer Parenting 101: Instilling Gender Norms So The Rest of The World Doesn't Have To
Public Sex is My Radical Sex
What Happened Before Ellen and "Is There Anything After Ellen?"
It's Not Easy Being Gay: A Coming Out Story Performed As Muppet Theatre
How Do Lesbians Have Sex? A Workshop
"Marriage" And "Wedding" Planning For Queers
Mansplaining Explained
OkAwkward 101: How Panic Attacks, Anxiety and ADHD Can Get You Laid
Abstinence Panel: Because Tribadism Counts
Don't Read a F*cking Poem Unless It Rhymes Workshop
Shane On You: A Workshop On Gender Policing In The Age Of Shiloh
Hymns for Her
Making Peace With the Patriarchy
Whiteness 101: How To Effectively Save QWOC From Themselves
Design-Your-Own Inspirational Moustache Tattoo
Get Baked Live: Artificial Insemination Or "The Other Use For That Turkey Baster"
Somewhere Over the Rainbow; or, How I Learned To Stop Worrying and Love Inequality
Pray the Gay Away
Exploring The Lost Art of Fimo Beading
---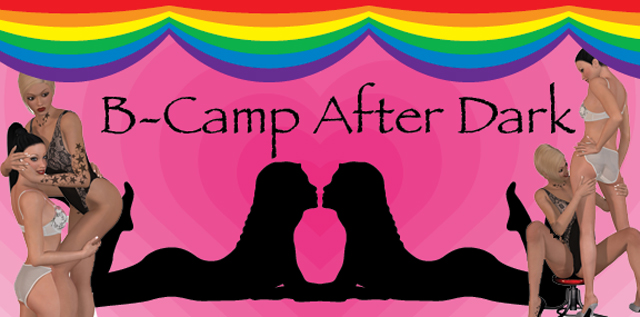 After a hearty day of activities and a healthy diet of discontinued potato chip flavors, you'll be ready for a long night of fun and games. We are pulling out all the stops this year.
Murder Mystery Night: Who Killed Jenny?
In this 55-minute event, hosted by Ilene F. Chaiken, campers will take on "characters" from Ilene Chaiken's unsolved mystery Opus, otherwise known as Season Six of The L Word. (Please note: mystery will not actually be solved.)
Beauty Pageant
Hosted by special guest Carrie Prejean, this classy evening of classy fancy class will feature women with sexy bikinis who know how to twirl batons. Audience is encouraged to bring underpants to throw onto the stage, men's briefs are acceptable.
Creamed Corn Wrestling
Hosted by the ghost of Old McDonald (of "Old McDonald had a farm" fame), this is a great opportunity for lesbians to test their skills in a slippery tub of undignified mush. Expect to emerge "smelling like pussy and creamed corn" and feeling like $4,000 bucks.
Movie Screenings
On Thursday night, you can revisit the pain and misery of being LGBT via Tearjerker Marathon — The Children's Hour, Monster, Philadelphia, Brokeback Mountain, Milk and Boys Don't Cry. Sponsored by Kleenex® Care-Packs. On Friday, we'll be indulging in Movies A-Camp Bitches Hate Night, where we can safely enjoy Love Actually, Lost & Delirious and Bloomington free of ridicule. Saturday night, entitled Bechdel Who?, will feature Superbad, The Dilemma and Project X, capping off the evening with the 2012 Alliance of Women Film Journalist's Most Misogynistic Movie Pick: That's My Boy starring Adam Sandler!
Last Night Dance
The final night dance will be DJ'ed by your friend who ipod DJ'ed the other night when you guys had people over.
---
So, if you're emotionally prepared for a loosely supervised life-changing experience, don't delay!
What are you waiting for? Register Now!
this post was made possible by the comedic stylings of Riese, Robin, Marni, Carly, Rachel, Laneia, Gabby, Katrina, Stef, Brittani, Alex, Taylor and Crystal.