Senoritas, this is Bevin Branlandingham, and I think it's high time you met. Bevin is a lawyering, happy-to-tell-you-she's-31-year-old who lives in Brooklyn, but really that's just the boring stuff. She works at Re/Dress a plus size vintage shop, runs a blog, has a podcast, performs drag, comedy, burlesque, aspires to having her own talk show and is generally an ultra-rad warrior for self-acceptance.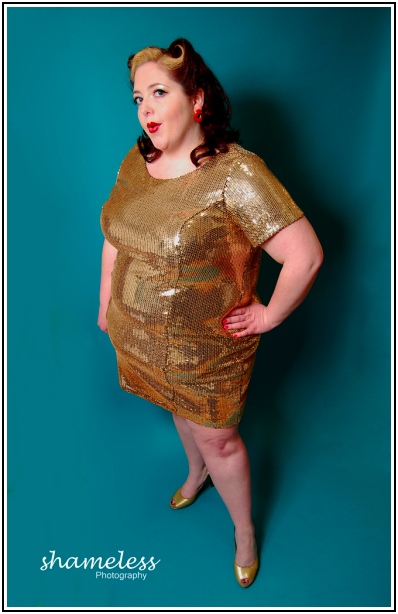 Laura: Let's start with what you do — tell me about the art you make.
Bevin: My mission in life is to help make the world safe for people to love themselves no matter what their differences are. So I do that in a sort of huge, any-medium-possible way. I have a blog because I like to write and it's nice to be able to publish and have that sort of instant gratification. I'm also a performer. I started as a drag king. I'm an amazing drag king, I'm just going to put that out there. It's a total cartoon character on stage. And I started hosting shows with my drag troupe so that sort of developed me into a multi-facet performer. I also do spoken word, but it's not like, you know, the sort of lilty Alix Olsen kind. But you know, I'm going to go on stage, and you're not going to realize what I'm doing is what I'm doing until I do it. I also have my podcast, which is FemmeCast: The Queer Fat Femme Guide to Life and that one involves a lot of fashion but also social justice and stuff that is interacting in the lives of femmes and fat folks and queers of any gender.
Laura: So your blog is Queer Fat Femme. Were you always so comfortable with just being like, "This is who I am"?
Bevin: Oh, no way. It was such a journey. It's funny because I didn't become comfortable with being fat or femme until I became comfortable with being both. Going through college, I didn't know anyone who was fat and who loved themselves, that was weird, and I also didn't know anyone who was femme and queer who wasn't apologetic about their femininity or derisive about their femininity. I remember someone telling me I was a lipstick lesbian and feeling so hurt and offended and it was just like, "Why does 'lipstick lesbian' have to be such a dirty thing?" It's just like, "You're not doing it right," that's how it felt.
"I will say that I didn't start out with politics around fat acceptance, I just knew that I was tired of hating myself."
And then when I was doing drag, I basically met all these people who were really cool with femme, and femme had a really important place in the queer community. It was visible, and it was amazing and that changed my world. At the same time, I had recently sort of discovered dressing well and dressing in a way that made me feel good about my body and wearing dresses and all that stuff and that became this great feedback loop where I was wearing dresses and having lots of cleavage and people were complimenting me on it and enjoying it, and I was like, "Wow this feels really great, let's keep doing this!" And then I met people who were fat and loved themselves and performed and were onstage. I will say that I didn't start out with politics around fat acceptance, I just knew that I was tired of hating myself.
And now that I've developed a consciousness about it, I like to call myself a body liberationist because it's not just about fat acceptance. I think everyone who has a body in this world is subject to scrutiny that's really unfortunate and unfair. My friend Glenn Marla says there's no wrong way to have a body, and that's the truth. I believe that very heartily. I think everyone should have the liberty and luxury to feel good about themselves and to dress themselves in a way that makes them feel good and to just be free to have a body without worrying about what people are going to say or do about it.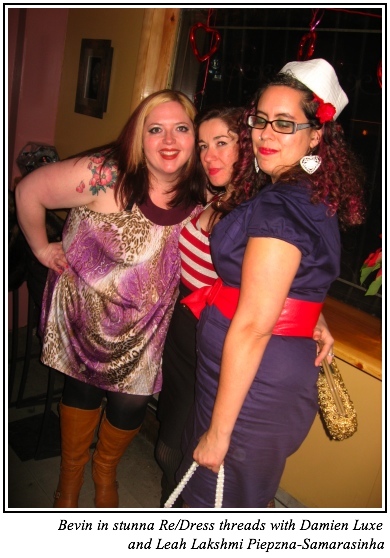 Laneia: You say you used to feel apologetic about your femininity. I want to know what you think the difference is between femme and straight femininity.
Bevin: I think femme is conscious, and I think femme is so many things. My friend Leah Lakshmi says femme is a way of being a girl that doesn't hurt. It's a way of owning your femininity as a source of power instead of just a default "I'm a girl so this is what I'm supposed to look like." I think femme can be all genders and all sexualities. I would say that it's definitely a queer identity, and so whether your queerness manifests in whoever you fuck — I don't care. You know, I'm not femme because of who's on my arm or who's not on my arm. I mean, god, if my identity had anything to do with how much I got laid, it would be so fucked up, right? I think that's all separate. I can't possibly limit myself or wait to find the butch or whoever is going to legitimize me, you know?
It's long, and it's hard for me to say because I feel really committed to this idea of an open self-identification for femme. I mean for me, femme is a lot about how I fit in in my sexuality and has less to do with my gender. I feel like my gender is more like "fancy" or "muppet," I don't know. It's much more like femme has way more to do with how I came to feel connected to and saw myself in the queer community.
Laura: Now I want to hear about what you like to wear!
Bevin: I have a huge wardrobe. I really love being creative. I like to wear lots of different things. I'm not one of those people who will say, "Oh I don't like to wear the same thing more than once a month," because if I like something, I'll probably wear it once a week for a while, but what I like tends to change. I like things with a lot of cleavage. I like things that are really tight and show off my body. I like things that get me noticed. I like to be noticed. I spent so much of my life when I was younger being told that I had to hide my body. Clothes don't actually hide you so I want to look as good as I can and wear things that accentuate the parts of my body that I like the most. I like things that look like they might be uncomfortable, but they're really supercomfy. Like a cotton wrap dress, for example, looks like it's a really fancy constructed garment, but it's not, it's really cozy.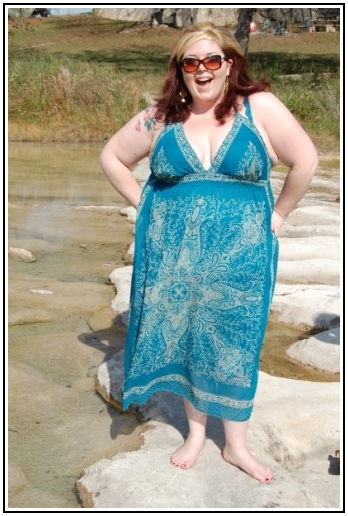 Laura: So you like to change it up! Have you got any staples?
Bevin: Because I work as a shop girl, comfortable shoes are really really important. Your feet are a non-renewable resource. It's not like if your calf atrophies you can build it back up again. Feet and knees are very important to take precious care of. Even though the feminine ideal is to prance around in heels all the time, I only wear heels when I can, which is on stage, in the bedroom, and to and from a date, you know what I mean? I found some super comfortable, really cute Mary Janes, they're Tuks, and they are very comfortable, and they last all day and I wear them almost every day. They're black, and I have a pair that are pink with black polka dots.
I found this fur collar that I've been wearing with my coats this year. I mean, it's not really coat season anymore, but I got it in October so as it got colder I just added a more heavy weight coat and put the fur collar on so it would always look like I had a coat with a fur collar. It's much more stylish for me than a scarf. It's vintage because I would never want something killed for me.
Laura: Do you have a name for your style?
Bevin: There's sort of a flamboyance to it. It's like a high-femme flamboyant muppet. I mean it's very Miss Piggy meets Marilyn Monroe meets Ginger Spice meets Dolly Parton. I'm thinking high femme glamorous but a little bit goofy.

Laura: And what are you wearing right now?
Bevin: Oh, that's so dirty. I'm wearing a satin top with a little tie. I love it because it's peek-a-boo cleavage so it's like still cleavage but not super obvious and then it's just a really pretty print. It's purple. I wish I had all the language with fashion, but that's another degree.
[At this point, we talked about boobs for a while, and I discovered that Bevin has figured out how to finagle 6 bras for $20. !!!]
Laura: Um, that's ridiculously amazing. Is there anything that you don't mind spending a lot of money on?
Bevin: Beth Ditto's a fashion icon of mine and always has been ever since when she was in On Our Backs I think in 2002. That was really when I had my ah-ha moment of "I need to get okay with my body because this girl's like 2 years younger than me and she's naked in this magazine fucking her trans boyfriend." I mean it's not that I want to be naked in a magazine fucking my trans boyfriend, but I wanted to be okay with my body so like watching her develop and seeing her come from her more punk rock days. I remember the first Gossip concert I saw was in this shitty place in Philadelphia. She had this shirt that said "my period ate me out," and she had just written it in marker, and she created her fashion there and she still looked ferocious and femme and amazing.
And Beth Ditto now is all fancy pants, being designed for by big giant labels, and she had a line of clothing that came out of Evans, which is like Lane Bryant in the U.K. Her dresses weren't like crazy expensive, but for me spending 110 bucks on a sweater dress was crazy. But it was just gorgeous piece with a mod face. It was very '80s and very hipster all at once and also very cozy and, as you know, I like to be comfortable, and it had like sequins on it. It was so amazing. So that was probably my biggest splurge recently but it was totally worth it. It's so cute and anytime I've worn it, it's like a stop-traffic dress.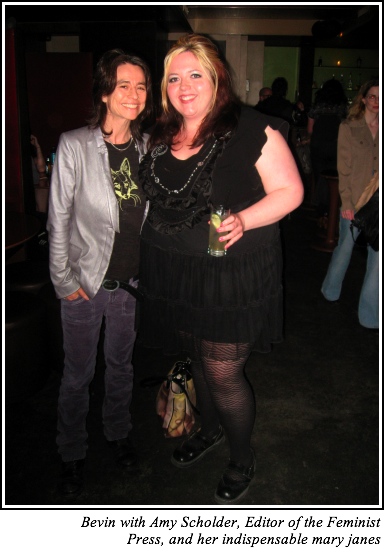 Pages: 1 2See entire article on one page