Senoritas, this is Bevin Branlandingham, and I think it's high time you met. Bevin is a lawyering, happy-to-tell-you-she's-31-year-old who lives in Brooklyn, but really that's just the boring stuff. She works at Re/Dress a plus size vintage shop, runs a blog, has a podcast, performs drag, comedy, burlesque, aspires to having her own talk show and is generally an ultra-rad warrior for self-acceptance.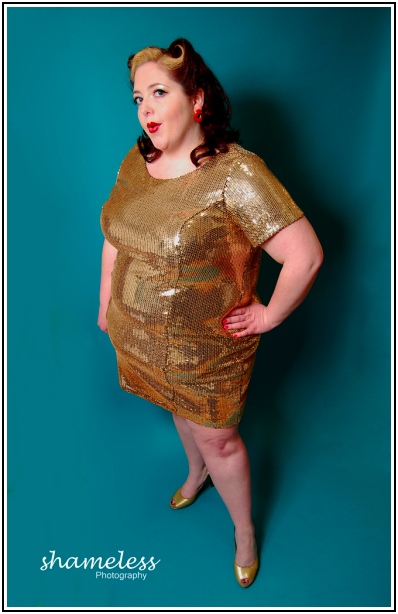 Laura: Let's start with what you do — tell me about the art you make.
Bevin: My mission in life is to help make the world safe for people to love themselves no matter what their differences are. So I do that in a sort of huge, any-medium-possible way. I have a blog because I like to write and it's nice to be able to publish and have that sort of instant gratification. I'm also a performer. I started as a drag king. I'm an amazing drag king, I'm just going to put that out there. It's a total cartoon character on stage. And I started hosting shows with my drag troupe so that sort of developed me into a multi-facet performer. I also do spoken word, but it's not like, you know, the sort of lilty Alix Olsen kind. But you know, I'm going to go on stage, and you're not going to realize what I'm doing is what I'm doing until I do it. I also have my podcast, which is FemmeCast: The Queer Fat Femme Guide to Life and that one involves a lot of fashion but also social justice and stuff that is interacting in the lives of femmes and fat folks and queers of any gender.
Laura: So your blog is Queer Fat Femme. Were you always so comfortable with just being like, "This is who I am"?
Bevin: Oh, no way. It was such a journey. It's funny because I didn't become comfortable with being fat or femme until I became comfortable with being both. Going through college, I didn't know anyone who was fat and who loved themselves, that was weird, and I also didn't know anyone who was femme and queer who wasn't apologetic about their femininity or derisive about their femininity. I remember someone telling me I was a lipstick lesbian and feeling so hurt and offended and it was just like, "Why does 'lipstick lesbian' have to be such a dirty thing?" It's just like, "You're not doing it right," that's how it felt.
"I will say that I didn't start out with politics around fat acceptance, I just knew that I was tired of hating myself."
And then when I was doing drag, I basically met all these people who were really cool with femme, and femme had a really important place in the queer community. It was visible, and it was amazing and that changed my world. At the same time, I had recently sort of discovered dressing well and dressing in a way that made me feel good about my body and wearing dresses and all that stuff and that became this great feedback loop where I was wearing dresses and having lots of cleavage and people were complimenting me on it and enjoying it, and I was like, "Wow this feels really great, let's keep doing this!" And then I met people who were fat and loved themselves and performed and were onstage. I will say that I didn't start out with politics around fat acceptance, I just knew that I was tired of hating myself.
And now that I've developed a consciousness about it, I like to call myself a body liberationist because it's not just about fat acceptance. I think everyone who has a body in this world is subject to scrutiny that's really unfortunate and unfair. My friend Glenn Marla says there's no wrong way to have a body, and that's the truth. I believe that very heartily. I think everyone should have the liberty and luxury to feel good about themselves and to dress themselves in a way that makes them feel good and to just be free to have a body without worrying about what people are going to say or do about it.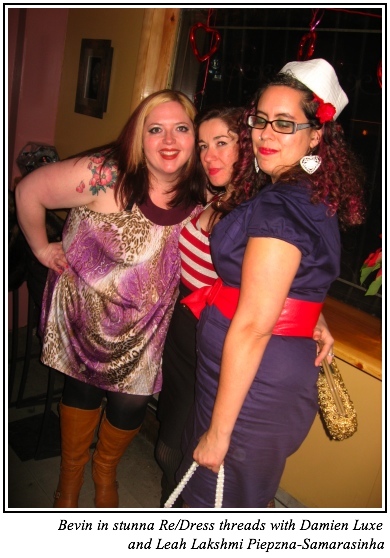 Laneia: You say you used to feel apologetic about your femininity. I want to know what you think the difference is between femme and straight femininity.
Bevin: I think femme is conscious, and I think femme is so many things. My friend Leah Lakshmi says femme is a way of being a girl that doesn't hurt. It's a way of owning your femininity as a source of power instead of just a default "I'm a girl so this is what I'm supposed to look like." I think femme can be all genders and all sexualities. I would say that it's definitely a queer identity, and so whether your queerness manifests in whoever you fuck — I don't care. You know, I'm not femme because of who's on my arm or who's not on my arm. I mean, god, if my identity had anything to do with how much I got laid, it would be so fucked up, right? I think that's all separate. I can't possibly limit myself or wait to find the butch or whoever is going to legitimize me, you know?
It's long, and it's hard for me to say because I feel really committed to this idea of an open self-identification for femme. I mean for me, femme is a lot about how I fit in in my sexuality and has less to do with my gender. I feel like my gender is more like "fancy" or "muppet," I don't know. It's much more like femme has way more to do with how I came to feel connected to and saw myself in the queer community.
Pages: 1 2See entire article on one page