Laura: Now I want to hear about what you like to wear!
Bevin: I have a huge wardrobe. I really love being creative. I like to wear lots of different things. I'm not one of those people who will say, "Oh I don't like to wear the same thing more than once a month," because if I like something, I'll probably wear it once a week for a while, but what I like tends to change. I like things with a lot of cleavage. I like things that are really tight and show off my body. I like things that get me noticed. I like to be noticed. I spent so much of my life when I was younger being told that I had to hide my body. Clothes don't actually hide you so I want to look as good as I can and wear things that accentuate the parts of my body that I like the most. I like things that look like they might be uncomfortable, but they're really supercomfy. Like a cotton wrap dress, for example, looks like it's a really fancy constructed garment, but it's not, it's really cozy.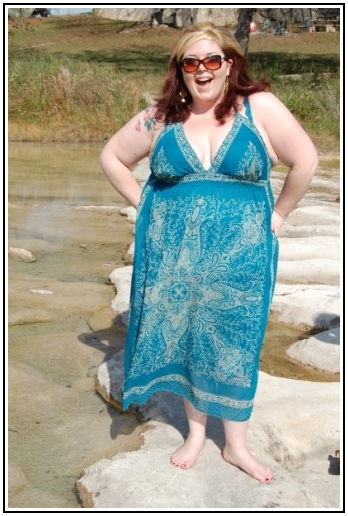 Laura: So you like to change it up! Have you got any staples?
Bevin: Because I work as a shop girl, comfortable shoes are really really important. Your feet are a non-renewable resource. It's not like if your calf atrophies you can build it back up again. Feet and knees are very important to take precious care of. Even though the feminine ideal is to prance around in heels all the time, I only wear heels when I can, which is on stage, in the bedroom, and to and from a date, you know what I mean? I found some super comfortable, really cute Mary Janes, they're Tuks, and they are very comfortable, and they last all day and I wear them almost every day. They're black, and I have a pair that are pink with black polka dots.
I found this fur collar that I've been wearing with my coats this year. I mean, it's not really coat season anymore, but I got it in October so as it got colder I just added a more heavy weight coat and put the fur collar on so it would always look like I had a coat with a fur collar. It's much more stylish for me than a scarf. It's vintage because I would never want something killed for me.
Laura: Do you have a name for your style?
Bevin: There's sort of a flamboyance to it. It's like a high-femme flamboyant muppet. I mean it's very Miss Piggy meets Marilyn Monroe meets Ginger Spice meets Dolly Parton. I'm thinking high femme glamorous but a little bit goofy.

Laura: And what are you wearing right now?
Bevin: Oh, that's so dirty. I'm wearing a satin top with a little tie. I love it because it's peek-a-boo cleavage so it's like still cleavage but not super obvious and then it's just a really pretty print. It's purple. I wish I had all the language with fashion, but that's another degree.
[At this point, we talked about boobs for a while, and I discovered that Bevin has figured out how to finagle 6 bras for $20. !!!]
Laura: Um, that's ridiculously amazing. Is there anything that you don't mind spending a lot of money on?
Bevin: Beth Ditto's a fashion icon of mine and always has been ever since when she was in On Our Backs I think in 2002. That was really when I had my ah-ha moment of "I need to get okay with my body because this girl's like 2 years younger than me and she's naked in this magazine fucking her trans boyfriend." I mean it's not that I want to be naked in a magazine fucking my trans boyfriend, but I wanted to be okay with my body so like watching her develop and seeing her come from her more punk rock days. I remember the first Gossip concert I saw was in this shitty place in Philadelphia. She had this shirt that said "my period ate me out," and she had just written it in marker, and she created her fashion there and she still looked ferocious and femme and amazing.
And Beth Ditto now is all fancy pants, being designed for by big giant labels, and she had a line of clothing that came out of Evans, which is like Lane Bryant in the U.K. Her dresses weren't like crazy expensive, but for me spending 110 bucks on a sweater dress was crazy. But it was just gorgeous piece with a mod face. It was very '80s and very hipster all at once and also very cozy and, as you know, I like to be comfortable, and it had like sequins on it. It was so amazing. So that was probably my biggest splurge recently but it was totally worth it. It's so cute and anytime I've worn it, it's like a stop-traffic dress.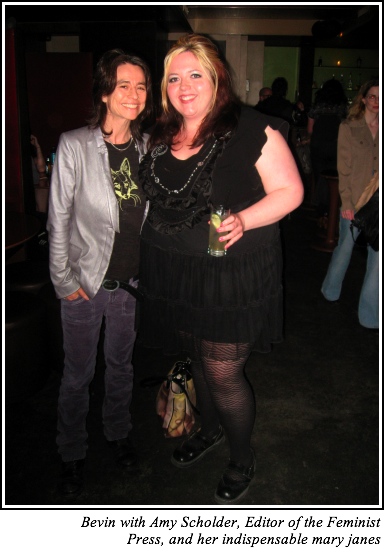 Pages: 1 2See entire article on one page