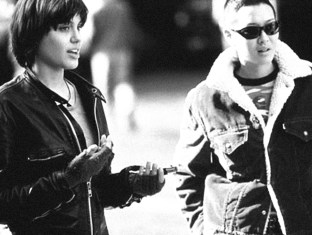 ANGELINA JOLIE: According to about fifteen completely unreliable sources, Angelina Jolie may have rekindled her former relationship with lesbian Jenny Shimizu, reports showbizspy.com, in an effort to get back at Brad Pitt for rekindling his relationship with Jennifer Aniston. The likelihood of any source being familiar with exactly what went down between AJ and JS when Pitt interrupted their steamy phone call is almost certainly complete bullshit, but the idea is nice.
"I would probably have married Jenny if I hadn't married my husband [Billy Bob Thornton at the time]. I fell in love with her the first second I saw her," the actress said a few years ago.
Well Team Autostraddle is still on the boat but it's our last day! Basically, we leave the internet for a week and what happens? Lady Gaga's Bad Romance debuts, Maine Anti-Equality Leader Gets a Death Threat, Democrats, Unicorns & Anti-Choice Conservatives Passed a Health Care Reform Package, Carly actually enjoyed Grey's Anatomy, and we debuted another fantastic list of Queer Girl Movies to watch out for. Brooke has her first Autostraddle writing opportunity to review Jay-Z's Empire State of Mind.
I smoke demon weed in the slums of Honduras and smack my head on a slab of concrete, Brooke gets thrown overboard for talking too much about business to non-business speakers, and we were woken up at 10 a.m. this morning and told we had an interview with Erin Foley in five minutes. So I'm wearing legwarmers and no makeup in the computer room wondering wtf is going on and WHY THE INTERNET IS SO MOTHERFRACKING SLOW. I think there is a wet t-shirt contest happening on the deck right now, no joke.
We won't be back to the city 'til Monday so don't get too excited about our return, Intern Sarah deputy editor. Obvs we have a LOT of comments to respond to!
LOHAN: Also, apparently Lindsay Lohan fled a nightclub in tears after a confrontation with her ex- gal pal, Courtenay Semel, who has begged her to go to rehab?
GAYS ON TEEVEE: According to Newsweek, gays on teevee used to promote tolerance and understanding and now they are reinforcing them. I have absolutely no idea which gay teevee characters used to promote tolerance, I believe they have always promoted stereotypes and insanity, nor do I have the internet minutes to investigate this situation or read the article.