by lana, tami, cara & whitney 
Tech? Check. Robots? Check. Apps? Yup, we have those too. Basically, if your nerdy queer is going to be the one watching the Doctor Who Christmas episode the night it comes out, this is your list. Now the only hard part about holigay shopping is sorting through your googolplex of options. May the Force Be With You.
Nerdware
Doctor Who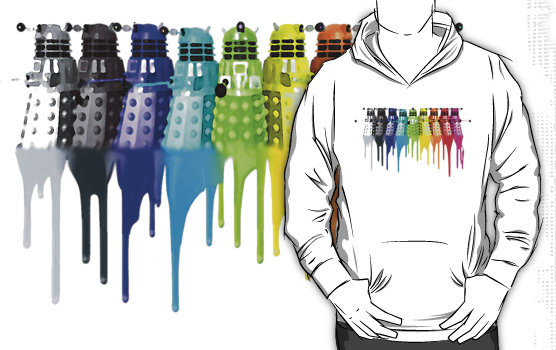 Why yes, those are Daleks and Rainbows combined on one awesome sweatshirt ($46). If you love the Doctor Who but are more of a weeping angels kinda queer, try Keep Calm and Don't Blink ($50), a delightful play on the WWII British propaganda poster that includes a TARDIS. Or how about just a straight up TARDIS? A Wibbly Wobbly Timey Wimey sweatshirt ($47) might be for you. Keep in mind that almost all of these sweatshirt prints can be had as tee-shirts and other cool stuff as well.
Want some bling on a ring? This Starry Night Tardis ring may be just the thing ($10). For the dapper among us, try a tie that's bigger on the inside ($24).
Hogwarts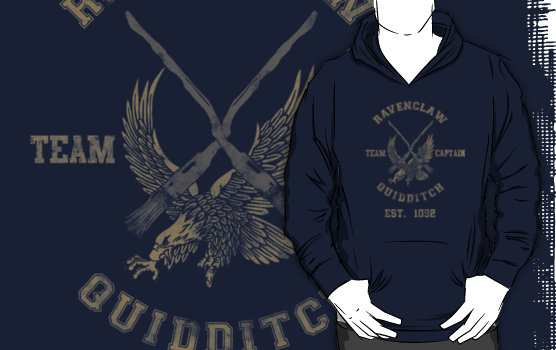 This Ravenclaw Quidditch Team Captain sweatshirt ($48) is essentially the crux of my inner eleven-year-old's dreams. Speaking of crux, this sweatshirt will remind your loved ones to Make Love Not Horcruxes ($44). And if that's not enough of a reminder to be on the right side, remember that I Want You For Dumbledor's Army ($48). Or maybe you just want to tell your girlfriend Always ($44).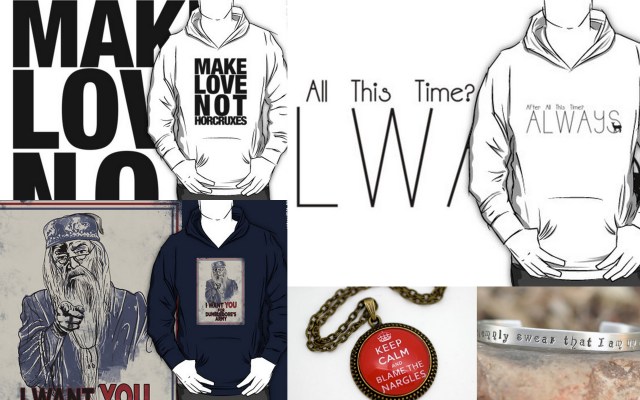 Doe you solemnly swear that you're up to no good? Then this bracelet ($13) is for you. When things go wrong, we can always point to this necklace and say "Keep Calm and Blame the Nargels" ($12).
Bluetooth Gloves
Speaking of cold-blooded beings, does winter make you want to curl up in your shell and hibernate? Do you sometimes steal your turtle's UV lamp to comfort yourself when the weather outside is frightful? Well now you can at least feel free to call home crying as you brave the frigid wastes. All "talk to the hand" jokes aside, this Bluetooth glove is the most hilarious thing to happen to winter since Elf. Holding your hand up to your face and talking to it might make you feel awkward, but feeling awkward makes you warmer. Fact.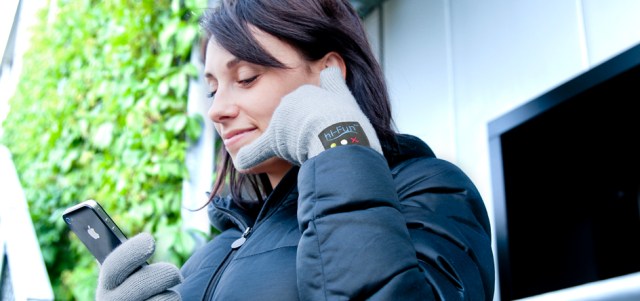 Tech
Hardware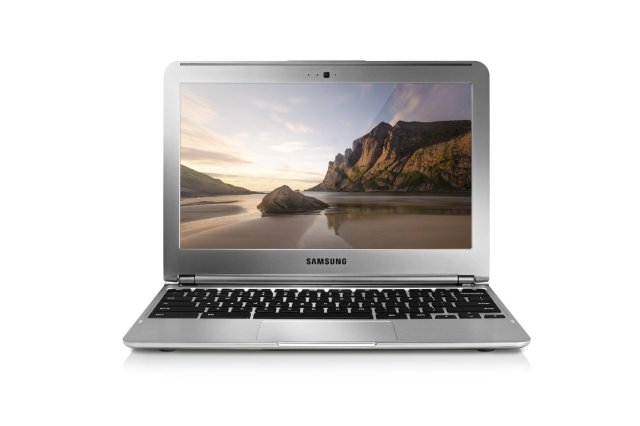 For those who are building their own computers this winter, try this 55 piece computer toolkit by Belkin ($36). For those of us who aren't there quite yet, here's a Samsung Chrome book ($249). Can you believe it? That's a whole computer. A whole computer for $250! If you have a high concentration of readers on your list, you'll probably want to consider the kindle family, with a Kindle starting at $69 or a Kindle Fire starting at $159.
Have an LGBT person who'd love to make their lightbulbs rainbow and control them from their iPhone or iPad? You can provide them with that! Hue by Phillips ($290) can make their dream a reality (also they're super energy efficient.) Satisfying a real audiophile? Bose is the way to go, with a pair of kickass computer speakers ($89) or a set with a subwoofer included ($359). And with all these cables, you may want to cable manage with Blue Drop ($11). For some computer hardware that falls into the category of "beautifully carved," there's always a Bamboo wireless keyboard and mouse set ($85).
Software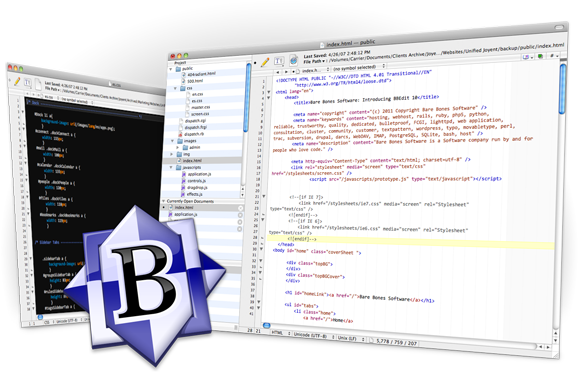 Living with a computer programmer? Try BBEdit, a code markup software that you can gift for Mac ($50) If you're shopping for someone who's not a computer programmer, try Scribblenauts Remix for iOS ($0.99). The premise of the game is that you type anything in and bam, the game makes it for you to use in solving puzzles and going on adventures. If you type rainbow in before anything (like friendly rainbow gorilla, for instance), it will be so.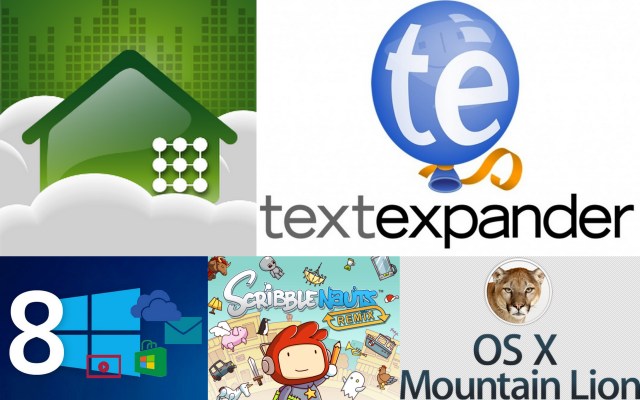 Give the gift of safety with CrashPlan, a site that allows you to back up your computer wirelessly. If your best friend loves to cut corners, gift them Breevy ($35), a text expander for windows that lets you type abbreviations and come out with full words, or TextExpander for Mac ($35) (and even iOS for $5) which does the same. Mom and Dad haven't upgraded their operating systems in a bajillion years? Give the gift of remaining current with a Windows 8 upgrade ($40) or a Mac OS 10.8 Mountain Lion upgrade ($20), depending on their hardware.
 Cases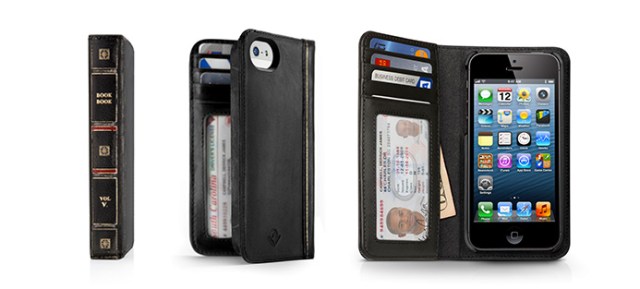 For the iPhone 4/4s user, try the BookBook by Twelve South ($39) which is an iPhone case and wallet all in one, and has the added bonus of resembling a book. You can also get the BookBook case for iPhone 5 ($60) by Twelve South. Need to buy for someone a little bit rougher? Try an Otterbox for 4/4s ($35) or even for the 5 ($35). They come in a ton of colors and you can't beat the protection. Want a case that'll charge your iPhone? You can grab a Mophie Juice Pack Plus ($100) for your 4/4s.
If you're shopping for a laptop user this holiday, their laptop should probably live in a Fleece Monster by Barry's Farm ($45). Fyi, they hand make all their accessories! They also make some pretty unique iPad sleeves, like this one that looks like notebook paper ($30). Didja get someone a kindle? Pair it with a case from Pad and Quill ($40-$60) that is made of quality wood and looks like a book!  If your iPhone was born in the wrong time, it might feel better dressed up like a cassette tape ($2!), or a retro Nintendo controller ($15).
Books

Know someone who gets all beamed up by science fiction? An English translation of Icelandic author Andri Snær Magnason's wacky and prescient LoveStar ($12) was finally released last month (I haven't read it yet, but this excerpt sold me, as did the fact that Magnason once wrote a book of poetry that was only sold in supermarket checkout lines). Then you have Marisa Meyer's Cinder ($11), in which Cinderella is a cyborg; Alastair Reynolds's Blue Remembered Earth ($18), in which an elephant expert is blackmailed into going to the moon; and the annual Nebula Awards showcase ($13), which is a grab bag of different-flavored electric gumballs. For those more into science fact, there's Samuel Arbeson's The Half Life of Facts ($13) (facts about facts! mind explosion!), Mark Henderson's self-explanatory The Geek Manifesto ($18), 21st-century dreamboat Nate Silver's The Signal and the Noise ($17),  and Neuromancer scribe William Gibson's first collection of journalism, Distrust That Particular Flavor ($18). If you'd prefer a little of both, pick up Kurt Vonnegut's newest posthumous fiction allsorts, We Are What We Pretend to Be ($14) and his recently released collected Letters ($22). You can read one and give one to your girlfriend, and then swap when you're done – it's like literary boko-maru.
Household Gadgets, Etc.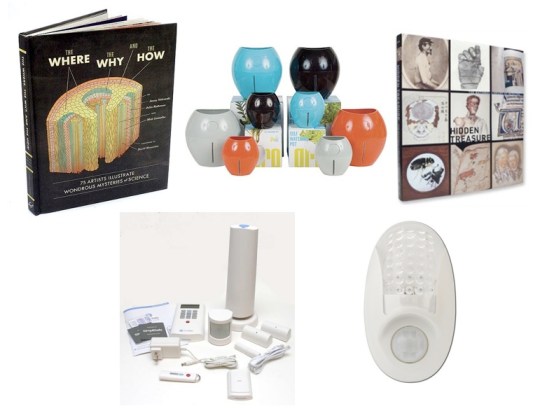 If you know someone who's constantly banged up in the shin area, maybe that person need a motion-sensing nightlight ($14). Your well-meaning but forgetful friend might like a self-watering plant pot ($34). Keep all your new gadgets safe with a portable wireless alarm system ($190) – it's self-installable and customizable, and sends you security alerts on your smartphone. You'll probably need a coffee table book to tie the room together  – The Where, The Why and the How, in which artists illustrate 75 of science's big unanswered questions,  ($15), or Hidden Treasure, which collects photographs and drawings from the National Library of Medicine, will balance out all that chrome.
Legos
A lot of us have dogs. Most of us have cats. An elite and geeky few of us have amphibious or otherwise aquatically-inclined creatures, including king of the nerd pets, winner of race, the turtle! Here's looking at you, Jeff Shellington! These creatures are our children, and nothing says "I love you" like unnecessary gifts for someone else's children. Aquarium decorations are a fun gift idea, but most of the standard accessories you'll find in the store are boring. So be creative! Find a LEGO set that speaks to you and run with it. I like the Star Wars sets because they reach maximum nerd potential and tend to have rounder edges and larger (aka choke-proof-ier) pieces than other sets. However, if I could figure out a non-toxic way to create my own scenario using altered regular LEGOs like this person, I would.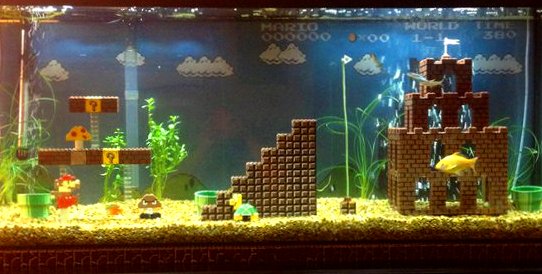 Video Games and Gamer Paraphernalia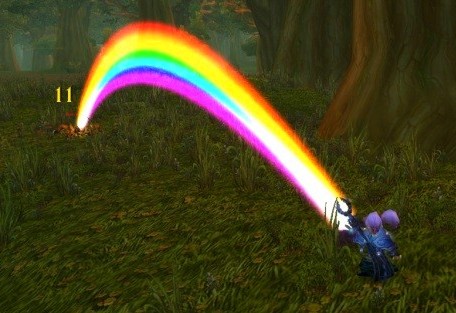 Remember when we told you about Autostraddle's World of Warcraft guilds? Remember how we wanted to hang out in Azeroth with you? We weren't kidding. This winter, give the gamer in your life the gift of rez sickness. They'll /love you for it.
Do you like alcohol? Do you like Pac-Man? BAM. Pac-Man shot glasses. I feel like the best way to imbibe alcohol is from designated retro video game paraphernalia, and these Pac-Man glasses are perfect for the job. These shot glasses come in sets of four, with Pac-Man, Inky (the blue ghost), Blinky (the red ghost) and Clyde (the orange ghost) — you can fight over who gets the Pac-Man shot glass and then drink some Pac-Man cherry shots from these glasses to give Pac-Man his cherry fix. Just mix cherry vodka, cherry schnapps and lemon-lime soda.

I love me a dapper queer, and a dapper queer can never have too many special ties for special occasions. This I Love Video Games tie is for that Duck Hunt-ing gamer geek in your life for those dapper Duck Hunt-ing moments. What I like about this tie is that its pattern is a little more subtle than other game-themed ties I've seen — the pattern is filled with retro gaming gear, from the classic Nintendo Entertainment System controller to NES Zapper to the Power Glove, to NES game cartridges (fittingly labeled with "The Best Game Ever"). If you like this tie, you might want to check out this Asteroids-themed tie, or this Tron Light Bike-themed tie.

It might not look like much, but I spent many hours playing on this tiny Tetris Jr. keychain when I was growing up — oh Tetris nostalgia: I got it. Do you have a manic Tetris-playing friend? This is probably the perfect present for that person. The keychain is about an inch and a half by two inches, so it can fit into pockets and can be clipped on to backpacks. It also boasts eight different game modes including classic and elimination (getting rid of junk blocks at the bottom of the screen). The keychain also comes with tinny retro handheld music, so if you want to listen to the classic Tetris theme blared out or your matchbook-sized gaming system, you can.

Cave Story Plus is a platformer for both Mac and PC. It's available on Steam, so if you or your loved ones and cuddle buddies haven't played this indie game yet, you really, really should — what better time than the holidays? While the original Cave Story is available to download and play for free online, Cave Story Plus is a remastered version of the original 320 by 320 pixel game and includes remastered sound, remodeled HD graphics, a copy of the original Cave Story, and additional gameplay modes that are not in the original. This game is one of the most beautiful and well-designed games I've ever played. I could probably go on about it for days — to sum it up, it has bunny-like creatures called Mimiga, massive eggs and beautiful level design and features a slough of different types of guns that do everything from shoot bubbles to fling you in the air, jetpack-style. There's a video here if you'd like to see more.

Role-playing games are my absolute favorite. If you or your friends enjoy playing Pokémon Mystery Dungeon or Diablo 2, you'd probably also enjoy Dungeons of Dredmor, which is one of my favorite roguelike games. Quick Video Game Culture 101: A roguelike is a type of RPG that often has permanent death (if you die, you have to start from the beginning of the game), randomized levels and turn-based combat. If you like all of these things, this game is for you. Dungeons of Dredmor is a tongue-in-cheek roguelike with a deep sense of sarcasm and hilarious sense of detail. In this game, you replenish health by eating different types of elaborate cheeses (including parmigiano reggiano cheese and smoked applewood gouda cheese) and you replenish magic by drinking different types of alcohol (from vodka and brandy to absinthe and grog — the last one an homage to The Secret of Monkey Island games). The game is available for both Mac and PC on Steam. Check out a video of Dungeons of Dredmor here.

If you or your friends have a Nintendo 3DS (and, if your giftee happens to be one of your besties, you might want to check out deals on the 3DS console in case this person doesn't), you probably want to check out Paper Mario: Sticker Star. Remember the first Paper Mario that came out on the Nintendo 64? The game touts the same paper-esque visuals and a new sticker system that gives Mario special attacks and moves. Sticker Star also retains the Super Mario RPG-style action commands that give Mario an additional offensive or defensive boost. Also, who doesn't love this mustachioed plumber? Check out a playthrough video here.