Gather round fruitcakes. If you are fretful about how you can possibly communicate all your supersonic love waves to a certain somebody in this festive giving time, well unfurrow your brows already. Yer too attractive to be all furrowed. Come and I will regale you with tales of this one time when I combined some dead plants and made the most Thoughtful Gift Ever, thus spreading joy and peace and love and all that good stuff.
I am the most glad that I get to share this enchanting project with you beautiful people. It doesn't cost a lot, you can put it all together in a few hours of fun AAAAND you'll be seriously warming the heart cockles of a special someone because tea just keeps on giving! And you made it your very own special snowflake self for their very own special snowflake selves! It's like a cuddle for heart cockles! It's like a herbal mix tape for your mouthbuds! Rejoice! Here is how:
1) Do some pondering. Put on the kettle and some festive beats, preferably Mariah Carey. Ponder the person you are making tea for. Do they have a quirky interest that deserves accompaniment by a specialty tea? A love of bacon or other specific flavours? A chronic health issue that can be soothed by herbs? Do you want to make a peppy caffeinated tea or a mellow herbal blend? It can be neat to try to recreate a favourite food of theirs in tea form (like banana bread) or else to choose some fan kid theme. My girlfriend likes to combat the zombie apocalypse on her Xbox, for example, so I'm going work with that. The more thoughts you have the more thoughtful this gift is gonna be so make like a third grader and have one of them brainstorms! They were right. Putting your thoughts in cloud bubbles is helpful for real life.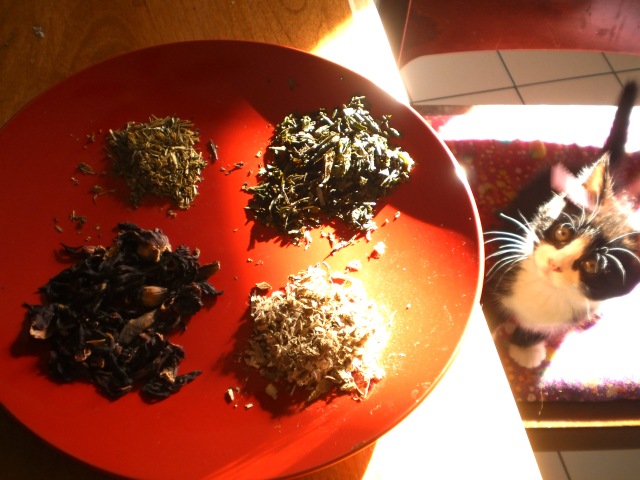 2) Now you grab your fancy hat and your British accent and go tea shopping. Your best bet is to find a place that sells loose leaf tea in bulk. A bulk food store is the obvious choice, but some natural health food stores also have a bulk section for herbs. Those stores sometimes have cool people working there, LIKE ME, who know some things relevant to your quest. So ask all the questions okay? I've found loose herbs and teas at some larger drugstores as well. And farmer's markets. And my garden. And the internet. YOU CAN DO THIS!
I picked white tea as my base. Light in flavour and only slightly caffeinated, it makes a good canvas for zombie tea. I also picked out pansy herb for detox, marshmallow root for its anti-inflammatory properties and hibiscus flowers cause they have vitamin C and look kickass. See what I did there?
But Kelsey, say you, wild eyed wanderer, what other kinds of winsome infusible materials can I use for inspiration in creating the Most Thoughtful Gift Ever?! Well, bless your cotton socks, I am ever so glad you asked! There are so, so many things you guys.
+ Chopped Nuts
+ Dried fruit (freeze dried usually gives you more flavour in a tea, but that crystallized looking kind is also dandy)
+ Candy sprinkles
+ Extracts and flavourings
+ Spices
+ Chocolate chips (tiny baby ones are cute and better for your purposes)
If you are like me, faced with all this possibility, your eyes will begin to gleam with that mad scientist gleam- I MUST COMBINE ALL THE THINGS. But please, keep cool my babies. You actually mustn't do that because it will taste weird and this isn't about you, budding apothecary, it is about the joy of giving to cute people so you get to make them smile and feel loved or something. Stick to a few complementary flavour profiles. Chocolate and dried orange peel with black tea. Mint and almond chai. Bacon and maple Canadian breakfast tea. Pumpkin pie spice rooibos. Licorice root with mango and green tea. Try to contain yourself and do more awesome with less fuss. You got this.
It is the best if you can go to a place that lets you smell their wares before you buy them. The sense of smell is so huge in the experience of a tea you know? Also think about how your tea will look in a jar. It can be so purdy you guys, like a bejewelled burnt shimmer salad with rainbow shooting star sprinkles. Like a drag queen unicorn's ashtray if unicorns smoked cigarettes. They'd be rolled by hoof.
3) If you are using extracts to flavourize you will now need a spray bottle. You can just find a clean spray head and stick the straw right in the bottle of extract. Spread your tea out on a baking pan and mist with the extract. Mix the tea leaves around a bit and then mist again. Put your now misted tea in a mason jar and screw the lid on. Let it do its absorbing thing in there for a few hours. Now, spread it out on a baking sheet and let it dry for a few hours more. Tahdah!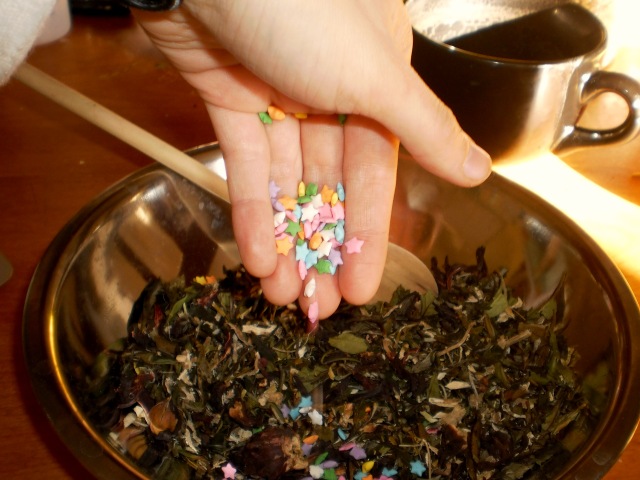 4) Tea and you, and you and tea. No matter how they toss the dice, it has to be time now to make the tea magic happen wizards! Chop your fruit and other peripheral flavour givers down to small cubes for better infusion. Throw it all in a large bowl so you can see what kind of proportions you are getting yourself into. Take a random sample and make yourself a cup. Add a little more of this, a little less of that, get good and golden. Give yourself frequent pats on the back for encouragement. You are doing it friend! You are inventing new taste sensations. 10 points for Griffyndor!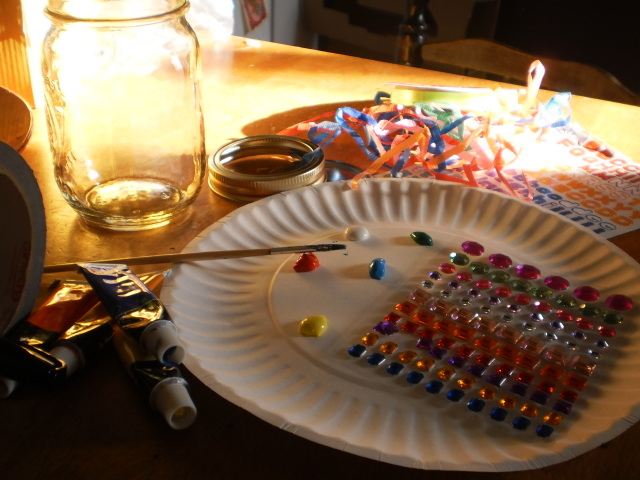 5) There comes a time in every crafter's life when they've got to make some tough decisions. Do you want to give your somebody a delightfully decorated jar of gorgeous tea? If so, make sure they have the supplies to drink loose leaf tea. Or knit/sew them a tiny reusable tea bag. Or, OR, consider the possibilities of a post-gifting cup of plain old school tea. So badass. Just leaves, a mug, hot water and the good ole future. Whudup?
Also, you can easily make your own tea bags from coffee filters. Yep. You betcha.
The idea of writing quotes on the "tags" is aces, kid. If I were dating myself I would so gift myself some handmade tea and tea bags each with handwritten Andrea Gibson quotes. Then I would probably need tea just to calm down from the palpitations of adorable. Just sayin'.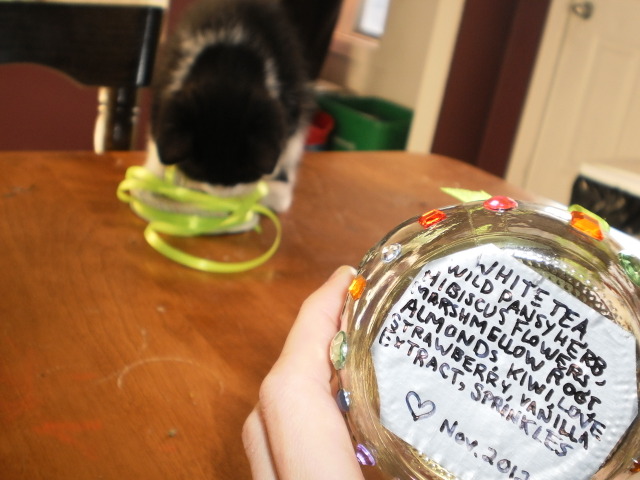 Whatever you do be sure to take chances, make mistakes and get messy. Also, include with your tea, a list of ingredients and some prep directions. Go by your base tea and add more minutes to the steep time if you have fruit pieces, chocolate or nuts so they get a chance to fully express themselves. If you aren't sure, do a search for preparation directions for your base tea on l' Internet.
6) Emerge from the smouldering refuse of your craftwork, wiping the glitter from your eyes. Listen to Kraftwerk. At the right moment, give your somebody their precious tea treasure. Let the astonishing wonder of your skill sink in for 5-10 minutes. For best results, pair tea with cuddles and a marathon of holiday television specials. Enjoy and repeat often and oftener.