Hello, happy fabulous virtual world in which I somehow belong! It's a beautiful day in the neighborhood, right? There's a heat wave happening right now and that means that between Sunday and today I have taken off approx. 3 layers. Here's all the stories we missed this week.
Hillary Clinton, AKA Only Woman I'll Ever Love
This week Hillary Clinton participated in and henceforth won without dissent the month's Selfie Challenge.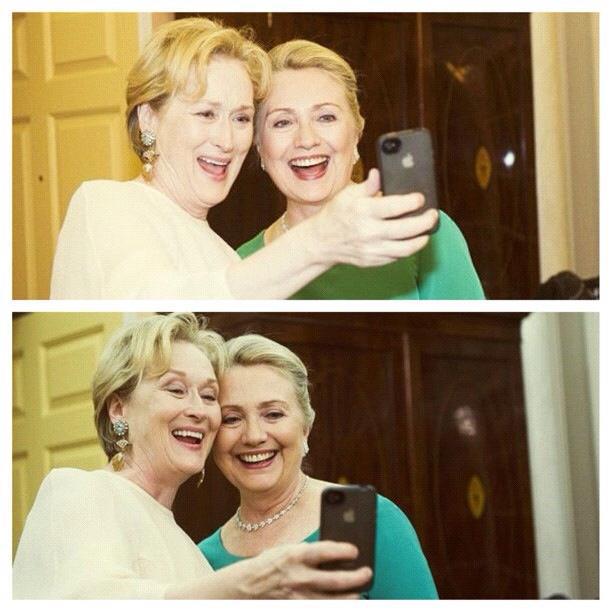 And then Meryl Streep donated the photo to charity! Because Hillary Fucking Clinton is worth bands, mane.
Speaking of Hillary: this week HRC spoke well about LGBT civil servants and we all fantasized one more time about whether or not she's ever going to actually be the president. 
Hillary Clinton is running for President. And the Israeli political class is a full-blown train wreck. These are two conclusions, for whatever they are worth, based on a three-day conference I attended this weekend at the annual Saban Forum, in Washington, D.C. […]
Hillary Clinton was the main speaker. In a packed ballroom of the Willard Hotel, she was greeted with a standing ovation and then a short, adoring film, a video Festschrift testifying to her years as First Lady, senator, and, above all, Secretary of State. The film, an expensive-looking production, went to the trouble of collecting interviews with Israeli politicians—Benjamin Netanyahu, Ehud Barak, Tzipi Livni—and American colleagues, like John Kerry. Tony Blair, striking the moony futuristic note that was general in the hall, said, "I just have an instinct that the best is yet to come."

The film was like an international endorsement four years in advance of the Iowa caucus and the New Hampshire primary.
Beyonce's Documentary
Allow me to repeat: Beyonce's Documentary.
Born In The USA, Unless You're Not
This week in the Heartland, NOM was fined for violating campaign laws in Maine, probably because they sent so many heartless bastards there to convince people gay people were like, evil or something. In St. Louis County, an LGBT non-discrimination ordinace passed. And in Miami, queers are needed for CIA projects and I suspect a white convertible would be part of the package deal.
Meanwhile in New Hampshire, the state's first trans* lawmaker resigned before she could even start due to some um, problematic criminal history stuff. Awkward. [Jezebel quote below appears exactly as printed.]
At issue is ex-Rep-elect (is that A Thing?) Stacie Marie Laughton's criminal history, and whether that should have disqualified her from running for office in the first place. In 2008, Laughton was convicted of credit card fraud, falsifying evidence, and identity fraud. At the time, Laughton identified as male. He served 4 and a half months in jail, was released, and completed his parole in 2010. But his sentence also carried with it the stipulation that Laughton exhibit "good behavior" for 10 years. New Hampshire law bars felons from running for office while they're still serving out their sentences, and Laughton's technically still obligated to be good until at least 2018.
In Westwood Arizona, two high school boys were forced to hold hands and accept gay-bashing from their peers as punishment for getting in a fist fight because queers are such a joke and humiliation is a very valid rational choice for adults to exercise in the name of child development! And our own Senate is taking their sweet-ass time voting on the confirmations of an Asian-American lesbian judicial nominee. Also, Christopher Hudson is a crazy pastor taking over the mind of that innocent kid of Two and a Half Men, so.
Absolutely Amazing Shit
Girls at Work: the local non-profit that taught your daughter to use a power tool. God exists.
Queers All Around the World Like La La La La
In Israel: a gay divorce. And in Uganda: a moving letter against the "kill the gays" bill penned by a trans* woman:
I wonder then, why people say it was my choice to be this way. Why would anyone choose a life as lonely as this, a life of misery, pain, rejection, abuse and depression? And though I made it, many haven't, because their self-esteem, their confidence, and their vitality, fails them in light of all the negativities that surround them. It's hardly the disgustingly abusive world that the media paints of us, for if there is any abuse sustained even then by any party, it's by us.

I ask myself, how one can judge me, before one even knows me. I understand this though, because for so long I was hated by people before they even knew me.

Being transgender, like being gay or a lesbian, is not a choice. What is rather a choice is accepting it for a fact. What is a choice is if you — at some point in life —decide to not live a masked life, under the guise of a straight, or asexual person like I did, and restrain yourself, from everything that you know you are from the core of your being.

Victoria's Secret Gets Punk'd, So Do We
Everyone thought Victoria's Secret had actually launched a body-postive line of consenties!

But then came the eventual womp-womp: the news that it was an unsolicited effort by Upsetting Rape Culture. But hey, that's still pretty sweet.
Food for Thought, Unfortunately Not Eating
June Thomas is a lesbian and she's not getting married, never ever, and you can't make her.
I don't want to offend anyone who has chosen to say "I do," and I certainly don't want to dis the activists who worked so hard to get legislation and referenda passed. I celebrated the Election Day victories in Washington, Maine, Maryland, and Minnesota, but I wouldn't have chosen marriage equality as a political priority, though I of course believe our relationships should be treated with the same legitimacy as heterosexual marriages when it comes to rights like immigration and Social Security inheritance. I've since come to realize the gay marriage battle's strategic genius, however—marriage is such a conservative institution and such a basic civil right that selectively denying it to one group of citizens eventually seems (and is) undeniably hateful.
Still, it's not for me. My resistance to marriage isn't about avoiding commitment or responsibility. I've been in a blissfully happy monogamous relationship for going on 16 years. We own property and are raising a cat together. I just don't want to be a wife—and I don't want a wife of my own.
Also, please for the love of God never pitch this stuff to Vice ever again. If you're looking to pitch stories about your friends bands, you might as well be talking to friends about yourself – especially since peer-to-peer social networking might bring a new dimension to "friends with benefits" …an entirely political one.
Sidenote / Dear Diary: is Frank Ocean dating model Willy Cartier? Why do I feel the need to talk about his love shining bright like a diamond.
Spend Money on Good Sh*t
How about Busk's Sistah Sinema?
Sistah Sinema needs $5,000 to create a queer women of color (QWOC) video-on-demand channel, Sistah Sinema – Online, on BuskFilms.com. Sistah Sinema is a monthly event hosted in various cities screening QWOC cinema. BuskFilms is a video-on-demand site that showcases the best in lesbian/queer content. Sistah Sinema and Busk Films are collaborating to create an online portal to make QWOC films easier to find and watch. If we do not raise the $5,000, this channel will not be created.

The films Sistah Sinema screens offer a visual identity to queer women of color who are often ignored, hyper-sexualized, or demonized in mainstream media. We have screened over 30 movies in the past two years in 4 cities. Sistah Sinema is creating a mov(i)ement where queer women of color are empowered to define and share their stories, hopes, and selves.
There's "Coming Out on Top," a gay sim dating game that is, contrary to popular belief, not actually about my own life experiences.
If you're in New York, check out Hey Queen! next Thursday, the book release punk party by The Feminist Press.
Fast Food Workers in New York Can't Afford To Eat
They're mad as hell and, well, you know the rest. On Thursday, fast food workers around New York City protested as part of FastFoodForward, the largest attempt in history to unionize fast-food workers and a cause with an unbelievable request: raising fast-food hourly worker wage to 15 bucks a pop.
"We're asking for basic needs," said Williams, who works 30 to 40 hours a week and believes large fast-food companies can afford to pay workers more. […]

"People just can't find decent wage jobs," said Jonathan Westin, organizing director for NYCC. "The floor needs to be raised for everybody."
Right now, fast-food workers receive an hourly wage of about 7.50 on average. That's absolutely unbelievable, inconceivable – and it should be downright impossible. You can sign the petition in support of FastFoodForward here.
 Drag Queens
A match made in heaven: drag queens in and out of costume. Together at last.