Truths and Falsies
There are a lot of beliefs and misconceptions about non-monogamy, and research has found that "regardless of the target's sexual orientation, individuals who engaged in consensual non-monogamy were viewed more negatively than individuals who engaged in monogamy on all seven dimensions." So let's look at some of those common beliefs about non-monogamy vs. monogamy — negative, positive and neutral — and how they hold up with our data.
Non-monogamous People Have More Sex Than Monogamous People: FALSE
We debunked this misconception in our first sex survey post about how often queers have sex. The frequency rates among those in monogamous and non-monogamous relationships were nearly identical, in fact.
However, non-monogamous people have, by and large, had more sexual partners than monogamous folks. 51% of the non-monogamous and 33% of the monogamous have had 11 or more partners.
Non-monosexual People Are More Likely Than Monosexual Folks To Prefer Non-monogamy: TRUE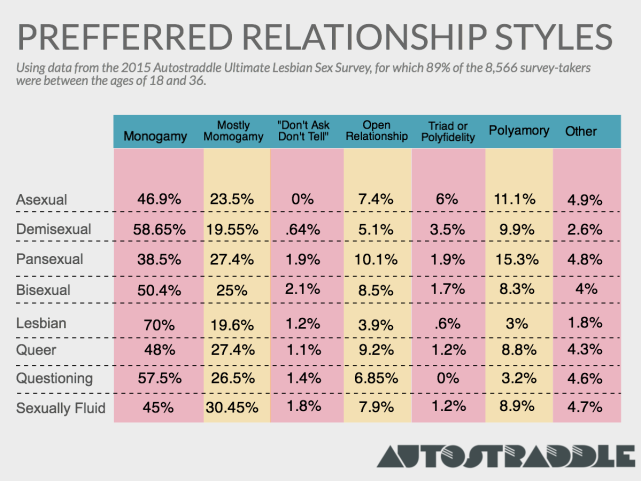 Queer-identified, sexually fluid and pansexual folks are more likely to prefer non-monogamy than the monosexuals. Our survey found 70% of lesbians and 69% of gay folks preferring monogamy, compared to 38.5% of pansexuals, 45% of sexually fluid folks, 48% of queers and 50.4% of bisexuals. A 2014 survey about monogamy taken by 6,000 people showed a similar variation: "bisexuals (65 percent of whom were women) rated monogamy as less of an enhancement and more of a sacrifice than did heterosexual or gay/lesbian people."
The important thing to take away from this is: 1) There's nothing negative about being non-monogamous, so it's not actually a negative stereotype and therefore we need not stress over debunking it, 2) This definitely doesn't mean non-monosexual folks are incapable of commitment — non-monogamy is a commitment, too, just a different kind.
Non-monogamous People Are More Sexually Risky: FALSE
In a University of Michigan study on stigma around consensual non-monogamy, "one of the strongest findings was that people believed non-monogamous couples to be more sexually risky." We found this stigma to be outrageously false. In fact, non-monogamous people are far more likely to use protection than the monogamous. 81% of monogamy-preferrers don't use protection when having sex, compared to 37.4% of those who prefer polyamory and 51.9% of those who prefer open relationships. Dental dams were most popular among the poly (15%) and least popular among the monogamous (3.8%). Those most likely to always use protection were those who prefer polyfidelity and triads. 36.8% of monogamy-preferrers always discuss safer sex with first-time partners, compared to 59% of poly-prefferers.
Furthermore, 25.9% of those who prefer monogamy have never been tested for STIs, compared to 8.75% of polyamorous folks. However — and this is a tough nut to crack, 'cause it's possible that some of those who've never been tested for an STI could have one — only 8.7% of monogamous folks have ever tested positive for an STI, compared to 16.6% of poly folks. When those who have tested positive for STIs were removed from the sample size, the numbers on safer sex practices changed very little or not at all — 81.6% of monogamy-preferrers reported not using protection and 38.6% of poly folks reported not using protection, suggesting that safer sex is employed as a smart precaution, not as a result of a definite STI diagnosis.
Non-monogamous Folks Are Kinkier: TRUE
As discussed on page one, people in non-monogamous relationships are more likely to be kinky than those in monogamous ones. (Also, many consider polyamory itself to be a kink.) 18% of monogamy preferrers are very or exclusively interested in kink, compared to 60.6% of poly-preferrers. I'll speculate here that there's a link between sexual adventurousness and a comfort with "sexual deviancy" in general that applies to both the kinky and the poly, as well as a greater interest in sex overall.
There are lots of individual sex acts that were more popular amongst the non-monogamous — 58.8% are interested in sex parties and 79.2% in threesomes, compared to 23.1% and 42.6% of the monogamous. 74% like spanking in a kinky context, compared to 52.4% of the monogamous.
Non-monogamy Is Just What The Kids / Middle Aged Couples Are Doing These Days: SOMEWHAT TRUE
There's been plenty of trend pieces on this topic, like this one from Rolling Stone, in which we learn that "younger people, twenty somethings, maybe early thirties — are negotiating what their brand of monogamy can be." That's one end of the stereotype spectrum. The other is that poly people tend to be middle-aged white, married, opposite-sex couples, but that stereotype doesn't necessarily extend to how we perceive queer relationships. According to our data, there was some variation by age, but not that much, really.
Twentysomethings: 61% prefer monogamy, 22.5% mostly monogamy and 11.42% prefer being poly or open
Thirtysomethings: 62% prefer monogamy, 21.3% mostly monogamy and 11.6% prefer being open or poly
40+: 70% prefer monogamy, 16.4% prefer mostly monogamy and 9.5% prefer being open or poly
---
Well, there you have it! Some additional reading from Autostraddle:
Pages: 1 2See entire article on one page