Fred Karger, the man who would be a gay Republican president, has been denied participation in the upcoming California Republican Convention — his own party's event — not unlike how he was recently denied participation in the debate preceding the Ames straw poll.
According to Karger, the GOP did not send him an invitation and did not return his calls. When he did get a response, it was only to say that "The schedule was completely filled."
According to the San Francisco Chronicle:
"A state GOP official, who declined to be identified, said the party did not want to "negotiate in the press" with candidates over speaking arrangements. But the official also noted there is a real logistical problem in accommodating the presidential candidates, including former Utah Gov. Jon Huntsman, former House Speaker Newt Gingrich, and former Pennsylvania Sen. Rick Santorum, who have been invited to attend. The marquee names will draw more interest and paying seat-holders, party officials say.
Still, Karger's team argues he's no neophyte in the political world – and that he deserves a spot in GOP conventions and debates like the Sept. 7 event at the Reagan Presidential Library in Simi Valley (Ventura County)."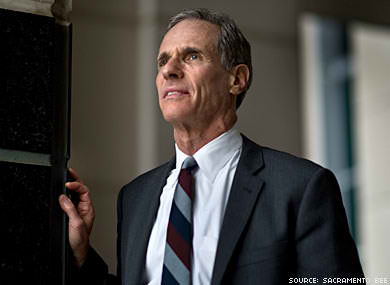 Karger has worked for a political strategy firm and consulted for Reagan's campaign, and if anyone's accusing him of not making a good enough case, maybe they should start letting him into things. Despite being qualified to participate, Karger was also not included in the pre-Iowa Caucus straw poll or the Fox Network debate. Even though he'd arranged and paid for a booth at the Conservative Political Action Conference, he was told he was no longer invited because no booths were available (his campaign manager called to check about availability for renting to a different group, and was told there were still openings).
In the same article, GOProud, which theoretically represents gay Republicans and conservatives, slammed Karger for "running around the country with a rainbow flag" instead of campaigning for real. GOProud director Jimmy LaSalvia said,
"Fred Karger is not a credible candidate. I would love for there to be an openly gay, credible candidate for president who was out there making a case for why they would be better than Barack Obama.
Unfortunately, Fred Karger is playing a stunt, and his stunt has run its course. His whole schtick is … running around the country with a rainbow flag, saying 'I'm the gay guy.' But he hasn't made a case about why he should be president of the United States."
Karger's platform includes strengthening the economy, education reform, conciliatory foreign policy, border security, and a lower voting age. It does not, as far as I can tell, include screwing with people and mass-producing rainbows. He also received 2% in the Ames straw poll leading up to the Fox debate (the minimum is 1%), tied with Tim Pawlenty and Jon Huntsman, who both attended (Pawlenty has since ended his campaign).
On the other hand, the 2010 campaign season has been called "a uniquely anti-gay GOP field." In an op-ed in the LA Times, Paul Thorton argues that while there was more gay-bashing during Bush's 2004 campaign, the level of publicity it now receives is a positive development:
"Not so long ago, the virulently homophobic views offered by some candidates were treated almost as viable alternatives to the positions taken by less anti-gay politicians. It was as if all those views came from the same menu of Reasonable Points of View Worth Debating. Now, the radical ideas espoused by Bachmann, Perry, Santorum and others are held up not for genuine consideration but for scorn (notwithstanding the last GOP debate in Iowa). Perry's and Bachmann's views aren't weighed against President Obama's "evolving" stance on same-sex marriage; rather, they are simply ridiculed. It says as much about our society as it does the candidates."
But the attention they're receiving doesn't mean the anti-gay views of these candidates are less real or less scary. Michele Bachmann may have decided to shut up about her opinions on gay people, but they haven't gone away. Fred Karger is the first ever openly gay Republican candidate at a time when an environment of political extremism means that the frontrunners of the GOP are more pointedly anti-gay than ever, with many of them going so far as to name the "preservation of the American family" as a tenet of their platform. 
And another problem, of course, is that anyone not actually following Karger and reading articles explicitly about him would not necessarily know that he's been excluded from several events; it would actually be pretty easy not know he's running at all. (But be totally up on Godfather Pizza's Herman Cain.) and might hear the words "gay" and "not a viable candidate" in tandem, draw conclusions, and move on. Rachel argued that Karger may see himself as having little chance of winning but having a significant historical role nonetheless. Hopefully he will get a chance for even that — while Karger's being elected isn't really a realistic possibility, how he's treated by his own party and conceived of by the rest of the country says a lot about how far gay people have come in the public sphere, and how willing we are to see queers in positions of power. Tim Cook seems to be imminently replacing Steve Jobs as the head of Apple, which will make him one of the most powerful gay men in America and the world. What does Fred Karger's crusade tell us about what it takes for gays to succeed in politics as well as business?
UPDATE: State GOP Communications Director Mark Standriff extended Karger an invitation after the publication of the Chronicle story. "Fred has always been welcome at the CRP – in fact, we've been working to finalize an event for him at our convention, based on a request from his camp.  We're looking forward to seeing him in L.A. next month."