The 2011 Ames Straw Poll — the most important pre-Iowa Caucus straw poll in the state, and one of the first real indicators of how the GOP nomination might turn out — will take place on August 13. On August 11, the GOP candidates will debate major issues publicly on national television. Not all of the candidates will be there, though — for instance, Fred Karger, the openly gay candidate, who wasn't included in either the straw poll or the FOX Network debate.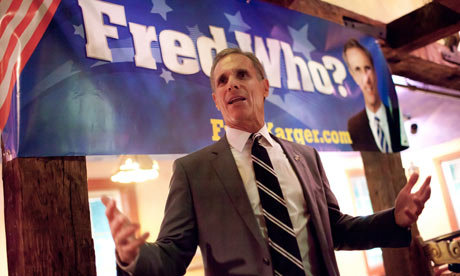 The debate has specific requirements that each candidate must meet in order to participate — after all, virtually anyone can run for President, and a debate would be unproductive and meaningless with dozens of participants, most of whom have no chance of being elected. To make the cut, Fox News provides a set of criteria based on poll numbers, and if a candidate doesn't have high enough numbers, he or she is out. But Fred Karger is arguing that that's not the case here. Here's his letter to Iowa GOP Chair Matt Strawn:
I am a declared Republican candidate for President of the United States who meets all of the requirements to participate in the Fox News Debate on August 11, 2011 in Ames Iowa.
Your criteria states:
Candidates must satisfy the following by 4 p.m. CDT on Tuesday, August 9, 2011
1. Registered with the Federal Elections Commission as a presidential exploratory committee or presidential campaign.

2. Meet all U.S. Constitutional requirements.

3. Garnered at least an average of one percent in five national polls based on most recent polling leading up to the registration day.
Attached is a new national poll that came out yesterday.  It was conducted by Harris Interactive, sample size 1,168 that was in the field between August 2 – 4, 2011.  The Harris Poll tested all 12 major declared Republican candidates for President.  I am at 2%, tied with former Governors Tim Pawlenty and Jon Huntsman.  With this latest national poll, I now meet your objective criteria of averaging at least 1% in five national polls.
I look forward to participating in the August 11, 2011 debate in Ames, Iowa and await all details.
Thank you for hosting the Republican debates.
Fox's reply claims that since the polls Karger references here are online, the results don't count, and he still isn't qualified to participate in the Ames debate. However, if one reads the fine print (or lack thereof), you'll find that Fox doesn't actually specify anywhere what kind of polls candidates can use to qualify.
"Karger, in an interview, said Fox News did not specify in its criteria what polls it would accept. He said he did not file complaints about his exclusion from the New Hampshire or South Carolina debates because the criteria either required a higher percentage or listed specific polls… We could spend a lot of space on whether online polls are credible. But since Fox's written criteria don't define a poll, Karger and McCotter have room to complain."
Karger has said that he will file a complaint with the Federal Elections Commission if he's not offered a place in the debate tomorrow. Karger's platform breaks with the Republican party line on several issues, like a path to citizenship, making American foreign policy more conciliatory, and ending the wars in Iraq and Afghanistan. Is that why he's seemingly being stonewalled? Is this truly about an unfortunate and unintended miscommunication about a set of criteria? Or is this about Fred Karger's being the only gay candidate? Thaddeus McCotter, referred to above, was also excluded from the debate — in his case, he was able to participate according to the criteria of a central planning committee co-sponsoring the debates, but Fox didn't accept those criteria. Events like these are always complicated, and it can be difficult to place blame. But as Karger points out, "(Clemente) said I had to be in five recent polls, but he said the ones I were named in didn't count ecause they were online or out of date. But when (former New Mexico governor) Gary Johnson was let in to the South Carolina debates, they went back five months to allow him in."
Karger has created LetFredIn.com to gather support, and today launched a public petition drive that you can sign if you'd like to support his presence in the debate.