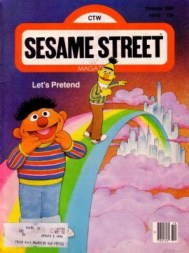 Should Bert and Ernie get married? This facebook group thinks so, and so does everyone who signed this Change.org petition.
This is a really important issue because three-year-olds have a lot of feelings about marriage and romantic relationships and definitely need to witness the life-long union between a boy who still plays enthusiastically with his rubber duckie and his best friend, whose hobbies include collecting paper clips and dancing around with pigeons.
From the facebook page:
We have started a petition to Sesame Street and PBS Kids asking them to allow Bert & Ernie to get married on the show. If done tastefully, this would greatly help put an end to the bullying and suicides of LGBT youth. Sesame street should recognize that there are LGBT relationships, families, and include them in their show.
I agree that it's important to recognize LGBT families, but this isn't the way to do it.
If Sesame Street was planning to do an episode about marriage in which two straight muppets were married off, then it'd be appropriate to include a same-sex coupling as well. But as far as I remember and can tell now, aside from the occasional Grundgetta reference, Sesame Street's muppets don't have romantic relationships or get married. The show isn't really about romantic relationships, it's about words and love between friends.
Initially, Sesame Street was primarily created to prepare kids, especially children from low-income families, for school. Long-term goals also include fostering social competence, tolerance of diversity and peaceful conflict resolution. Sesame Street has consistently responded proactively to criticisms about that diversity; adding an HIV-positive character, increasing the quality and quantity of female characters and adding more racial diversity to the cast.
For this reason I think if LGBT diversity is an issue PBS Kids is willing to address, Sesame Street could benefit from featuring an adult human same-sex couple. Kids growing up with gay parents could benefit from positive representations of families like their own and their peers could definitely benefit from a little diversity training. (Though I admit I'd be worried that kids with anti-gay parents would be barred from watching Sesame Street if a gay couple was added, which really sucks for them. But I also know that letting the child-indoctrination propaganda define our activism is "letting the other side win," so.)
Plus, it wouldn't be completely out-of-character for Sesame Street to feature married humans. In 1988, Sesame Street human characters Maria and Luis wed, a decision prompted mostly by the fact that the actress playing Maria got pregnant and  "it was decided to have them fall in love, get married, and then have her become pregnant with Gabriella."  
However! In addition to the fact that this wedding only happened due to an actress's pregnancy, what's interesting (and relevant) about this is that when the plan for marriage was established, many were confused about why, if Maria had to marry someone, she wasn't marrying David, the man speculated to be her boyfriend. Dulcy Singer:
"I thought it would be better to do it with Luis because I didn't want to open another kettle of fish. It was enough to get a wedding on the show and have a family without opening ourselves to more difficulties. And I thought it would be a good and helpful thing to show a stable Latino family."
How you feel about the motivations behind that coupling aside, the fact is that romantic relationships are so non-existent on Sesame Street that when Season 19 began — at which point Maria's character had been on the show for seventeen years — they still were working from scratch to figure out which character ought to "fall in love" with Maria.
The Muppets and their movies, which are targeted towards adults and children beyond their Sesame Street years, have featured romantic relationships and marriages, like this one: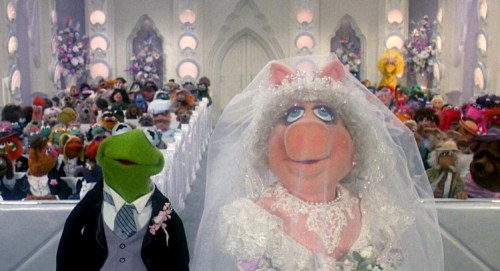 But that doesn't happen on Sesame Street.
Things like this do, though, and things like this are pretty fantastic in and of themselves:
We're all familiar with the speculation regarding Bert & Ernie's sexual orientation. The Sesame Workshop has denied these claims, affirming that Bert and Ernie are really truly just friends and that the characters were actually based on the real-life friendship of Jim Henson and Frank Oz. The Sesame Workshop's official statement:
Bert and Ernie, who've been on Sesame Street for 25 years, do not portray a gay couple, and there are no plans for them to do so in the future. They are puppets, not humans. Like all the Muppets created for Sesame Street, they were designed to help educate preschoolers. Bert and Ernie are characters who help demonstrate to children that despite their differences, they can be good friends.
At a 2005 ABC Brisbane radio interview, Bert responded to the gay question:
"Oh, you had to ask that question. No, no. In fact, sometimes we are not even friends; he can be a pain in the neck."
At a Carnegie-Mellon University interview in 1997, Ernie responded to the gay question:
"All that stuff about me and Bert? It's not true. We're both very happy, but we're not gay."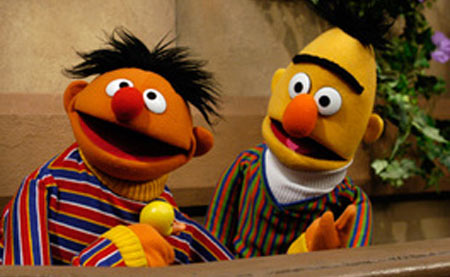 But innuendos exist — which happens a lot in children's television. Things like Bert & Ernie's sexuality, though invisible to children, are a nod to adults in the audience seeking at least nominal entertainment from children's programming.
I watched Sesame Street every day growing up and obviously never picked up on Bert & Ernie's secret gay vibes, probably because I was three fucking years old and didn't give a shit about sex or marriage or romantic relationships or even where babies came from. My Mom tried to raise us "gender neutral," so the concept of couplings being strictly male-female or otherwise conforming to typical gender roles was a bit out of my limited scope of understanding.
I may or may not have already been aware that boys had cooties, most of my feelings were about building blocks. I know that sexuality isn't just about who you have sex with and so "babies don't think about sex" isn't a valid argument in and of itself, but that might be why SS tends to stay away from storylines about romantic relationships altogether, regardless of orientation.
TIME Newsfeed says petition opponents are concerned that suddenly marrying Bert and Ernie will be confusing to kids who are unaware of the rumors and also have no gaydar. Other concerns include that this move would be too political for a show about the alphabet, that none of the other muppets are married or in romantic relationships, and that it could give kids the impression that two men living together are always gay. TIME points out, in response to concerns about it being "too political," that "in the past Sesame Street has introduced a Latina Muppet as well as an HIV-positive Muppet, so producers aren't exactly ignoring cultural shifts."
The proponents of this argue that, "if done tastefully, this would greatly help put an end to the bullying and suicides of LGBT youth." However, although gender identity starts forming around 2 or 3, it's incredibly unlikely that four-year-olds have any sexual identity at all, let alone a defiantly homosexual one. But others could argue that it plants the seed for later self-acceptance, I suppose.
Regardless, I still feel the best way to give attention to "cultural shifts" would be to add a married same-sex human couple to the show. But is America ready for that just yet? I'm not gonna lie, it does worry me slightly just because it breaks my heart to think of all the kids who might never see Sesame Street because their parents are anti-gay bigots. I realize that might be a stupid thing to say.
But pushing Bert & Ernie's beds together and slapping rings on their fingers just seems — well– weird! You guys, Ernie still IS OBSESSED WITH HIS RUBBER DUCKY!?!!? After years of denial, the duo comes out and weds? Is that a good message, too? That you should be ashamed of yourself and lie about who you are for 40 years? We may see valid gay subtext, but what children see is more of a bromance. Despite their differences, Bert & Ernie continue to share a bedroom and hang out all the time, and that's an important message, too.
Sure, we need more media visibility — desperately, in fact. But that also means "picking our battles" as well — fighting for visibility where it counts. And where it makes sense.
What do you think? Is a Bert/Ernie Marriage your dream come true? Should we care that this issue will play directly into anti-gay activists favorite kind of propaganda — the child-indoctrination crap? Will you sign the petition? Do you think Sesame Street needs to address this issue?
UPDATE: PBS has responded to the petition:
Bert and Ernie are best friends," the Sesame Workshop, the non-profit group responsible for the show, said in a Facebook message. "They were created to teach preschoolers that people can be good friends with those who are very different from themselves.
"Even though they are identified as male characters and possess many human traits and characteristics (as most Sesame Street Muppets™ do), they remain puppets, and do not have a sexual orientation."