Truth: When I got selected for jury duty I postponed for as long as possible to get called in at a later date.  I imagine it's a rare case that one rejoices at the site of a jury summons. But what if you showed up to serve for jury duty and got booted for being gay?
Enter the story of J.T., a lesbian who was dismissed from serving on the jury last year for the trial of  Daniel Osazuwa in Pasedena, California a gay L.A. inmate accused of assault.  The prosecuter of the case claims the dismissal had nothing to do with her being gay, J.T. disagrees.
Currently the Constitution's Equal Protection Clause doesn't provide protection from discrimination against homosexuals in jury selection. As reported in the Los Angeles Times:
Trial lawyers should be barred from dismissing potential jurors because of their sexual orientation, defense attorneys argued Thursday in a case that, if successful, could extend constitutional protection from discrimination to homosexuality along with race, creed and gender.
On the flip side of this debate is Jonathan D. Levitz, an actor who made headlines earlier this year claiming he couldn't serve as an impartial juror because as a gay man he is living as a second-class citizen in the United States.  Most of those who commented on the coverage of the story on Advocate.com seem to be of the "if you don't want to be a second-class citizen you need to take part in the civic process to help change your second-class status" opinion.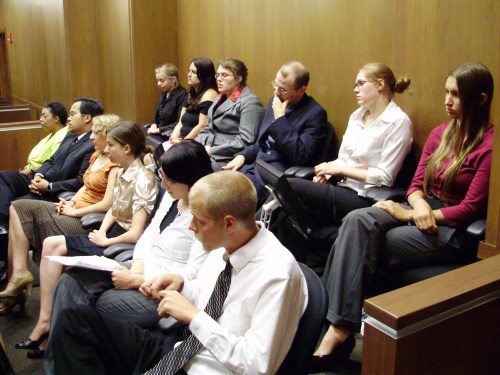 Osazuwa's case involves the accused assualt of a prison guard, but as the aforementioned article explains, "Osazuwa's defense during the trial was that he was just giving a guard a hug, a salutary gesture in his African homeland, and that the homophobic guard overreacted, lunging away and falling to the floor with Osazuwa on top of him."
One can understand why J.T. might argue that being gay was the cause of her peremptory dismissal and that this is a form of discrimination that should be illegal. A TIME case study explains more about the jury dismissal and peremptory challenges such as J.T's :
There are two kinds of jury challenges. A prospective juror can be challenged "for cause" if he has some kind of a conflict or legal barrier — for example, if he is a friend of the defendant. The challenge of J.T. was peremptory — one of a small number of challenges, which both sides get, for which they do not need to give a reason. Peremptory challenges give lawyers lots of leeway, but the Supreme Court has long held that the equal-protection clause prevents prosecutors from discriminating against certain groups in jury selection. In the 1986 case Batson v. Kentucky, the court reversed a black man's conviction for burglary after prosecutors used their peremptory challenges to strike all four black prospective jurors. Batson was convicted by an all-white jury.
Ultimately, even if J.T. wasn't dismissed from jury duty for being gay, the arguments brought before the U.S. 9th Circuit Court of Appeals regarding her case could provide landmark legislation extending protection against discrimination based on sexual orientation.