Do Hispanic queer women exist? We haven't, not for a while. I mean, we were here, right here, eating Ramen noodles in our apartments and listening to Claude Debussy songs on Pandora, all along. But you wouldn't know that based on our representation in the media or social sciences. For example, women comprise almost 60 percent of all Illinois same-sex couple households, and Hispanics are the largest minority in that state; but nobody ever talks about queer Latinas there.
Until now.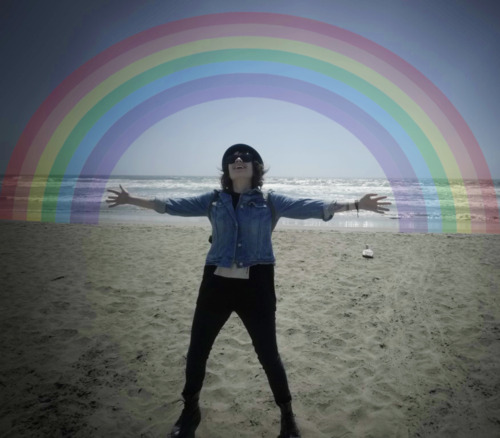 "Latina Portrait: Latina Queer Women in Chicago" is a comprehensive project sponsored and supported by Mujeres Latinas en Accion and Amigas Latinas. Together, the two groups represent Latina advocacy and support for LGBTQ Latinas, respectively. And together, they have produced a study on Hispanic Latinas that proves two things: we exist, and we're kind of in trouble.
The study covered a broad range of queer Latina experiences, having surveyed a diverse group:
Aside from sharing a Hispanic heritage, 50 percent of respondents identified as lesbian/gay/homosexual; 9 percent as bisexual; 6.5 percent as queer; 4.5 percent as uncertain/questioning, and 10 percent didn't use any of those labels. In terms of identity, 9.1 percent identified as "butch"; 26 percent as "femme," and 29.2 percent said they don't use these types of labels.
The report reveals that Latina queers are facing problems at home and in their own respective communities. They're enduring violence in their intimate relationships, facing discrimination from the LGBTQ community on the basis of race, and struggling to find acceptance as queers in the Hispanic community.
By the numbers:
+ 48 percent note racism in the LGBT community, and 17 percent feel discriminated against on the basis of race in spaces servicing white LGBTQ people.
+ 9 percent see racism as one of their biggest stressors / problems.
+ 25 percent feel discriminated against in places servicing the Hispanic community, and 54 percent feel Latinos, as a whole, aren't accepting of queer women.
+ 43 percent reported physical violence from a partner, and 45 percent reported perpetrating violence against a partner.
+ 31 percent had a female partner threaten to kill them, and 23 percent threatened their own partners with death.
The report could be hugely beneficial to queer Latina populations. It will give members of various communities the knowledge to better support Latina queers, and it will highlight issues affecting their community for the future. The study also found that these women have support from people in their lives and, overall, are out and proud; the co-authors hope it can become a resource for improving the lives of LGBTQ Latinas by using the participants' positive experiences as guidelines for what helped them overcome these challenges, and how to provide that support to others.
A life at the intersection of race, gender, and sexuality is difficult – and someone has finally recorded some of it in a way that the whole nation has to take seriously.