"Control what you can control," my dad would repeat to me whenever I found myself exasperated with frustration. He'd remind me that there was so much in the world that's outside of our ability or capacity to control — a non-contributing group member, a self-important boss or the random racist or homophobic encounter — so he encouraged me to invest my energy into the things I could. That advice came rushing back to me this week as I watched Good Trouble.
Whatever happened to Alice while she was on tour with Margaret Cho — this episode doesn't tell us — feels like it was outside Alice's ability to control…it's why she gave up this awesome opportunity and why she's pondering walking away from stand-up altogether. So now she's pivoting to controlling the thing that she can control…and, as preposterous as it sounds, that thing is ants.
Ants have infested the Coterie and Alice is determined to get rid of them and find their origin. Given that we've heard about mice and seen raccoons loose in the Coterie, ants feel like the least of that building's worries…but, again, this isn't really about the ants. Alice is just controlling what she can control.
Alice is done being Ms. Nice Gal. She insists that she'll start enforcing the Coterie's rules on overnight guests and will reinstate the chore chart, community service obligations, late rent fees and time limits for showers. She chastises the residents for eating in their lofts and leaving dirty dishes around that, no doubt, hastened this ant invasion. Half the Coterie residents scoff at the notion of Alice enforcing the rules, the other half seem taken aback by Alice's assertiveness. Malika asks Sumi about what's going on with Alice but she doesn't have the answers either.
After Dennis' party, Sumi confronted Alice with the knowledge that she'd quit Margaret's tour, rather than the tour having ended, as she was telling everyone at the Coterie. Alice explained that she'd just decided that stand-up comedy wasn't for her and lied to avoid people questioning her decision. The revelation shocked Sumi, who insisted that Alice loved stand-up, but Alice was undeterred: being on tour had shown her what stand-up was really like and she didn't like it. Sumi knows Alice well enough to know something else is going on but Alice leaves the room, shutting down the entire conversation.
Alice's ant obsession continues: she tracks ants to Davia's peanut butter covered spoon, to Dennis' Toast Truck leftovers and to Malika's open toothpaste and sends her complaints to them via text. When Malika returns home from work, she finds the Coterie manager on the floor, with an injector filled with lemon water, whispering her plan to take down the ant colony's queen. It's more than a little unsettling. Malika approaches and admits that Sumi told her about Alice quitting the tour and potentially quitting stand-up. Alice tries to assure Malika that she's fine — though she says it in that way that lets you know she's definitely not fine — and chalks everything up to her dreams just changing. She tries to pre-empt any additional questions by asserting that she doesn't want to be interrogated about it but Malika won't let the conversation go that easily.
"You know, sometimes we can hit a speed bump or a wall, even, but that doesn't mean we have to quit. Remember when we saved that bird? Sometimes the closed windows of life can knock us down but we can always get back up again and give things another chance…whether that's a new thing or the old thing," Malika advises. For now, though, Malika just helps Alice control the one thing she can by gifting her some ant traps. Admittedly, this isn't the conversation I'd hoped they'd have when Zuri Adele and Sherry Cola were reunited on-screen but I love Malika and Alice's friendship. It feels real and I've missed it so much on Good Trouble.
This episode doesn't tell us what happened to Alice but, boy, does it spend an entire hour making me worry about what it is. She flashes back to being called on-stage for her set and rushing away. She flashes back to calling her parents and them telling her not to tell anyone. What happened to Alice? Did that guy do something? Was she Chris Rock-ed? I don't know but I'm over here imagining the worst.
Later, Alice collapses on the couch in the vestibule — where she's been sleeping instead of sharing the loft with Sumi — in tears. She wipes them away and tries to collect herself but then notices a trail of ants on the column next to her. She follows them back to their origin and realizes the fault was hers…a leftover cereal bar in her tour bag is the culprit…and it sends Alice spiraling. Thankfully, Sumi comes out at the exact right moment to comfort her.
"It was me! It was my fault. It was all my fault," Alice cries as she breaks down in Sumi's arms. And now I'm really, really worried about whatever happened while Alice was on tour.
---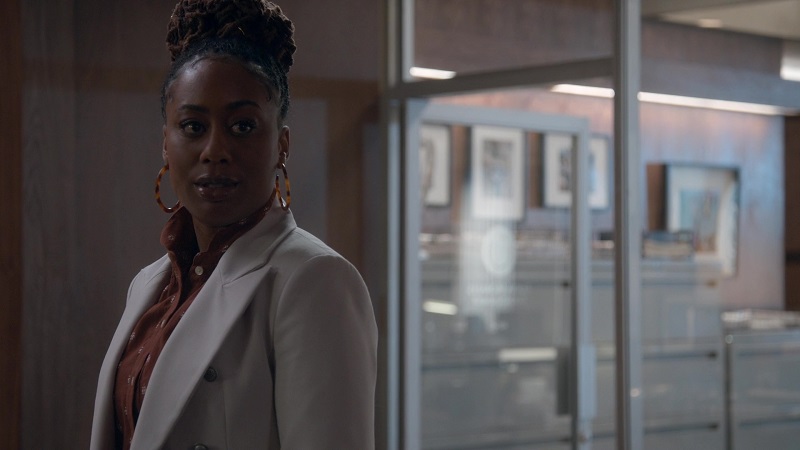 Last we checked in with Malika, her boss, Councilwoman Lucia Morales (AKA Angelica's ex AKA Adele from The L Word), made her a false promise. She assured Malika that her women's center proposal was worthy of consideration by the full council — despite a private assurance to her Chief of Staff that it wasn't a priority — as long as she completed an impact study. It was a dubious honor that meant hours upon hours of extra work for the new staffer. Hours that could distract Malika enough that Angelica would break up with her…or so Lucia hopes.
But somehow, Malika manages to get the impact report done in record time — the most improbable thing about this episode is that Malika would've finished an impact report this quickly — and delivers it to her boss. Lucia gives the report rave reviews and suggests that it's ready to take to the Council floor. First, though, the proposal needs two Council members to sponsor it so Lucia recommends that Malika reach out to her closest allies, Councilmen Brown and Gonzalez. Unfortunately, though, when Malika approaches them both to talk about her proposal, she runs into a wall: neither will agree to sponsor her proposal. Malika returns to her desk, dismayed that Lucia's two biggest allies won't go to bat for her project, but Tracy gives her the real tea: neither councilman agreed to back the proposal because Lucia had asked them not too.
"For some reason she's not telling you, she obviously wants to kill it," Tracy admits.
Malika's completely taken aback by Lucia's underhandedness but Tracy reminds her that that's the nature of politics. As someone who spent a good part of her life around politics, I agree that underhandedness can sometimes be part of the game. "Politics ain't beanbag," as they say. But this type of backroom dealing? This ain't politics, it's just petty, vindictive and probably illegal. And doing it in an election year? Girl, that ain't politics, that's just dumb. I can't wait until Dana hears about this.
But Malika decides if that's how Lucia's going to play the game, then she'll play the game right along with her. She returns to Lucia's office with the proposal, sponsored by two Council members, just as her boss requested. Once Councilmen Brown and Gonzalez declined sponsorship, Malika explains, she reached out to two other members who got on-board with the proposal. Lucia notes that she didn't tell Malika to approach the other two council members and Will chimes in that those members will be expecting a favor in return. Malika feigns confusion and apologizes for her misstep. She knows how passionate Lucia is about helping women impacted by incarceration and just wanted to do everything she could to get the proposal to the floor.
"I mean, you don't want to kill it, do you?" Malika asks, almost daring Lucia to admit to her misdeeds. Lucia backs down immediately, assuring Malika that she's not interested in killing the proposal. She urges Malika to ask next time before she takes action and Malika pledges to do just that. A sly smile breaks out across Malika's face as she exits and Will clocks her disingenuous apology. Lucia's seething but there's nothing that she can do about it.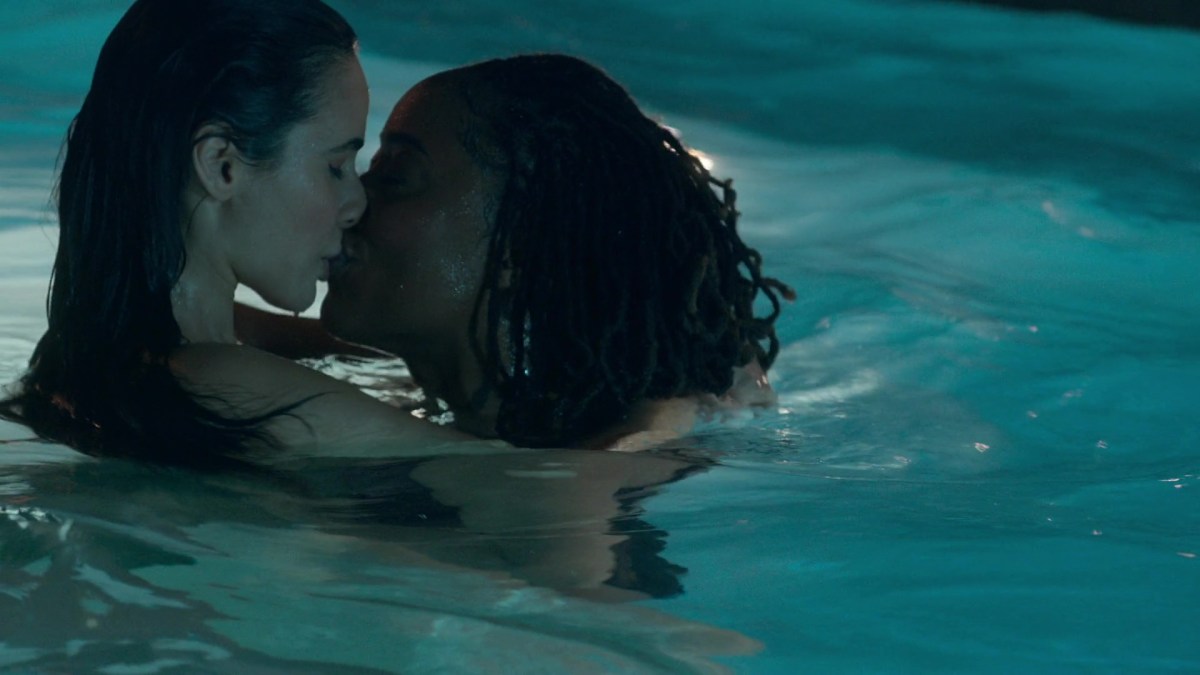 Later, Malika recounts the days events for Angelica and then realizes that she's talking about Angelica's ex again, rather than just focusing on Angelica. She refills their wine glasses and redirects the conversation to being about their relationship. Malika suggests they do something fun together — hiking in Yellowstone or going whitewater rafting — because she wants them to spend more time together. Angelica agrees, of course, but wonders if Dyonte will want more of Malika's time now that he and Tanya have broken up. Malika admits that Dyonte asked her to be his new primary partner.
The confession hangs in the air just long enough to wonder how Malika decides but, as she told Dyonte, she thinks it's too soon after his break-up to embark on anything new. Beyond that, she tells him that she's developing really strong feelings for Angelica. Dyonte is understanding but confesses that he's a little jealous…but Angelica, on the other hand, is quite pleased by the news. She shares a kiss with Malika and the two take a dip in the Coterie pool.
---
Good Trouble Coterie Sundries
+ As odd as this sounds, my favorite part of this episode might have been Malika laying her edges at the start of the show. It's such a small thing but it's a part of the morning routine of so many of the black women that it felt joyous to see it represented on screen. Shout out to Candace Parker who's been styling her baby hair perfectly since before it was a thing.
+ Don't pigeonhole her as just a comedienne…Sherry Cola's got some range!
+ Now that she's not beholden to her non-compete agreement, Mariana tries to recruit the girls from Revitalize to join her at Bulk Beauty. I am not sure why Mariana just doesn't take the win and go but, I suppose, she still after some measure of revenge against Jackie for stealing her idea that she refuses to leave Revitalize with nothing. She goes a step too far in trying to recruit Liza to her side, though, because Liza takes everything that she learns from Mariana straight to Jackie. Oh, Nia Nal, how could you?
+ So, after weeks worth of cloak and dagger shit around the Coterie, Joaquin just asks Dennis for information about his sister and (shocker!) he tells him what he wants to know. It could've just been that simple. I'm still not a fan of this storyline and this character — the most likeable thing about him is that his sister is missing? — and the tone feels so woefully out of place.
+ This week, Davia and Dennis go looking for Luca among the unhoused on Los Angeles' skid row…and as things ramp up on-screen, things off-screen are also becoming contentious: Unhoused Sweeps Become Flashpoint for Film Shoots in Los Angeles
---
Next Week: "At some point, we all need to accept help."