When Malika first confessed to her then-boyfriend, Isaac, that she was interested in a relationship with him and with Dyonte — to embrace polyamory fully — she was rejected. His first instinct is to leave the counselling session they're in together and then, seeking even more time and space, Isaac puts an ocean between them. And while Malika's moved on from Isaac, the sting of that reaction lingers and the fear of possibly facing another rejection is omnipresent.
Given the opportunity, Angelica doesn't do much to assuage those fears. The first time Malika mentions she's poly, it barely elicits a reaction and the second time, Angelica offers an ambivalent response.
"So, what about you? Like, I know you don't have to be poly to date someone who is, but you do have to be cool with it," Malika asks during the couple's first real date.
"Well… I'm not really sure, actually," Angelica admits. "I think, for now, I just want to take things a day at a time."
At the time, Malika accepted Angelica's answer — I'm not sure she felt in a position to ask for something more given the newness of it all — and tried to keep her fears at bay. But since then their relationship progressed. They've kissed. They've gone on more dates. Angelica's been introduced to Dyonte and Malika's friends and chosen family at the Coterie. They've finally admitted that they really like each other and have taken their relationship to the next level. Now Angelica's ambivalence about polyamory starts to weigh heavily on Malika and those fears — that what happened with Isaac will happen again — start to creep back in. So, this week, when Malika's lying in bed next to Angelica…and Angelica offers to cook dinner for Malika at her apartment on Thursday, Malika lies and tells her she has plans with Davia and the girls. The truth is she has plans with Dyonte that night.
But Angelica isn't the only person that Malika's lying to.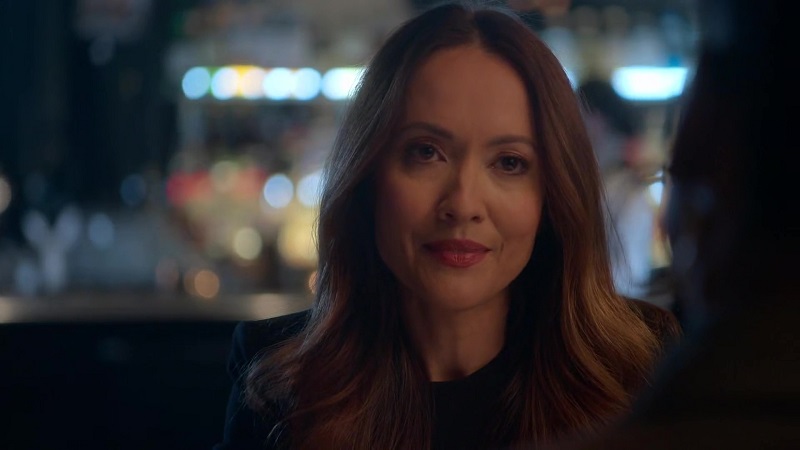 This week, the newest addition to the staff of Councilwoman Lucia Morales finally gets some facetime with her boss: Lucia invites Malika to join her for drinks. At the outset, Lucia admits that she has an ulterior motive for the meeting — she lavishes praise on Malika's proposal for the women's center and confesses that she's considering sending it to the full Council for review — but it soon becomes clear where her interests really lie: her ex-girlfriend, Angelica. The pair haven't talked since Angelica reached out to get help for Malika's friend, Yvonne, and Lucia wants to know how she is and, more importantly, if she's seeing anyone.
"Oh, I, I…don't really know, she hasn't mentioned anyone," Malika responds, visibly uncomfortable. Lucia persists, admitting that she misses Angelica. She confesses that they broke up, not because a lack of love, but because she hadn't yet learned to balance her personal and professional lives. Now that she's found her footing, though, she wonders if there's a chance for her and Angelica to reconnect. Despite her obvious discomfort, Malika nods and smiles politely.
Afterwards, Malika retreats to Duoro. Angelica's anxious to hear all about her meeting and if Lucia's going to push her proposal forward. Malika reports that Lucia said she was seriously considering her proposal — which, again, I do not believe at all — but then pivots to telling Angelica that Lucia asked about her. Angelica doesn't seem surprised but grimaces when she learns that Lucia asked Malika if she was seeing anyone. Malika admits that she lied because she was so caught off-guard but the question made one thing abundantly clear: Lucia isn't over Angelica.
"Yeah, I knew Lucia didn't want to break up, but she was married to her work," Angelica admits.
I'm not sure whether its a consequence of Good Trouble (again) endeavoring to tell too much story in too little time — and thus running out of time here — or if the writers' genuinely believe Angelica's omission is no big deal but, in my mind, Malika and Angelica should've had their first fight over this. Malika asked Angelica directly if it'd be awkward if she was working with her ex. Wouldn't the proper response have been, "no, but it might be awkward for you because she's still in love with me?" Maybe it wouldn't have changed Malika's mind about the job opportunity — perhaps she still would've taken the staff position over the option to stay at DPN — but at least she would've had a full understanding of what she was walking into. Lucia's able to blindside Malika because Angelica wasn't candid about their dynamics…and that should've provoked a discussion between the two. Instead, it's glossed over entirely.
Malika wonders if she should tell Lucia about them. She doesn't want to complicate things for herself at work, nor put Angelica or Lucia in an awkward spot, but she also doesn't want Lucia finding out she lied. Angelica doesn't give Malika the easy answer she's after: she acknowledges that honesty is usually the best policy but concedes that sometimes, what someone doesn't know can't hurt them. While Angelica's answer doesn't give Malika a definitive solution to her Lucia problem, it does prompt her to rethink the lie she told Angelica. She returns to Duoro the next night, armed with an apology.
Angelica assumes the apology means that Malika told Lucia about them but she didn't. If Lucia wants to know who Angelica's dating, Malika insists, she can ask Angelica. Then she confesses the real reason behind her apology, "I didn't have plans with Davia the other night, I had plans with Dyonte. I thought I was protecting your feelings but then I realized that I was really protecting my own feelings because I'm falling for you and I'm afraid you're going to bail because I'm poly."
"Well, if you're afraid of losing me, lying to me is the best way to make that happen," Angelica responds.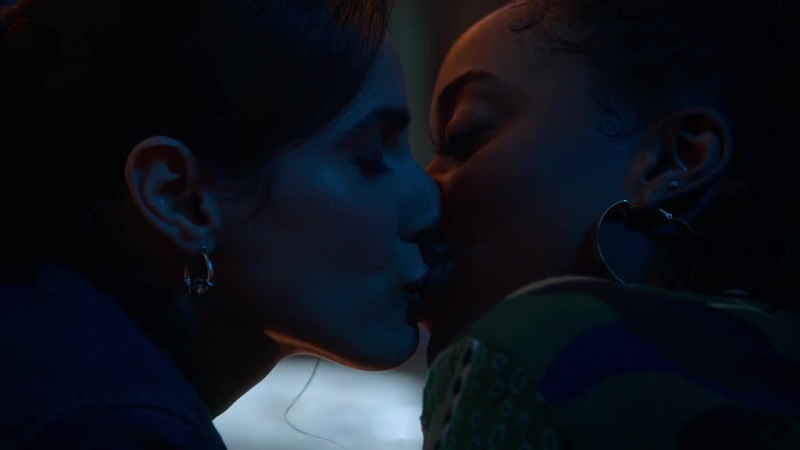 Malika apologizes for not being honest and admits that she should've just checked in with Angelica to find out how she was feeling about everything, rather than making assumptions. Angelica takes a moment to respond and the silence gives the fear a chance to flash on Zuri Adele's face. But Angelica puts those fears to rest by admitting that she's falling for Malika too. Angelica assures Malika that when or if she has an issue with anything, she'll let her know. Malika promises never to lie to Angelica again and the two kiss and make-up…and who would happen to walk into Duoro and see them kiss right at that moment? Lucia!
The next day at work, Lucia eyes Malika as she walks into the office, now recognizing her as the competition for Angelica's heart. She questions her Chief of Staff about Malika's proposal and agrees with his assertion that it's not a top priority. But that's not what she tells Malika. The Councilwoman approaches Malika and announces her decision to push the proposal forward. But in order to do that, Malika will need to prepare a full impact report and cost analysis for the project. Lucia instructs her to see guidance from Will on how to do prepare the report but emphasizes that the report needs to be flawless. Malika excitedly accepts the opportunity but Tracy is quick to pop her bubble.
"I don't know whether to give you congrats or condolences," Tracy says after Lucia walks away. "Have you seen an impact report before? They're like a million pages long and the primary reason why I never propose anything. You can kiss your personal life, good-bye."
And that's Lucia's goal, isn't it? To make sure Malika's as busy with work as Lucia was when she joined the City Council. With Malika's attention directed elsewhere, Lucia can swoop in, show Angelica that she's changed and ultimately win her back. Or, if that doesn't work, Lucia will insist that whatever report Malika introduces isn't "flawless" and she'll have cause to fire her. Either way, it looks like Malika's in trouble.
---
Good Trouble Coterie Sundries
+ Alice hasn't been a large part of Good Trouble's fourth season thus far — thanks, I'd imagine, to Sherry Cola staying booked and busy — but I really missed her this week. She and Malika have always had a great friendship and now, with Malika exploring this facet of her sexuality and dealing with the ensuing dyke drama, it would've been a great time for that friendship to take center stage.
+ This week, instead of me yelling, "Mariana, WHAT ARE YOU DOING?" at my television, Mariana starts to ask that question of herself. The push and pull between Bulk Beauty and Revitalize has just become untenable and she starts to crack under the pressure. Thankfully Evan notices that Mariana is not okay and confronts her about what's going on. He admits he volunteered to be the team's mentor not because he wanted to get back together with Mariana but because he worried that she wouldn't be safe with another mentor. Mariana confesses that she's not okay; she feels responsible for Bulk Beauty's code being stolen but also doesn't want to put Revitalize out of business because Ava and Raisa are nice people. With her two year non-compete clause hanging over her, Mariana admits she's stuck and doesn't know what to do.
+ Because this episode featured so many storylines, I thought Good Trouble shortchanged Dennis' emotional reaction to seeing his ex-wife and his former best friend come out of the hospital's maternity ward with their new baby boy. That should've been a gutpunch for the audience as well and the episode just didn't give that scene room to land…Dennis steps away one minute and returns the next to help Isabela pass out food to parents waiting in the children's ward.
That said, the growing closeness between Dennis and Isabella is undeniable — they didn't correct Dennis' ex when she assumed Isabella was carrying Dennis' baby — and even Gael's starting to notice. He and Isabella had decided on a home birth but then Dennis convinces Isabella to go to consider a hospital birth instead. Then when Gael suggests that he and Isabella find a place of their own, she's reluctant to leave the support and love offered by the Coterie (read: Dennis). I'm excited to see where this goes and if Davia and Gael commiserate (and conspire?) over losing their would-be partners.
+ Speaking of Davia, I wish I felt more connected to this journey she's on with burlesque dancing. It just feels like it came out of nowhere and that three seasons of character development — especially around diversity and inclusion — have all been for naught. Still, I'm hoping that I'll see some utility in the story as it develops…especially since I like the kinship that she built with Luca in this episode. Can we keep Luca and get rid of Joaquin?
---
Next Week: It's time for another Coterie bash!