What physical preparation did you guys do to prep for the concert? 
Diana: I was just channeling Beyonce.
Naya: I would like to see my character to be real mean and probably get a girlfriend.
Heather: I would like to see her get a girlfriend. Like a hot girl.
– Interview: Talking Glee the 3-D Concert Movie with the Cast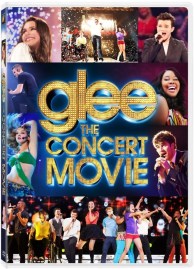 Initially I'd pledged my intention to see Glee: The 3D Concert Movie on opening night, but when the big day rolled around I'd completely forgotten about it and so had everybody else, apparently.
Anyhow, I think 3-D movies are the spawn of Cinema-Satan and I already had mixed feelings about experiencing Finn at twice his regular size and three times his traditional dimensions. Therefore, I was so excited Friday night to have the opportunity to view this film in one cool, safe, gorgeous dimension right here on my home laptop, my primary entertainment source because I can't afford to go look at things anywhere else my favorite  way to experience all the things. (I downloaded it online, the DVD goes on sale December 20th and contains, apparently, lots of EXTRAS.)
The film was touted as containing "behind-the-scenes" magic — that's false, there's six BTS scenes tops and most are conducted more-or-less in character. Also, there are a few clips in the preview that I didn't see in the movie. Another surprise: the screen time devoted to taking emotional journeys through the tender life-scapes of various teenaged weirdos who, because of Glee, learned to love themselves for who they were. Heavy-handed, sure, but maybe I just think that 'cause I've got a heart of stone.
My favorite vignette was Trenton, a gay guy who was outed in like one of the most embarrassing ways possible but made it through the rain. His favorite character is Kurt, duh.
That's another advantage to home-viewing — when I got bored or the movie got too sentimental, I could just do something else 'til it got interesting again. And by "got interesting" I mean "did another musical number."
Luckily that's basically all it is! It's just a film of the concert tour they did this summer. 24 songs in their entirety delivered via aggressively variant camera angles. If you enjoy Glee covers of terrible pop songs and occasional Broadway hits, cute choreography, fun costumes, and the character outlines of the characters from the television series, you will find yourself mildly entertained, as I did!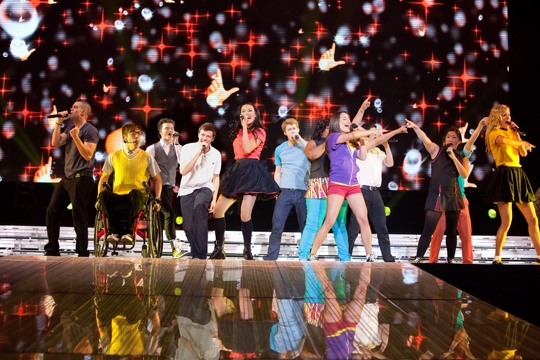 The movie lets each kid do what they do best, performance-wise — you're reminded what a good fucking stage performer Lea is and Amber really gets a chance to shine. Heather and Harry's supreme dance skills are highlighted. Freed from the constraints of plot and dialogue, it's just pure character and pure music, and ultimately that's what I like about the show — the characters, the pretty people, the dancing, singing and costumes. That "colorful cast of characters" is the show's greatest strength, after all. I mean, I can't imagine Dawson's Creek: The 3-D Concert Movie! (Joey would do "On My Own" though, for sure.)
That being said, the superfast camerawork was 3-D-friendly but ultimately distracting. It would've been nice to pause and enjoy one camera angle for more than two seconds, but I guess that's how they do it these days, because of ADD.
Anyhow, at approximately the 40 minute mark, I totally flipped out because that's when Glee: The 3-D Concert Movie introduced us to World's Cutest Child, The Mini-Warbler, aka Kellen Mirador Sarmiento: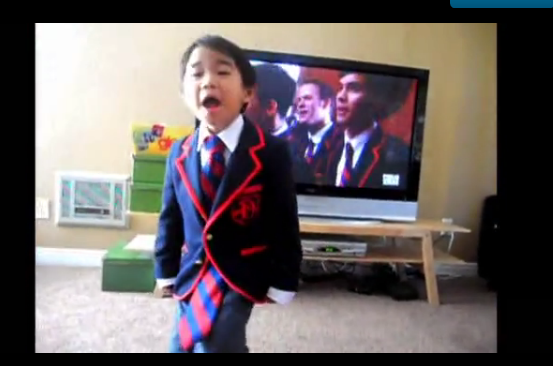 Apparently this kid went viral and I missed it. I'm about to ruin the experience for you if you were to discover him organically at the 40 minute mark like I did, but had you seen the movie you would've been so surprised to suddenly see this face in your face. He is the cutest thing to ever happen. This is humanity at its finest!\
+

+

+

+
+

+
In conclusion, this movie changed my life insofar as before the film, I hadn't seen the Mini-Warbler, and now I have.
I remembered while watching this that I've never really been a huge fan of Glee: the show. I was disappointed by the pilot, and quickly tired of Season One's the fake-pregnancy plot and that still-recycled "someone quits and/or tries to destroy Glee" storyline. We sure did try to find a fan to recap it, but nobody really stuck with it, and then Brittany and Santana made out and Santana came out and all that Kurt stuff was happening and so, as it is with most things, I began to recap it and therefore grow more critical of it.
About six or seven years ago I wrote a one-act play for my friend Krista who'd recently directed another one-act play of mine to great acclaim and wanted a repeat experience. The new one was pretty awful, I'd written the whole thing in one day, and I remember when Krista and I sat down to talk about it and the first thing she said was "my favorite part is the character descriptions. From then on out it just gets progressively worse."  I feel that way about Glee sometimes.
But regardless, I've always liked the music. I'm corny, I guess. I like musical theater, I enjoy musical revues at theme parks, and I've got an embarrassingly extensive collection of Glee iTunes singles. So if you ever feel like a paper bag, drifting through the wind, wanting to start again — and who hasn't — then you might enjoy this movie.