Glee Episode 206, "Never Been Kissed," was monumentally homosexual, and we're saying this about a show that put on a performance of Rocky Horror two weeks ago for no apparent reason and regularly features boys with Justin Bieber haircuts dancing to mashed-up 90s pop hits.
More importantly: Glee Episode 206 did not feature anyone quitting/getting kicked out of/considering quitting Glee Club/Cheerios/Football. Instead, Glee got complicated, dealt with some heavy issues and doled out some tired gender stereotypes in an otherwise enlightened episode.
i. Everyone Wants To Get Some!
Firstly, this episode reminded the People of America that it's not just adolescent boys who have sex on the brain! The pulse of sexual desire does not burn solely in the loins of Finn or Puck…
Other People Who Want Action: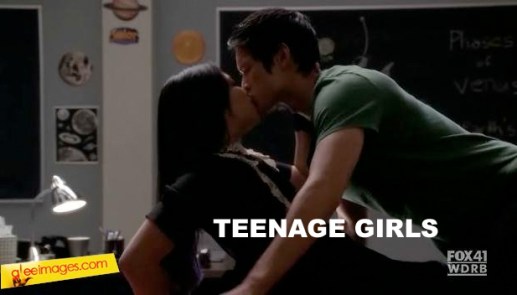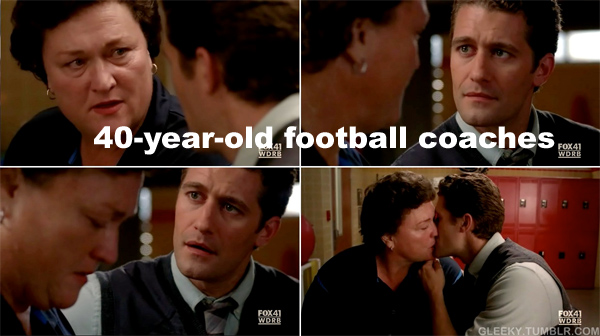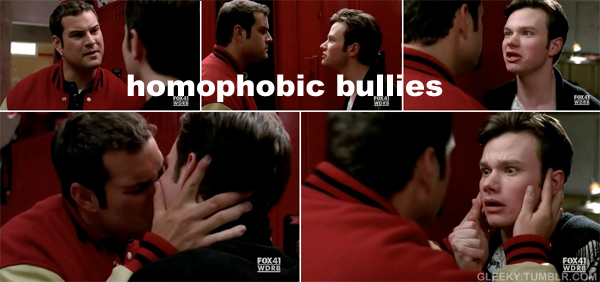 And, also, clearly, as we already knew, these girls: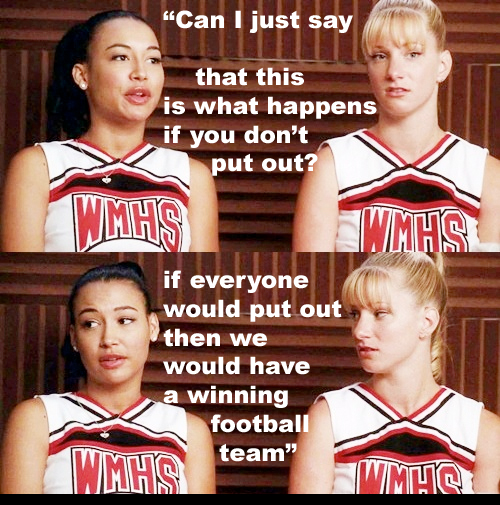 +
ii. Kurt Tackles Gay Bullying
This is the week that Kurt gets slammed into a locker one time too many and begins to notice that as an actual human person, he deserves a clear walkway down the hallway of his high school without being physically assaulted. 99% of GLBTQ students feel the same way, we imagine. Bullying is obvs a really timely storyline, and between Kurt & Bieste, Glee is tackled this from several angles last night.
Early in the episode, after locker slam #45, 678, Will asks Kurt if there's anything he can do to help Kurt's shitty daily existence:
Will: Is there anything I can do?
Kurt: No, this is my hill to climb alone.
Will: Can I be honest? I think this stuff is getting to you.Usually this stuff kinda rolls off your back. But lately you've been beligerant, angry, pushing people away —
Kurt: Can I be honest with you? You, like everyone else at this school, are too quick to let homophobia slide.
Kurt's big ray of sunshine/teachable moment for the episode comes when he heads over to the all boys school to check out The Warblers, aka the competition for their upcoming sectional/regional/national/whatevertional competition. The Warblers are an acapella group from The Magical School for Bright-Faced Boys/ Dalton.
More importantly, we meet BLAINE.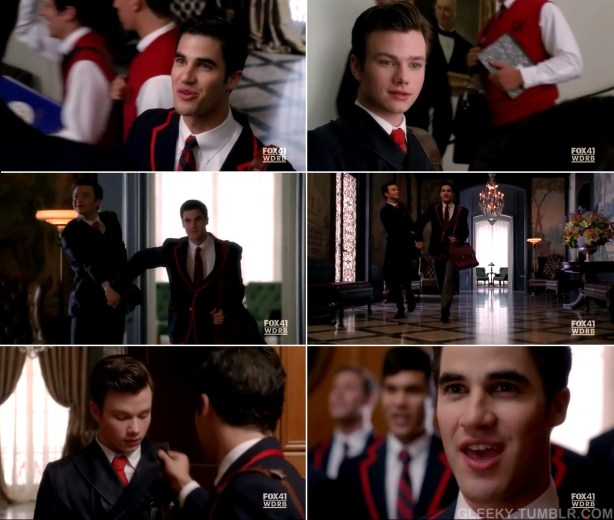 Please note that the children are galavanting down the hallway like two princes in a godd*amn Taylor Swift music video.
+
You know those kids who always act like they're in a musical and are making facial expressions exaggerated enough for the entire auditorium to witness their joy/despair even though they're right up in your face and you already know how they feel? That's this guy. Love Blaine. Also the actor is a University of Michigan alum, which gets him bonus points around here.
SIDENOTE: Can I take a minute to appreciate The Warblers covering Katy Perry's Teenage Dream? Admit it, you love that song because it's damn catchy, but you hate it because you feel guilty for liking Katy Perry. What better way to fix that situation than to have a bunch of guys sing it a capella with gay overtones?
Blaine instantly understands Kurt's true mission at Magicpants Academy and also true self. Instead of being pissed at Kurt for posing as a new student to spy on the group, he brings Kurt into the Library of Ages for a little heart-to-heart about gayness in high school.
Blaine says that he ran away from his bullies and found acceptance at a progressive boys' school. But, that option isn't possible for everyone 'cause it's super expensive. So even though it can suck to be a gay in public school, it's also an opportunity to CHANGE THE WORLD!
Does this remind anyone of the critiques of It Gets Better? This is a really complicated message for a sitcom to be discussing, but it's something that needs to be said. Yeah, you can move to San Francisco or Manhattan and find plenty of people just like you and never get bullied again. Or instead of waiting for it to get better, you can work on making things better right where you are.
Kurt takes Blaine's words to heart and talk back to his bully.  It goes about as you'd expect, with some intimidation and an even harder push into the lockers. But Blaine, the sweetheart, knows just what to tell Kurt: "courage." (Via text message, it's cute).
BULLY: Do not push me, Hummel.
KURT: You gonna hit me? Do it.
BULLY: Don't push me!
KURT: Hit me, because it's not going to change who I am. You can't punch the gay out of me any more than I can punch the ignoramus out of you.
BULLY: Get out of my face!
KURT: You are nothing but a scared little boy who can't handle how extraordinarily ordinary you are!

Then the bully frantically grabs Kurt's face and kisses him. You may remember this twist from Queer as Folk and it's a gigantic nod to the fact that anyone who loathes homosexuals that much is probably a homosexual.
Later, the football dude predictably shrugs off Blaine & Kurt's attempts to get him to talk about it. And then… Kurt explains he had never been kissed before the bully kissed him, which's sad. And although part of me wanted Blaine to immediately make out with Kurt, I'm glad they're dragging it out. Then it will be WORTH IT.
Check out this interview Glee creator Ryan Murphy, who says the bully character was based on a guy he used to know.
iii. The Rest:
We witnessed several of Will's patented Terrible Decisions (telling Beiste what all the kids are whispering about) and Bizarre Boundary-Breaking Displays of Empathy (giving Beiste her first kiss, which we pray to gay Jesus will not lead to an obsessive crush as these things often do).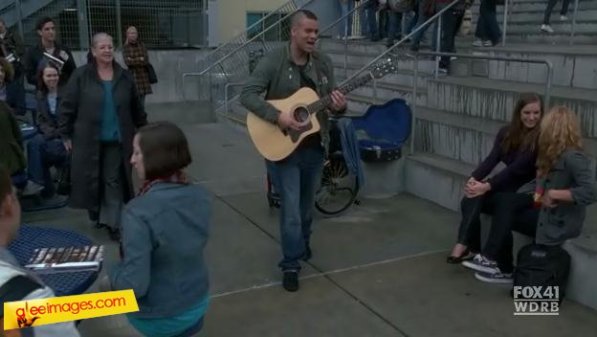 Puck made his triumphant return from juvie (aka being punished by the show for contract violations), where he lifted weights. He's decided to care for Artie as his community service, which involves pushing his wheelchair around, performing Bob Marley to a courtyard of (probably) not-stoned children to make bank, schooling Artie in How to be an Asshole and encouraging him to dine/dash at Breadstix.  It'd be funny if the Asshole Plan backfired but it doesn't, 'cause Brittany and Santana instantly fall for it.
Unfortunately Artie isn't enough community service to get Puck out of trash-on-the-side-of-the-road duty.  In the end he and Artie strike up a deal where Puck does trash duty and Artie tutors him in geometry. I'm not sure how that deal even works because it doesn't seem like anyone benefits, but whatever, it's television.
Like any good musical, all wounds are healed by a bit of song and dance at the end of the day. The boys perform their mashup and dedicate it to Coach Bieste. It was weird.
Am I forgetting anything? OH YEAH! This!
Thoughts/feelings? Also, check out the tumblrs that make some of these pictures possible: Gleekstorm & Gleeky.