We then strap sponges to our feet, plait our hair, throw on some jockstraps and gallop on back to Lima, Ohio, home to the Lima Memorial Hospital Heliport, where Sue's wearing a cage on her face and New Santana has wrapped herself in hazard tape, a la Telephone.
Sue: "This practice of referring to oneself as a Katy or a Gaga — the Glee club will be doing this the entire week?"
New Santana: "Super annoying, right?"
Sue: "It is the most annoying thing they've ever done."
SO WHY ARE THEY DOING IT?????
Elsewhere in McKinley High, Marley-Kate is gay. She wants to hit up Breadsticks, then catch a Julie Andrews tribute at the Lima Limelight with New Puck, but New Puck is sick of this boring old "music/movie/dinner" thing and wants to do the horizontal mambo.
New Puck laments that Marley-Kate is SUCH A KATY. Is everybody forgetting that Katy Perry was married to Russel Brand for a significant period of time. Where are we.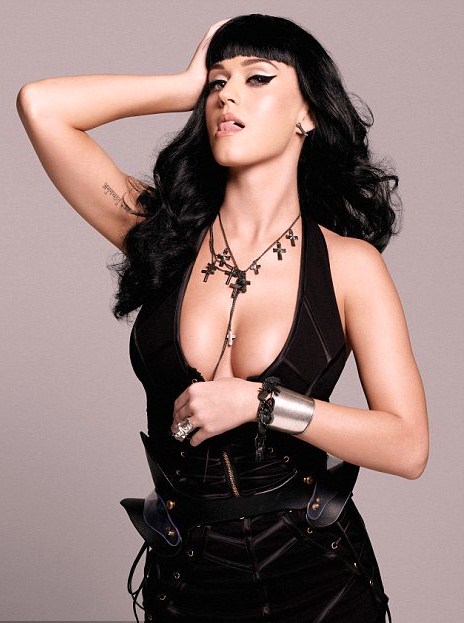 New Puck is excited to see Marley-Kate in a bra made out of raw meat or whatever.
---
Cut to the Auditorium, where Sam's telling Team Innocent Katy Trying To Be Team Dark Edgy Gaga about his scary, weird and controversial concepts for this groundbreaking performance. (Does anybody else think it's problematic that all the people of color are on Team Dark Edgy Gaga Trying To Be Team Innocent Katy?)
Marley-Kate suggests sparklers indoors, and Ryder Bieber-Strong suggests confetti shaped like skulls and I suggest both of them get lost in space. Sam points out that Nurse Petty and all of McKinley High will be present for their performance and therefore they must really get wild.
Sam assures his young charges that he'll be recruiting some "little monsters" to promote their show!
Cut to Sam begging Becky to help promote his show. Becky thinks Katy Perry is the governor of Texas, because Becky is the best. She'll promote his show anyhow though.
---
We then take a series of overpriced cabs and crowded shuttles to the Newark airport, wait in line for two hours at security, get felt up by a dykey stranger and squeeze into tiny uncomfortable seats in a terrifying enclosed space where we timidly eat our six peanuts while soaring cross-country to the Bushwick Barbie Dreamhouse Loft in New York, New York, where Rachel's wondering why Kurt's unwilling to share the "lavender limelight" with Lavender Lambert. Kurt insists that it's not about sharing the limelight, duh, because if Kurt just wanted to shine all by himself, he'd take his one-man band to The Duplex and do a tribute to Broadway Divas which, let's be real, is totally something that Kurt would do.
Kurt insists Starchild's look is "too edgy" and will therefore seal the fringe fate of the Gayest Band Ever. Kurt doesn't wanna be weird anymore, he just wants to be mainstream, like the HRC, and get a song on the radio, and be as successful and adored as Broadway's Rachel Berry and Santana of Yeast-i-Stat. Rather than take the logical step of auditioning to be a hemorrhoid cream spokesmodel or hitting up background dancer auditions for Mama Mia!, Kurt's going Mainstream by launching a band filled with homos.
Kurt: "Rachel, there's nothing wrong with wanting to be that thing that everyone likes, that thing everyone wants to see and hear that doesn't offend or challenge anyone."
Rachel, clearly frustrated that Kurt has neglected Glee's most brutally beaten horse, Just Be Yourself, insists that Kurt's brand is more specific and unique and he's gotta blaze his own trail, like the Boy Scouts or, you know, Adam Lambert.
Rachel: "Your brand it's gonna be huge! You are a true talent, Kurt."
Aww.
---
We then stuff our cold toes into a hot pair of moon boots, wrap our arms in Ace Bandages and march in a single-file line all the way back to Lima, Ohio, the birthplace of Phyllis Diller, where Marley-Kate and New Puck are once again making thrilling weekend plans.
Marley-Kate wants to get John Mayer tickets and New Puck would rather die in a fire, sorry I was confusing me with New Puck. New Puck is actually okay with John Mayer tickets, because J-May and New Puck are both acoustic douchebags. New Puck also says okay to New Santana when she confronts him in the hall 30 seconds later to ask for his help choreographing a thing for the Cheerios, which is part of her plan to unravel the Glee Club as per Sue's instructions.
Meanwhile, in one of McKinley High's super-intellectual classrooms, a thrilling lesson on Ohio is interrupted by a promotional video! Somehow Sam hacks into the computers of every McKinley High student and proceeds to mind control them with a promo video for their 3:30 "Applause" performance. It's so fucking weird that it instantly becomes perfect and awesome.
Unfortunately Nurse Petty tells Sam she's not gonna make it 'cause she's got a hot date at Claire's getting her ear pierced, but then Sam suggests they get pierced together that weekend so Nurse Petty can still catch the big show. Phew.
---
Cut to Team Dark Edgy Gaga Trying To Be Team Innocent Katy proposing the best ideas The New Directions have ever had — specifically, Unique would like to re-enact a baby's birth on stage. Can somebody fucking sing a song about placenta already? Or do a musical rendition of The Business of Being Born? Or have lesbian sex?
New Puck's napping on the piano but then he dips out to hit up the Cheerios, much to the intense disapproval of Unique and Fake Quinn, who should be in charge of Glee Club from now on.
Unique immediately calls Marley-Kate to warn her that her manchild New Puck is heading down a rocky road towards Infidelity Land, led into temptation by New Santana.
Unique: "That girl is poison. She is whack like crack, a penis flytrap, Marley, she will chew him up, hashtag PREACH."
Unique says Marley-Kate's only hope to keep her boyfriend is to go "full Gaga," because that makes sense. Marley insists that New Puck is gonna love the real her or not love her at all.
Snap to the McKinley High School auditorium, where Becky's still in Gaga regalia and demanding entertainment. Unfortunately Sam's magical show commercial failed to recruit the masses to their 3:30 performance, or else nobody hired any extras this week.
Turns out Sam's big crazy original plan was to… dress everybody up exactly like the music video for Applause? Blaine, who will soon aptly describe his outfit as, "I look like Siegfried AND Roy," looks like Eric Northman Season One smashed in a blender with Liberace and Boy George's Really Unfortunate Fashion Period. Artie's strapped a giant airbag to his back, Sam's about to migrate south for the winter and Ryder Bieber-Strong has absolutely no idea why the caged bird sings or how to put on lipstick.
Mid-performance, Marley skips on in dressed like a the victim of an unexpectedly soft-core Model Mayhem shoot with a predatory amateur photographer OH WAIT NO she's dressed up as Katy Perry, the girl-next-door!
Also, I just noticed Blaine's wearing a dildo on his ass.
Here's the whole enchilada:
http://youtu.be/7u3TKFPKPgQ
The audience is horrified by Marley-Kate's decision to dress up like Prince Lolly when everybody knows the assignment was to dress like Lord Licorice.  Marley-Kate says that she is who she is and she's not gonna change that for anybody, so Sir William suspends her? Because that's what you do when a girl in recovery from an eating disorder refuses to wear a seashell bra in front of the whole school / nobody.
I'd like to have some smart feminist commentary on this situation but as aforementioned, this dichotomy is so fundamentally flawed that there's really nothing to say but this: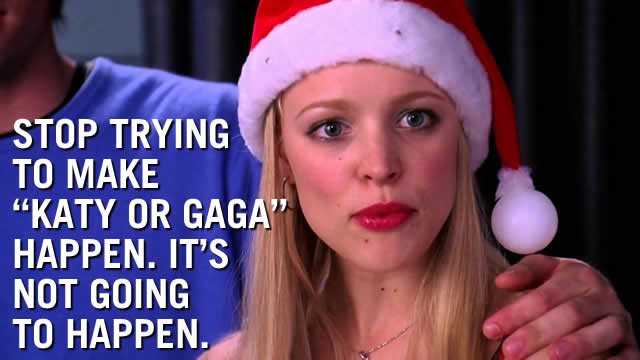 ---
Back in the Glee Room, Team Dark Edgy Gaga Trying To Be Team Innocent Katy's having a crisis because Unique tried breaking into the zoo to steal tigers only to discover Lima doesn't actually have a zoo. But Lima is so close to Toledo and she could just ride the tiger home, I don't know why nobody thought of the Toledo Zoo. I'm always thinking of the Toledo Zoo.
However, Unique points out, she was able to track down a tiger costume! It appears she accomplished this by breaking into Rum Tug Tugger's dressing room.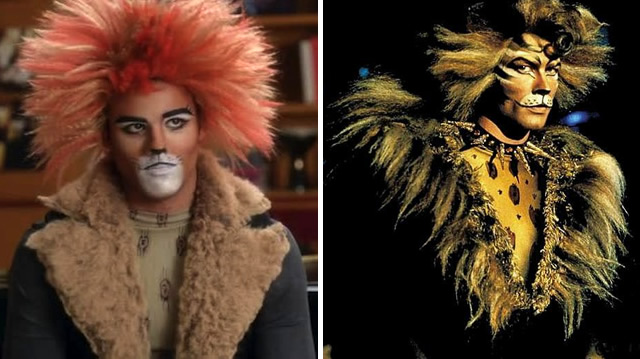 Jake is "really not okay with this," because he looks "like a Gay Thundercat." Tina points out that people love Katy's music because it is so "real" and "girl-next-door." I guess Tina must live next door to a girl who spends a lot of time feeling like a plastic bag drifting through the wind wanting to start again.
Tina: "We need to strip it down. No costumes, no special effects, no gimmicks. Just the music."
---
Pages: 1 2 3See entire article on one page