Hello nubile maidens and allies! Welcome to the fourth episode of the fifth season of Glee, a reality show in which Paris Hilton searches for a new BFF in the wild jungles of Disneyland, accompanied by The Snow Queen, a talking lobster, ten baby chickens and a band of rowdy youths who can't shut their yaps. This week's episode was a particularly probing investigation into issues including global warming, anal fisting, regular fisting, fingering, drop-waist sweatpants, tiny erasers, nectarines, ear infections and Jessie Spano. Furthermore — much like my girlfriend, this episode was so gay you could see it from space!
I imagine this episode was constructed in approximately two hours by a bunch of high-as-kites homosexual men who'd spent the day sipping cucumber martinis poolside at somebody's undoubtedly palatial West Hollywood home. You know, the kind from the movies with big windows. Alternately, this episode was just a gay guy playing with his Barbies, the television equivalent of a Buzzfeed list, or a tribute concert to Autostraddle 2009.
This show has always been camp, but even camp can get banally tacky sometimes, and this episode definitely toed that line (which isn't as exiting as toeing a vagina, I imagine). This week was my gay boyfriend Adam Lambert's debut on the program, which delighted the cockles of my surly soul, but despite Glambert's cameo, the entire "Katy or Gaga?" premise of this episode was so fundamentally flawed and so clearly commercially motivated that it was hopeless from the start. But it wasn't too bad, all in all.
Anyhow ARE YOU READY FOR SOME RECAP?
---
We open in the Glee room, where the children are sporting unfortunate blouses and Sir William arrives bearing an envelope containing the TOP-SECRET LIST of New Directions' competitors at the upcoming National Worldwide All-Star Champion Celebration Campership Competition of Song. When Sir William announces that they'll be going head-to-head with "Throat Explosion," Tina unleashes a scream of horror and despair, which is hard to hear over my own scream of horror/despair that they're calling this team "Throat Explosion."
"Their budgets for costume, makeup, hair alone are astronomical," Blaine explains, expositing that this avant garde team of edgy supergroup outsider motherfuckers with apparent latex kinks has put in 10,000+ hours of showchoir rehearsal because of something Malcolm Gladwell said once.
This news strikes fear in everybody's tenderheart, because how on earth will New Directions' scrappy, dollar-store performances ever compete with Throat Explosion's big-budget blockbuster productions?
As we've been told-but-not-shown repeatedly, the New Directions are perpetually impoverished, and thus my imagination runs wild thinking of what Throat Explosion might be able to accomplish with an actual budget. I mean, they could install rain machines in their auditorium and also Gwyneth Paltrow!
They could snag a $3,000 light screen for just one little run-through of Nowadays / Hot Honey Rag!
They could hire circus performers and pyrotechnics professionals and shoot tender young Cheerleaders out of giant cannons and manufacture bras with fire-shooting nipples!
They could perform an entire song in a goddamn swimming pool with a magical catwalk!
They could re-create the $7 million dollar Michael Jackson/Janet Jackson music video for "Scream"!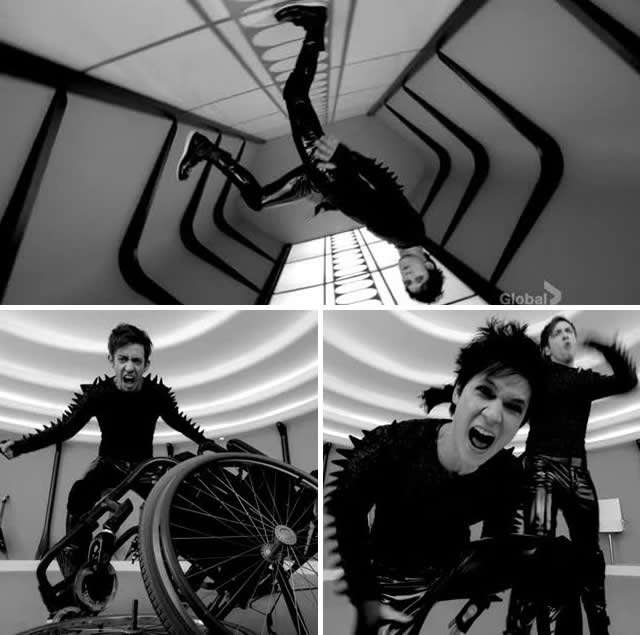 They could create Lady Gaga costumes inspired by the bajillion-dollar high-fashion costumes often sported by Lady Gaga!
They could purchase a $45,000 SUV just to destroy it onstage, because it goes with the theme!
WHAT ON EARTH WILL THESE CHILDREN DO? Sell taffy? Sell their souls? Throw rock salt into the eyeballs of the lead singer of Throat Explosion? Well, Tina's already on high panic alert.
Tina: "They're total outsiders and misfits, which used to be our niche. We can't compete with Throat Explosion any more at that level because we lost our biggest Gaga when Kurt graduated last year. Look around, we're a room full of like, Katy Perrys now."
It's true, now that Santana and Brit-Brit have flown the coop, we're stuck with a bunch of ladies for whom kissing a girl is only a thing they do if their boyfriend don't mind it.
Sir William disagrees with Tina's assessment — he considers the children a "potent mix" of "ambi-edge" weirdos and "wholesome, innocent, romantic, All-Americans," which I gather is supposed to be a description of Lady Gaga and Katy Perry, respectively, but unfortunately is not, because Katy Perry is a sex riot and Lady Gaga is more deliberate these days than she seems. Katy just wears brighter colors.
SO, ANYHOW, WHAT WILL THEY DO TO FACE OFF AGAINST THE SUPER-RICH THROAT EXPLOSION? Ah yes, they'll attempt to re-create songs performed by super-rich recording artists who always put on super-expensive performances!
Sir William: "This week the Katys will get their Gaga on and the Gagas will bring the Katy."
If the children are unable to get on board with this week's contrivance, they don't have "a chance in hell" of winning Nationals.
---
We then wrap ourselves in duct tape, dip our heads in buckets of Fun Dip, put on some sneakers and jog all the way to New York, New York, where Rachel is inexplicably still employed at Fake Eileen's Stardust Diner, despite the fact that she'd be pulling in at least $2,500 a week (before taxes) while in rehearsals for Funny Girl, which, by the way, would gobble up so much of her time that it's amazing she's even making it to school. Also, Kurt's starting a band and wants everybody to join it!
---
Luckily we're able to snag a last-minute flight on the Glee Teleporter all the way back to Lima, Ohio, home to the Learning to Care With Care School, where Sam and Nurse Petty are continuing their tedious and irrelevant romance.
They banter about musical darksides and tattoos and electopunk and THANK LESBIAN JESUS also True Jackson VP but also I don't care, so.
Elsewhere in the hallowed hallways of McKinley High, Artie's bitching about the assignment because it means he won't be able to duet with his lady-love Fake Quinn, who says of this week's lesson, "I'm pretty sure he makes up these rando lessons the split second before he writes them on the board."
With a heavy hand, Artie asks, "are you still okay with dating someone so different than you?" and Fake Quinn sticks her tongue down his throat, which is Cheerio for "yes."
---
We then hop back in time, borrow some mopeds from three 13-year-old boys I knew in middle school, hop back to the present tense, put on our bicycle helmets and night-vision goggles, and travel back to New York, New York, where Santana, Kurt and Dani are holding auditions for their "indie rock band," The Gayest Band Ever.
Unfortunately for those of us who enjoy a good audition montage, nobody's leaping at the chance to audition for the esteemed spot of Vocalist #4 in what I hope is an a capella "indie rock band" because the only instrument I've ever seen Santana play is Brit-Brit's clitoral hood and Kurt's usually to busy gyrating to manhandle a glockenspiel. Furthermore, they're unable to settle on a name — Santana votes for the Apocalipsticks, Kurt votes for waiting for him to manifest an idea, and I vote for Uh Huh Her & Her & Him.
Yet all hope is not lost! There is one person signed up to audition for The Gayest Band Ever, one lonely human named "Starchild" out there in the wilds ready to take a chance on a half-baked idea! But who is this Starchild? Will it be Alex Owens, as played by Jennifer Beals in the legendary film Flashdance?
Will it be this girl?
Will it be Crazy Eyes?
Will it be Missy Pantone?
Will it be Anna Kendrick and a cup?
Will it be this guy?
Nope, it will be none other than my gay boyfriend Adam Lambert, who calls himself "Starchild" because Ziggy Stardust and the Spiders from Mars or something.
If you're new to the site, you might be unaware that for most of 2009, all we wrote about was Lady Gaga and Adam Lambert. It was a special time, and our entertainment coverage was primarily determined by what Alex could watch on television without needing a nap.
Adam Lambert: I did design and sew this costume myself.
Kurt: It's a little Project Runway. Season Six.
Basically he's the Glitterbombed Monopoly Guy, but he kills it while Dani sexily plays her instrument in the background with mysterious band members nobody talks to. There's also a moment where Dani looks at Santana like oh my g-d he's so fucking good isn't he and it's so hot, as is this entire performance, especially how excited Santana is to have that talent on her team.
http://youtu.be/YaJ3FLqCEQk
Santana and Dani are into it, but Kurt's not so sure / is obviously jealous.
Kurt: "Your aesthetic is striking, Starchild. But it's a little outre for the team that I'm assembling. But if you're willing to tone down your look, maybe I'd reconsider."
Kurt is officially meaner than Simon Cowell.
---
We then strap sponges to our feet, plait our hair, throw on some jockstraps and gallop on back to Lima, Ohio, home to the Lima Memorial Hospital Heliport, where Sue's wearing a cage on her face and New Santana has wrapped herself in hazard tape, a la Telephone.
Sue: "This practice of referring to oneself as a Katy or a Gaga — the Glee club will be doing this the entire week?"
New Santana: "Super annoying, right?"
Sue: "It is the most annoying thing they've ever done."
SO WHY ARE THEY DOING IT?????
Elsewhere in McKinley High, Marley-Kate is gay. She wants to hit up Breadsticks, then catch a Julie Andrews tribute at the Lima Limelight with New Puck, but New Puck is sick of this boring old "music/movie/dinner" thing and wants to do the horizontal mambo.
New Puck laments that Marley-Kate is SUCH A KATY. Is everybody forgetting that Katy Perry was married to Russel Brand for a significant period of time. Where are we.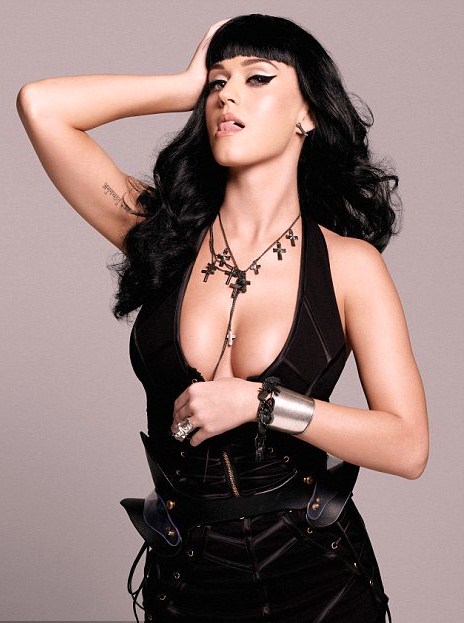 New Puck is excited to see Marley-Kate in a bra made out of raw meat or whatever.
---
Cut to the Auditorium, where Sam's telling Team Innocent Katy Trying To Be Team Dark Edgy Gaga about his scary, weird and controversial concepts for this groundbreaking performance. (Does anybody else think it's problematic that all the people of color are on Team Dark Edgy Gaga Trying To Be Team Innocent Katy?)
Marley-Kate suggests sparklers indoors, and Ryder Bieber-Strong suggests confetti shaped like skulls and I suggest both of them get lost in space. Sam points out that Nurse Petty and all of McKinley High will be present for their performance and therefore they must really get wild.
Sam assures his young charges that he'll be recruiting some "little monsters" to promote their show!
Cut to Sam begging Becky to help promote his show. Becky thinks Katy Perry is the governor of Texas, because Becky is the best. She'll promote his show anyhow though.
---
We then take a series of overpriced cabs and crowded shuttles to the Newark airport, wait in line for two hours at security, get felt up by a dykey stranger and squeeze into tiny uncomfortable seats in a terrifying enclosed space where we timidly eat our six peanuts while soaring cross-country to the Bushwick Barbie Dreamhouse Loft in New York, New York, where Rachel's wondering why Kurt's unwilling to share the "lavender limelight" with Lavender Lambert. Kurt insists that it's not about sharing the limelight, duh, because if Kurt just wanted to shine all by himself, he'd take his one-man band to The Duplex and do a tribute to Broadway Divas which, let's be real, is totally something that Kurt would do.
Kurt insists Starchild's look is "too edgy" and will therefore seal the fringe fate of the Gayest Band Ever. Kurt doesn't wanna be weird anymore, he just wants to be mainstream, like the HRC, and get a song on the radio, and be as successful and adored as Broadway's Rachel Berry and Santana of Yeast-i-Stat. Rather than take the logical step of auditioning to be a hemorrhoid cream spokesmodel or hitting up background dancer auditions for Mama Mia!, Kurt's going Mainstream by launching a band filled with homos.
Kurt: "Rachel, there's nothing wrong with wanting to be that thing that everyone likes, that thing everyone wants to see and hear that doesn't offend or challenge anyone."
Rachel, clearly frustrated that Kurt has neglected Glee's most brutally beaten horse, Just Be Yourself, insists that Kurt's brand is more specific and unique and he's gotta blaze his own trail, like the Boy Scouts or, you know, Adam Lambert.
Rachel: "Your brand it's gonna be huge! You are a true talent, Kurt."
Aww.
---
We then stuff our cold toes into a hot pair of moon boots, wrap our arms in Ace Bandages and march in a single-file line all the way back to Lima, Ohio, the birthplace of Phyllis Diller, where Marley-Kate and New Puck are once again making thrilling weekend plans.
Marley-Kate wants to get John Mayer tickets and New Puck would rather die in a fire, sorry I was confusing me with New Puck. New Puck is actually okay with John Mayer tickets, because J-May and New Puck are both acoustic douchebags. New Puck also says okay to New Santana when she confronts him in the hall 30 seconds later to ask for his help choreographing a thing for the Cheerios, which is part of her plan to unravel the Glee Club as per Sue's instructions.
Meanwhile, in one of McKinley High's super-intellectual classrooms, a thrilling lesson on Ohio is interrupted by a promotional video! Somehow Sam hacks into the computers of every McKinley High student and proceeds to mind control them with a promo video for their 3:30 "Applause" performance. It's so fucking weird that it instantly becomes perfect and awesome.
Unfortunately Nurse Petty tells Sam she's not gonna make it 'cause she's got a hot date at Claire's getting her ear pierced, but then Sam suggests they get pierced together that weekend so Nurse Petty can still catch the big show. Phew.
---
Cut to Team Dark Edgy Gaga Trying To Be Team Innocent Katy proposing the best ideas The New Directions have ever had — specifically, Unique would like to re-enact a baby's birth on stage. Can somebody fucking sing a song about placenta already? Or do a musical rendition of The Business of Being Born? Or have lesbian sex?
New Puck's napping on the piano but then he dips out to hit up the Cheerios, much to the intense disapproval of Unique and Fake Quinn, who should be in charge of Glee Club from now on.
Unique immediately calls Marley-Kate to warn her that her manchild New Puck is heading down a rocky road towards Infidelity Land, led into temptation by New Santana.
Unique: "That girl is poison. She is whack like crack, a penis flytrap, Marley, she will chew him up, hashtag PREACH."
Unique says Marley-Kate's only hope to keep her boyfriend is to go "full Gaga," because that makes sense. Marley insists that New Puck is gonna love the real her or not love her at all.
Snap to the McKinley High School auditorium, where Becky's still in Gaga regalia and demanding entertainment. Unfortunately Sam's magical show commercial failed to recruit the masses to their 3:30 performance, or else nobody hired any extras this week.
Turns out Sam's big crazy original plan was to… dress everybody up exactly like the music video for Applause? Blaine, who will soon aptly describe his outfit as, "I look like Siegfried AND Roy," looks like Eric Northman Season One smashed in a blender with Liberace and Boy George's Really Unfortunate Fashion Period. Artie's strapped a giant airbag to his back, Sam's about to migrate south for the winter and Ryder Bieber-Strong has absolutely no idea why the caged bird sings or how to put on lipstick.
Mid-performance, Marley skips on in dressed like a the victim of an unexpectedly soft-core Model Mayhem shoot with a predatory amateur photographer OH WAIT NO she's dressed up as Katy Perry, the girl-next-door!
Also, I just noticed Blaine's wearing a dildo on his ass.
Here's the whole enchilada:
http://youtu.be/7u3TKFPKPgQ
The audience is horrified by Marley-Kate's decision to dress up like Prince Lolly when everybody knows the assignment was to dress like Lord Licorice.  Marley-Kate says that she is who she is and she's not gonna change that for anybody, so Sir William suspends her? Because that's what you do when a girl in recovery from an eating disorder refuses to wear a seashell bra in front of the whole school / nobody.
I'd like to have some smart feminist commentary on this situation but as aforementioned, this dichotomy is so fundamentally flawed that there's really nothing to say but this: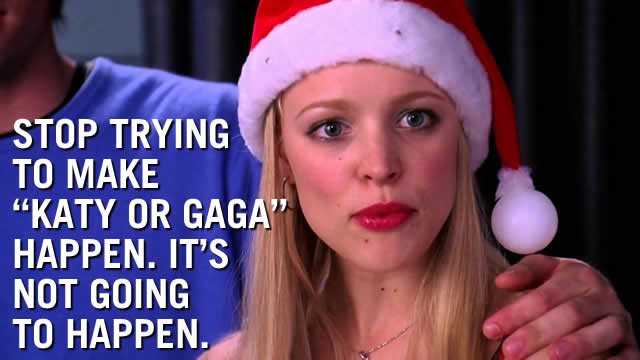 ---
Back in the Glee Room, Team Dark Edgy Gaga Trying To Be Team Innocent Katy's having a crisis because Unique tried breaking into the zoo to steal tigers only to discover Lima doesn't actually have a zoo. But Lima is so close to Toledo and she could just ride the tiger home, I don't know why nobody thought of the Toledo Zoo. I'm always thinking of the Toledo Zoo.
However, Unique points out, she was able to track down a tiger costume! It appears she accomplished this by breaking into Rum Tug Tugger's dressing room.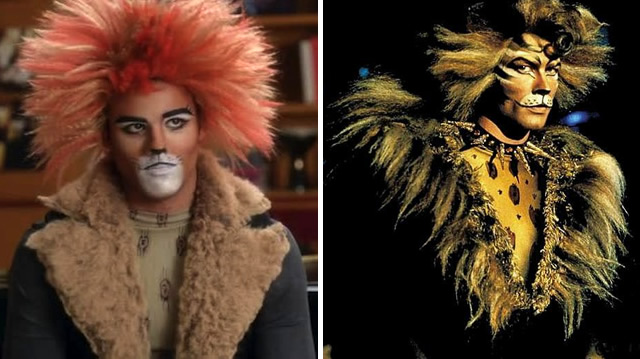 Jake is "really not okay with this," because he looks "like a Gay Thundercat." Tina points out that people love Katy's music because it is so "real" and "girl-next-door." I guess Tina must live next door to a girl who spends a lot of time feeling like a plastic bag drifting through the wind wanting to start again.
Tina: "We need to strip it down. No costumes, no special effects, no gimmicks. Just the music."
---
We then call our Amish friends and take a horse and buggy all the way to Fake Eileen's Stardust Diner in New York, New York, where Kurt's greeting his new one-top with a speech worthy of a 10% tip. But this isn't any 'ol one-top, it's STARFOXCHILDWONDER, aka Elliot.
Elliot explains that he needs to be in Kurt's band because he came all the way to New York from New Jersey Land of Malls to be a star in New York City! Also, "join an indie band" is on his bucket list, along with, I imagine, stealing a tiger from the Bronx Zoo, shopping at Dillard's, buying and losing at least 35 umbrellas and having a mouse crawl on his face while he sleeps.
Kurt noticeably softens when Elliot admits he's going to NYU because Fake Julliard rejected his gorgeous mug. Kurt's gonna fall in love with Adam Lambert but it's okay, it happens to all of us.
Alas, before the Kelliot ship can take off, Santana swings by to tell Kurt to stop flirting 'cause he's engaged and besides his break is over and he's gotta sit his ass up. Then Santana is like hot damn, it's Autostraddle's gay boyfriend! I hope he's gonna be in our band! BEST BAND EVER.
---
Over the woods and through the river back to Lima, Ohio, we go, where Sam knows the way to carry the sleigh through the thick and juicy snow! Once again, Sam's creeping on Nurse Petty, this time to ask how she liked "Applause." She says she liked the part where the girl got suspended and admits that she's not really into dark edgy music, she was just pretending during that part I didn't tell you about because I didn't care.
But, ha:
Nurse Petty: "My favorite artists are mainstream singer-songwriters like Carrie Underwood, Bruno Mars and Katy Perry."
Sam: "Me too! Oh my gosh I'm so not a Gaga. Ugh, I love Katy Perry! I'm such a Katy. Oh, it just feels so good to say it out loud."
Nurse Petty: "I also still like the Jonas brothers."
Sam: "I still like the Biebs!"
Nurse Petty:" No."
They make plans to hit up a Katy Perry show in 2014, and then they make out.
---
Cut to the McKinley High School Auditorium for fools, where Team Dark Edgy Gaga Trying To Be Team Innocent Katy performs a really great stripped-down edition of "Wide Awake" that finally showcases the pipes on Tina and Unique and doesn't make me want to die at all. I liked it a lot actually.
https://www.youtube.com/watch?v=C_WyZtjDlFA
---
Moments or minutes or years or centuries or seconds later, New Puck finds Marley Perry in the hallway — she's easy to find 'cause she's wearing a pink wig and a dress made out of child's wrapping paper —  and invites her over to his place. They can watch Marry Poppins, he claims, which is code for "me popping into your mary" if you know what I mean.
Marley's like, you want me to come over with this wig on? And he's like, I really dig the wig, which reminds me of this really amazing Miranda July story, "Something That Needs Nothing" from her book No One Belongs Here More Than You and therefore makes my head itch. Anyhow, then we cut to the boring bedroom we're supposed to believe belongs to New Puck.
They're making out with all their clothes on which means it's only a matter of moments before Sex begins, because it's Television. Marley-Kate calls the whole thing off and then they have a big fight about how she's not ready to have sex and does he really enjoy going to shows wherein semi-talented local community actors sing Sound of Music in a half-empty coffee shop or is he just with her 'cause he wants to touch her boobs one day.
He says before Marley-Kate, all his lady-lovers dropped trough within six days or got the 'ol heave-ho. So Marley throws off her wig and suggests he hangs out with those girls instead, so New Puck goes and bangs New Santana.
---
We then pile into an expensive sports car and drive all the way back to the Bushwick Barbie Dreamhouse Loft, where members of The Gayest Band Ever are pondering potential names for The Gayest Band Ever. Also, Naya Rivera and Adam Lambert and Demi Lovato and Chris Colfer are all hanging out in the same room (!!!!!!) on my television set (!!!!).
Dani suggests they name their new band the Nip Slips, to appeal to boob-lovers all over the world, but Kurt says no to that and also to everything, because he is, as Santana acutely points out, a Nobot. Then Rachel shows up from her depressing rehearsal and suggests they name their band Pamela Lansbury which she means as a joke but everybody loves because WHY ANYTHING.
Kurt insists that Rachel must discard her "excuses" about being the lead of a Broadway musical that she's using to avoid joining The Gayest Band Ever because our Dear Dear Barbara Streisand managed to be in Funny Girl AND:
+ sing for the President and Ladybird Johnson
+ pose for the cover of Time maagzine
+ sing "Happy Days Are Here Again" to "adoring nightclub audiences all over the country"
Firstly: aside from the last item on that list, which is ambiguous and confusing, he's describing a series of actions which would take, cumulatively, about six hours. Secondly, Rachel is still in rehearsals! She'll have more time when the show itself starts, assuming all goes well… but also she'll be busy from probs 5:30-10PM every night except Mondays, which could put a kink in their band-booking schedule CAN YOU TELL MY BEST FRIEND WAS A BROADWAY ACTRESS WHEN I LIVED IN NEW YORK ALSO ALSO THOUGH WHY AM I EVEN TALKING ABOUT THIS
---
We then strap baby angel wings on our back and soar like eagles all the way back to Lima, Ohio, where everybody is still in costume because who cares, and Unique is wearing all of Magnolia cupcakes on her dress and Artie still looks like a mime trapped in a condom trapped in a comic book, and Tina and Blaine are freaking out about Throat Explosions' posting their setlist online but what everybody should REALLY be freaking out about is Tina's ass in this outfit.
Sir William blathers on about something, inspiring New Puck to lean over to Ryder-Bieber-Strong and ask if he thinks Sir William thought up that inspirational bit I've since forgotten on the spot or had been saving it all week, and Ryder is like, "What are you talking about? Mr Schuster is a genius," because Ryder is an idiot.
Then Sue shows up 'cause she was bored and suspends everybody because the kids are breaking the dress code rules. Seriously though, Fake Quinn's fellatioing a lollipop in a crop top with flower boobs and tiny shorts, which's what my boarding school would've called "out of uniform."
Sir William: Are you really starting up this feud again?
Sue: Oh, it never ended, William. It's been hibernating like a polar bear in winter.
The war never ended because Ryan Murphy is too busy to think of something else, duh! Sir William says that they're gonna BRING IT ON with their Katy number though so everything's gonna be fine.
I gotta be real with you, I can't hate this song, even though I hate Katy Perry with the fury of a thousand ambisexual suns. I sort of like most of her music. I love the sins but I hate the sinner, if you know what I mean.
This particular performance goes totally off the rails! But I like it anyhow because it's ridiculous and so am I.
This part was especially random and surprisingly entertaining?
But maybe I'm just reacting to Tina's quads again.
This part I could live inside and sit in the front row of and love and think and dream about for the rest of my life:
Also sidenote: when the entire male cast is romping around in loinskin diapers and Tina and Fake Quinn are wearing belly-bearing leopard-print crop tops and skirts, certainly you could make Unique a sleeveless outfit for once in her life on this show.
Here's that hot tamale en total:
http://youtu.be/qJ2FDqUw5wE
---
Next week is gonna be really terrible and everybody is going to hate it, especially me. Also I don't think anybody should be allowed to talk about twerking on television without inviting our Mod Kaylah and her Twerk Team.
Pages: 1 2 3See entire article on one page