Hello nubile maidens and allies! Welcome to the fourth episode of the fifth season of Glee, a reality show in which Paris Hilton searches for a new BFF in the wild jungles of Disneyland, accompanied by The Snow Queen, a talking lobster, ten baby chickens and a band of rowdy youths who can't shut their yaps. This week's episode was a particularly probing investigation into issues including global warming, anal fisting, regular fisting, fingering, drop-waist sweatpants, tiny erasers, nectarines, ear infections and Jessie Spano. Furthermore — much like my girlfriend, this episode was so gay you could see it from space!
I imagine this episode was constructed in approximately two hours by a bunch of high-as-kites homosexual men who'd spent the day sipping cucumber martinis poolside at somebody's undoubtedly palatial West Hollywood home. You know, the kind from the movies with big windows. Alternately, this episode was just a gay guy playing with his Barbies, the television equivalent of a Buzzfeed list, or a tribute concert to Autostraddle 2009.
This show has always been camp, but even camp can get banally tacky sometimes, and this episode definitely toed that line (which isn't as exiting as toeing a vagina, I imagine). This week was my gay boyfriend Adam Lambert's debut on the program, which delighted the cockles of my surly soul, but despite Glambert's cameo, the entire "Katy or Gaga?" premise of this episode was so fundamentally flawed and so clearly commercially motivated that it was hopeless from the start. But it wasn't too bad, all in all.
Anyhow ARE YOU READY FOR SOME RECAP?
---
We open in the Glee room, where the children are sporting unfortunate blouses and Sir William arrives bearing an envelope containing the TOP-SECRET LIST of New Directions' competitors at the upcoming National Worldwide All-Star Champion Celebration Campership Competition of Song. When Sir William announces that they'll be going head-to-head with "Throat Explosion," Tina unleashes a scream of horror and despair, which is hard to hear over my own scream of horror/despair that they're calling this team "Throat Explosion."
"Their budgets for costume, makeup, hair alone are astronomical," Blaine explains, expositing that this avant garde team of edgy supergroup outsider motherfuckers with apparent latex kinks has put in 10,000+ hours of showchoir rehearsal because of something Malcolm Gladwell said once.
This news strikes fear in everybody's tenderheart, because how on earth will New Directions' scrappy, dollar-store performances ever compete with Throat Explosion's big-budget blockbuster productions?
As we've been told-but-not-shown repeatedly, the New Directions are perpetually impoverished, and thus my imagination runs wild thinking of what Throat Explosion might be able to accomplish with an actual budget. I mean, they could install rain machines in their auditorium and also Gwyneth Paltrow!
They could snag a $3,000 light screen for just one little run-through of Nowadays / Hot Honey Rag!
They could hire circus performers and pyrotechnics professionals and shoot tender young Cheerleaders out of giant cannons and manufacture bras with fire-shooting nipples!
They could perform an entire song in a goddamn swimming pool with a magical catwalk!
They could re-create the $7 million dollar Michael Jackson/Janet Jackson music video for "Scream"!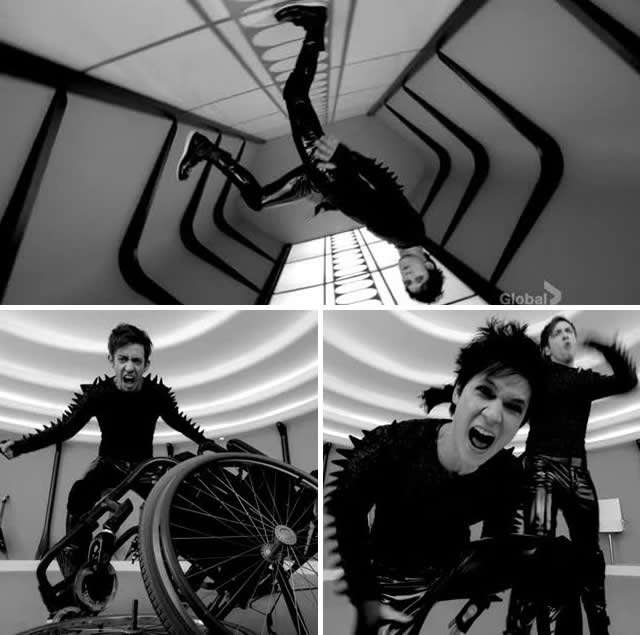 They could create Lady Gaga costumes inspired by the bajillion-dollar high-fashion costumes often sported by Lady Gaga!
They could purchase a $45,000 SUV just to destroy it onstage, because it goes with the theme!
WHAT ON EARTH WILL THESE CHILDREN DO? Sell taffy? Sell their souls? Throw rock salt into the eyeballs of the lead singer of Throat Explosion? Well, Tina's already on high panic alert.
Tina: "They're total outsiders and misfits, which used to be our niche. We can't compete with Throat Explosion any more at that level because we lost our biggest Gaga when Kurt graduated last year. Look around, we're a room full of like, Katy Perrys now."
It's true, now that Santana and Brit-Brit have flown the coop, we're stuck with a bunch of ladies for whom kissing a girl is only a thing they do if their boyfriend don't mind it.
Sir William disagrees with Tina's assessment — he considers the children a "potent mix" of "ambi-edge" weirdos and "wholesome, innocent, romantic, All-Americans," which I gather is supposed to be a description of Lady Gaga and Katy Perry, respectively, but unfortunately is not, because Katy Perry is a sex riot and Lady Gaga is more deliberate these days than she seems. Katy just wears brighter colors.
SO, ANYHOW, WHAT WILL THEY DO TO FACE OFF AGAINST THE SUPER-RICH THROAT EXPLOSION? Ah yes, they'll attempt to re-create songs performed by super-rich recording artists who always put on super-expensive performances!
Sir William: "This week the Katys will get their Gaga on and the Gagas will bring the Katy."
If the children are unable to get on board with this week's contrivance, they don't have "a chance in hell" of winning Nationals.
---
We then wrap ourselves in duct tape, dip our heads in buckets of Fun Dip, put on some sneakers and jog all the way to New York, New York, where Rachel is inexplicably still employed at Fake Eileen's Stardust Diner, despite the fact that she'd be pulling in at least $2,500 a week (before taxes) while in rehearsals for Funny Girl, which, by the way, would gobble up so much of her time that it's amazing she's even making it to school. Also, Kurt's starting a band and wants everybody to join it!
---
Luckily we're able to snag a last-minute flight on the Glee Teleporter all the way back to Lima, Ohio, home to the Learning to Care With Care School, where Sam and Nurse Petty are continuing their tedious and irrelevant romance.
They banter about musical darksides and tattoos and electopunk and THANK LESBIAN JESUS also True Jackson VP but also I don't care, so.
Elsewhere in the hallowed hallways of McKinley High, Artie's bitching about the assignment because it means he won't be able to duet with his lady-love Fake Quinn, who says of this week's lesson, "I'm pretty sure he makes up these rando lessons the split second before he writes them on the board."
With a heavy hand, Artie asks, "are you still okay with dating someone so different than you?" and Fake Quinn sticks her tongue down his throat, which is Cheerio for "yes."
---
We then hop back in time, borrow some mopeds from three 13-year-old boys I knew in middle school, hop back to the present tense, put on our bicycle helmets and night-vision goggles, and travel back to New York, New York, where Santana, Kurt and Dani are holding auditions for their "indie rock band," The Gayest Band Ever.
Unfortunately for those of us who enjoy a good audition montage, nobody's leaping at the chance to audition for the esteemed spot of Vocalist #4 in what I hope is an a capella "indie rock band" because the only instrument I've ever seen Santana play is Brit-Brit's clitoral hood and Kurt's usually to busy gyrating to manhandle a glockenspiel. Furthermore, they're unable to settle on a name — Santana votes for the Apocalipsticks, Kurt votes for waiting for him to manifest an idea, and I vote for Uh Huh Her & Her & Him.
Yet all hope is not lost! There is one person signed up to audition for The Gayest Band Ever, one lonely human named "Starchild" out there in the wilds ready to take a chance on a half-baked idea! But who is this Starchild? Will it be Alex Owens, as played by Jennifer Beals in the legendary film Flashdance?
Will it be this girl?
Will it be Crazy Eyes?
Will it be Missy Pantone?
Will it be Anna Kendrick and a cup?
Will it be this guy?
Nope, it will be none other than my gay boyfriend Adam Lambert, who calls himself "Starchild" because Ziggy Stardust and the Spiders from Mars or something.
If you're new to the site, you might be unaware that for most of 2009, all we wrote about was Lady Gaga and Adam Lambert. It was a special time, and our entertainment coverage was primarily determined by what Alex could watch on television without needing a nap.
Adam Lambert: I did design and sew this costume myself.
Kurt: It's a little Project Runway. Season Six.
Basically he's the Glitterbombed Monopoly Guy, but he kills it while Dani sexily plays her instrument in the background with mysterious band members nobody talks to. There's also a moment where Dani looks at Santana like oh my g-d he's so fucking good isn't he and it's so hot, as is this entire performance, especially how excited Santana is to have that talent on her team.
http://youtu.be/YaJ3FLqCEQk
Santana and Dani are into it, but Kurt's not so sure / is obviously jealous.
Kurt: "Your aesthetic is striking, Starchild. But it's a little outre for the team that I'm assembling. But if you're willing to tone down your look, maybe I'd reconsider."
Kurt is officially meaner than Simon Cowell.
---
Pages: 1 2 3See entire article on one page