So, the idea behind this episode, entitled "The First Time," is that these teenaged werewolves are ripe for the plucking and fucking. It's important you keep that idea in mind since no actual plucking and fucking happens. It's an optical illusion, like this poster from your fourth grade classroom:
So, Glee exists in a special upside-down world where pre-teen Brittany is nonchalantly statutorily raped in a tent at cheerleader camp and ragingly hormonal 16-year-old boys keep finding emotional excuses to avoid the horizontal mambo. To be fair, however, Finn is a lesbian and boy does he show his Sapphic side this episode!
So I'm just gonna recap the subjectively relevant parts, but for all ye children who live in caves or boxes without light or air or televisions, let me briefly describe the program's other events.
There's a subplot involving Coach Beiste and the recruiter from Ohio State (I'll get to that conundrum in a tad, don't you worry) striking up a romance over a shared love of football. As sweet as it tried to be, just because she's a masculine woman doesn't mean she'd be a 54-year-old virgin or need sex advice from a 17-year old in sweater vest! Remember the Will Schuster Pity-Kiss Episode? I just did. She's not a sexual charity case for crying out loud. Basically, everyone treats her like Susan Boyle.
Also, Mike the Dancer's father is stalking his son to tell Mike that he's gotta quit dancing and the musical because Mike's Dad sucked at tennis. Dad used up all the dreams, so there are no dreams left for other Changs. Dad disowns Mike, Harry Shum Jr tries to make a frowny face, and says, "then I guess I don't have a Dad anymore," at which point I laughed almost as hard as I did at the end when Kurt showed up with a nighstick.
LEZ GO!

We open with Artie and The Amazing Technicolor Cardigan wheeling around school, talking about himself. He gets a Chaz Bono joke in there, because the only thing I love more than Artie is a Chaz Bono joke.
We cut quickly to the McKinely Musical Mashtacular where Lea Michele and Darren Criss are killing Tonight from West Side Story and for one sweet moment the world is nothing but lovely music and teenage hopes/dreams.
For the ensuing 50 moments the world is penis. I haven't been forced to have so many thoughts about penises since that one episode of The Real L Word. Speaking of the thunder down under, Artie incomprehensibly tells Blaine & Rachel that in order to properly capture the groin-centric yearnings of Tony and Maria, the two must engage in sexual intercourse ASAP. This school is a cesspool of sin. See:
So, back in the hapless hallways of McKinley High, Rachel saddles up to her enormous boyfriend with a beat-the-cheeks attitude and a gloriously Rebecca-Black-inspired poster for the Class President Student Council Body Leader election I'd completely forgot about. Finn's on the fence regarding voting 'cause Kurt's his brother, Rachel's his girlfriend and he's got a lot of respect for Ron Paul.
Rachel rubs up on Finn like her vagina is about to explode and Finn makes a Maalox face, which means they're gonna have sex.

Kurt, preparing for his future blending in to the magic of Disney's Jungle Cruise as a Tour Guide, has slaughtered an entire Safari and re-composed it as a multi-piece clothing-related ensemble, which he's wearing while talking about dorky musical theater things with his dorky dancing boyfriend. It's cute.
Speaking of wild animals, Kurt's curious if Blaine's opinion of Kurt has been tainted by the frequent references to and episodes about Kurt's fey unsexiness or if Blaine's still interested in fingering Kurt's taint.
Blaine: "Are you crazy? You're the single most interesting kid in all of Ohio."
Kurt: "I mean, like… sexually. I mean, we are playing it awfully safe by not granting our hands visas to travel south of the equator."
Here's why: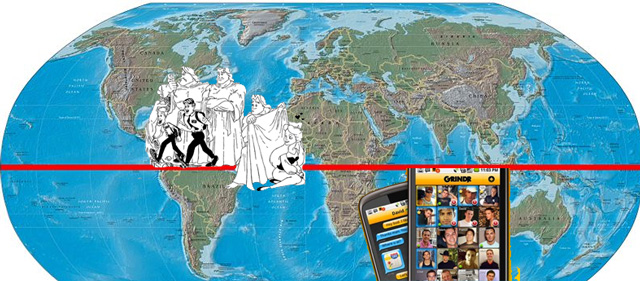 The dynamic duo continue chatting about how maybe they should wear baggier jeans if they're never gonna unzip:
Blaine: "I thought that's what we wanted."
Kurt: "It is. I'm just wondering… do you ever have the urge to just rip off each other's clothes and get dirty?"
Blaine: "But that's why they invented masturbation…"
Masturbation: a new invention brought to you by the same guy who put the ram in the rama-langa-ding dong. Regardless, Blaine and Kurt are Jedi Masters of restraint thus far and unlike his Hot-and-Cold castmate, Blaine is either too scared or too dreamy to jump into bed for artistic purposes.
Blaine: "Hey, I'm serious. We're young, we're in high school, yeah, we have urges, but whatever we do, I want to make sure you're comfortable, so I can be comfortable. And besides, tearing off all your clothes is sort of a tall order."
Kurt:"Because of the layers?"
Blaine: "Because of the layers."
As much as Blaine allegedly loves his boyf, Kurt's got ample reason to be insecure — whereas Blaine's strapping good looks are a consistent conversation topic, Blaine won't even throw Kurt a bone(r) in a conversation about Kurt's perceived sexiness. Tell your boyfriend he's hot, weirdo! At the same time Blaine's got the personality of a dork who accidentally grew up handsome but doesn't know it yet. I think Kurt knows it, though, and it makes him nervous.

Cut to Dalton, where Kurt & Blaine's march toward sodomy is further derailed by Sebastian Valmont McEvil the Eighth, a brand new warbler and Blaine Superfan.
So, when Blaine stops back at Dalton — stepping right into an unnecessary musical number involving a hoard of teenage boys flirting suggestively with a suggestively-attired teacher — to hand-deliver an entire "block" of West Side Story tickets to his ol' pals, Blaine meets this douchebag straight away. "Once a Warbler, always a Warbler," says Sebastian Valmont McEvil the 8th. He's gay and a villan. A "gillin," if you will.
The two retire to the Study to chit-chat about Blaine's decision to leave Dalton and Sebastian's decision to be 100x cooler than everyone else ever.
This convo is intercut with Santana and Wendla Bergmann doing "A Boy Like That," which is so hot that probably Santana's shoe could set Michael Jackson's hair on fire. This unfortunate editing is reminiscent of when Nikki & Shane's bathroom sex romp was unnecessarily intercut with Bette & Tina's Dance to the Death in The L Word Episode 607 (obviously Bette & Tina's Dance was the only thing I wanted to see.) (SHENNY FOREVER)
Sebastian Vandermint: "I could really use some more insights from you, Blaine. You know, Warbler to Warbler."

In the locker room, Finn, because he's stupid, asks Puck for advice on "condom brands" in a hushed tone he'd usually reserve for asking one of his lesbian sisters for an extra hand with that Diva cup. Puck never uses 'em, however, so Finn's got no choice now but to check Consumer Reports or The Internet. His brain hurts just thinking about it.
A recruiter from Ohio State has stopped by McKinley to recruit Finn Hudson, which is maybe one of the top ten most ridiculous truth-stretching plot twists in the history of Glee. As a University of Michigan alumnus with at least five Ohio State alums in my extended family and, most importantly, as a person who has watched five seasons of Friday Night Lights in the last six weeks — I CALL BULLSHIT. If Luke and Matt Serasen couldn't bag a scholarship to TMU, Finn Hudson's got a better chance of making it into Ilene Chaiken's pants than he does Ohio State.
Meanwhile in The Hallway, Blaine's got extra pep in his step now that he knows it's better down where it's wetter, take it from me. Blaine wants to live it up! Since this is Lima I assume living it up will include cow-tipping and going up the down staircase at the mall.
Blaine: "West Side Story is all about living outside of your safe little world. Don't you want to wake up every day and be adventurous, and experience everything in life you can?"
Clearly Blaine's ready to top Kurt's Eiffel Tower or whatever, but Kurt's been assembling a bucket list on his Apple iPhone™ with slightly more innocent desires, like having sex with Taylor Lautner and becoming CEO of Logo wherein his first executive order would be to force AfterEllen to link to us.
Kurt: "I know, I know it's stupid."
Blaine: "No, it's not. It's hot."
Kurt: "Well, anyway, we're young, so we've got all the time in the world to be adventurous."
Blaine: "Don't you think now is the time to be adventurous? While we're still young?"
Kurt's totally flummoxed by this because he's a teenager and teenagers hate sex. It's like the Brussel Sprouts of adolescence – so good for you, but hard to swallow.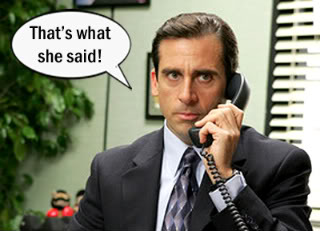 Some time in the next approximate moment, we see Blaine and Sebastian at the coffee shop, where Blaine is enchanted by Sebastian's memories of drinking expensive things I can't spell in Paris.
Blaine tells Sebastian that he's got a boyfriend, Sebastian says "that doesn't bother me if it doesn't bother you," and before Blaine can finish explaining why they chose monogamy over polyamory despite Dan Savage's advice, Kurt shows up! Right there in the casa de coffee!  WHOA! HEY-O!
Despite it being the final week of rehearsals for West Side Story, Kurt quickly agrees that he and Blaine will accompany Sebastian to SCANDALS, a nightclub for friends.

So, Finn poisons his vegan girlfriend with meat and then she wants to have sex with his meaty head. Unlike, say, a 17-year-old straight boy in high school dating a hot chick who wants to bang, Finn ditches the fireside snuggle-related do-si-do when Rachel lets it slip that she's only doing "it" to become a better Maria. In fact, Finn's so disgusted that he buries his head in a pear tart and dies.
Just kidding! Just like the lesbian we all know he is, Finn gets his emotions and his panties tied in a wad and withdraws his sexual affection, retreating to the kitchen to eat his feelings. Pear tart, I believe.

Pages: 1 2See entire article on one page