Hello and welcome to the thirteenth recap of the fourth abysmal season of Glee, a comedic romp about what happens when a tight-knit group of musical adolescents eat nothing but Noxzema for an entire year and stop wearing underwear. The weirdest part, to be honest with you, is the Potatonik steering the ship, and the second-weirdest part is all the faces these kids keep making: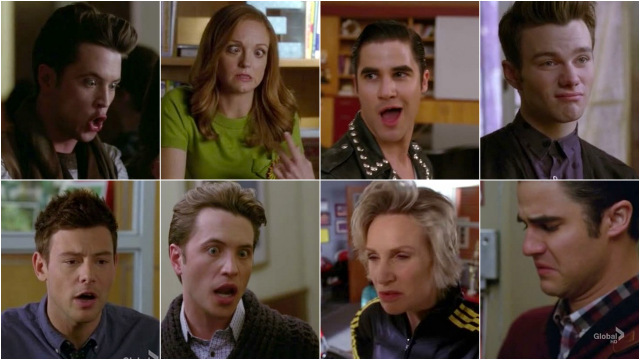 Anyhow, this episode everybody fought over who could wear the most rhinestones and dead animals at the same time. It was called "Diva," named after, OBVIOUSLY, Diva Cups. I prefer ob tampons, but to each her own. For example, Marley-Kate prefers Tampax Radiant for some reason:
http://youtu.be/VRfvCHRVmdY
Anyhow, enough about vaginas, it's time to talk about Glee!
---
We open in what appears to be an actual classroom at Fake Julliard, wherein Bitchy Gay Boy #1, Bitchy Gay Boy #2, Kurt Hummel and ten or so extras of indiscriminate age are enjoying Free Sing, which's absolutely nothing like Free Swim, FYI.
It's like this:
Kurt monologues that since The New Rachel's triumph at Winter Musical Lalala Singing Lilting Lyrics Showcase Time, her insufferabiltiy level's been on blast: she hogs the pool during Free Sing, uses all the hot water, clogs the sink with the stringly discards of her Ombre situation and likely commits a dozen other water-related crimes. She probably pees in the ocean, too. That's what divas do. Divas pee in the ocean.
Furthermore, says Kurt's brain, The New Rachel surrounds herself with "sycophants," aka Bitchy Gay Boy #1 and Bitchy Gay Boy #2, who, by the way, insist Rachel must audition for the Funny Girl revival 'cause she was "born to play Fanny Brice."
Kurt has a plan:
Kurt: "This Sarah Brightman in training needs to be knocked down a few pegs and I'm the only one who can do it."
Mhm. You know who else has a plan?
---
We then adorn ourselves in fluffy snowsuits with generous hoods and sled all the way back to Lima, Ohio, home of the Apollo Career Center, where Emma's advising Finn that the solution to his "we need a powerhouse like Rachel/Santana/Mercedes to win Regionals" problem is to host an internal Diva-themed competition.
Basically, everybody will have to put a Diva Cup inside them, and whoever fills theirs up the fastest; wins. Just kidding! It's just gonna be like all the other episodes but at the end somebody will get a prize and it'll probs seem a tad arbitrary, but we'll enjoy it just the same!
Finn announces, using language reminiscent of my Olive Garden Manager Mike's inspirational speeches about selling Create-a-Sampler Italianos, that "Diva Week is all about finding your inner powerhouse."
Emma: "Diva. The online Urban Dictionary defines a diva as "a fierce, often temperamental singer who comes correct. She is not a trick-ass ho and she does not sweat the haterz."
New Puck: "Great, so I guess the guys are screwed this week."
Blaine: "Um, guys can be divas."
Emma: "That's right, we all have inner divas. I myself have been considered quite a diva at many a local restaurant because I know what I want and I will send a dish back."
Unique suggests her classmates better step off because there's only two ways to spell Unique, and one of them is "D-I-V-A" which, for the record, definitely does NOT spell "Unique." There's only one way to spell Unique. This show is confusing.
Also confusing: why is it okay for Tina Cohen-Chang to say "I have more diva in my little finger than you have in your whole angry inch, Wade-Unique"? Here's the answer: IT'S NOT, which's why Marley-Kate's immediate assertion that Tina's "unchecked" smack-talk is "about to end" is encouraging to us  — is Marley-Kate gonna take a stand against transphobia? Haha just kidding, her smack-talk is about to end because it's time for a musical number!
It's "Diva" by Beyoncé!
Marley-Kate's dressed like the lovechild of Phyllis "Pizzazz" Gabor, Jane Fonda and Ziggy Stardust, Blaine's doing Michael Jackson On Ice and somebody's draped three dead wolves over Unique's divalicious shoulders.
Fake Quinn is like a slutty Queen of the Emerald City and I love it.  Tina and Brittany are practicing to be the cake toppers for Cher and She-Ra's lesbian wedding.


We then return to The Glee Room…
Emma: "…and that is how I made the manager cry at The Cheesecake Factory. For being a diva."
Aw. Emma is such a critter.
---
Starsweep over all of the things in the whole world until we arrive at the Barbie Dreamhouse Bushwick Loft, where Kurt's had just about enough of The New Rachel's demands for tea with a wee bit of honey. The duo begins squabbling, because it's the Diva Episode.
Kurt dishes out some real talk about The New Rachel's attitude, likening it to old-school Lima Rachel, but Rachel's really in full-throttle-bitch mode today. She reminds Kurt that she got him into Winter Showcase in the first place, and Kurt counters that despite her "win," HIS performance was the one "everybody" was talking about. And by "everybody" he means tumblr.
Kurt challenges The New Rachel to a rematch at "Midnight Madness," which's clearly not the same situation as the probs delightful Disney movie Midnight Madness, starring Michael J Fox in his first film role. This "Midnight Madness" is a sing-off or something. The New Rachel insists Kurt will lose, just like he lost in Season One.
Kurt blasts back that the only reason Rachel beat him in Season One's Diva-Off is 'cause Kurt threw it on purpose, hoping to save his father the humiliation of having to watch his son sing a lady-song or whatever wacky plot situation they pulled off that week. Rachel is "crushed" to hear this, having based her entire ego apparently on that one episode. Weird.
---
Cut to the hallowed hallways of McKinley High, where X-Tina's presenting her Gaycrush Blaine with a Winter Cold kit which includes NyQuill, Chinese Chicken Soup and other shit, but probs not porn. Illness kits should ALWAYS include porn, X-Tina.
---
Back in the Glee room, Blaine, dressed like a Village Person, catapults into animated life at the piano for a rousing rendition of Queen's "Don't Stop Me Now."
Then Finn & Emma open their mouths and words come out, words about DIVAs. More importantly, Finn's called in a Special Guest Diva — who could it be?
Nope, it's not Raven-Symone! Also it's not Celine Dion, FYI. THEN WHO IS IT?
Pages: 1 2 3See entire article on one page