Cut back to Lima, Ohio for some more fan nods –
Sue Sylvester: "What is with you Glee Club ex-pats? Don't any of you have jobs? You have to have some source of income so you can pay the staff of scientists who service your teleporters that you all clearly own, since you're constantly showing up here."
Santana doesn't address the intriguing teleportation storyline and instead insists she's got a light schedule this semester, but Sue calls her bluff: the cheerleading coach has already informed Sue that Santana dropped out of school. Santana obvs was too hot for Kentucky:
Santana: "Everyone thought I was being a bitch when all I was doing was being brutally honest with people."
Sue suggests Santana takes over the Cheerios, and we all cross our fingers and toes that such a thing will never happen, because apparently there aren't any more lesbians at McKinley and we want Santana to get laid.
---
Back in the Hallowed Hallways of McKinley High, X-Tina's upset at Blaine for being gay so she's gonna yell at him about how she makes him soup and he should um, uhh, I don't know.
X-Tina: "I give you all of my heart, gladly, and I love hanging out with you Blaine, and I love — it's sad because you don't see that it's me that gives you that support—"
This unfortunately goes on for another unbearable minute before we break into "Hung Up," by Madonna, a song which reminds me of when we were re-painting our Sparlem apartment to avoid crazy landlord security-deposit-deductions and I had my little pump-up mix on and Matty complained that the lyrics of this song were accurate because whenever it came on, he hated it so much that time really did seem to slow down. Anyhoo!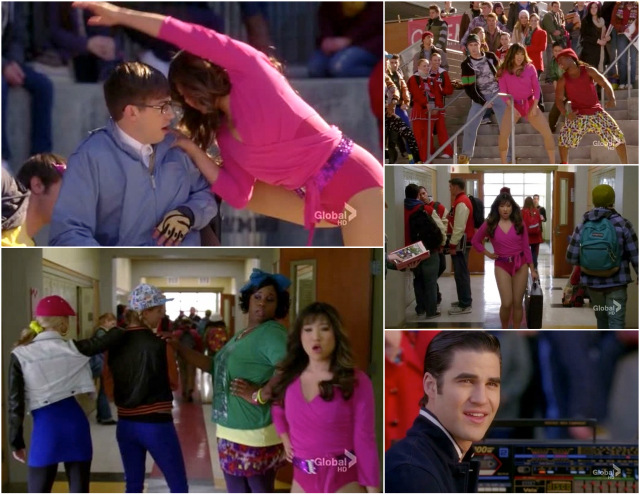 It's a hot number and Tina looks fucking awesome in her pink leotard situation. Some straight guy should WeVibe the hell out of that unit.
---
Back in the haughty hallways of Fake Julliard, Kurt's feeling guilty about winning and Adam Apple's trying to calm his guilt when the Bitchy Gay Boys show up to sycophant all over Kurt's tiny butt, suggesting he accompany them to the Funny Girl open call followed by rush tickets to Mama Mia. Kurt's like, are you fucking kidding me? Mama Fucking Mia? Actually no he's like:
Kurt: "I don't think so. I think you both are shallow and obnoxious. And I think the only reason you run around kissing everyone's ass is because you know you'll never make it on your own. And one more thing – if you say one more nasty thing about Adam's Apples, I will challenge you to the next Midnight Madness. And we all know how that ends."
Downstream, Rachel looks forlornly at the bullentin board. She's devastated by her loss and isn't interested in Funny Girl auditions or something.
---
We then put on our backpacks and hiking boots and stuff some trail mix in our buttholes and rush back to Lima, Ohio, to see who won the Diva Contest. I believe Blaine and Tina were the only members of Glee who actually did the assignment so anyway TINA WINS!
Yay Tina!
Out in the hallway, Blaine gives X-Tina some flowers and says he's been waiting for everybody to notice X-Tina's divaliciousness.
Blaine says X-Tina's his bestie best friend forever and he loves her soo soooo sooo much and will she be his date for Mr. Shue's wedding? X-Tina's vagina explodes and she says yes and gets all the wrong ideas. As Kurt would say, "and we all know how that ends."
---
Back at the Barbie Dreamhouse Bushwick Loft, The New Rachel's feeling sorry for herself and refusing to audition to play Fanny Brice, which we're reminded for the fifth time is "the role she was born to play," and says she can't handle the pressure of show business without turning into a bitch, and Kurt's like, well, too late. But we're dealing with it.
Kurt: "You are a diva, and you have been a nightmare, but you're not a diva because you've been a nightmare. You're a diva because you're talented and ambitious and because no one else in the world can do what you, Rachel Berry, can do… so hold the nightmare, but bring the diva."
Then they hug and say they love each other. The most important takeaway from this scene is that they're def gonna audition for Funny Girl, so don't worry.
---
Back in Lima, Emma is still totally freaking out about the wedding and her giant checklist and if the flowers will be right because this is all so hard with Will being gone. Finn helps a little bit and then somehow ends up kissing her?
I think this happened so that the wedding can become a big catastrophe next week and Finn can give another teary speech about his faltering self-confidence and not feeling like he fits in anywhere because he's trapped between childhood and adulthood, and he kissed Emma because he wanted to feel like he mattered for once and bla bla bla NEXT!
---
Starsweep down the hallways with the fury of a thousand suns, to where Brittany and Santana are meeting up to have lesbian sex. Just kidding, I got this show confused with my dreams for this show.
Anyhow, Brit-Brit's not gonna give Sam the axe:
Brittany: "I'm not breaking up with Sam. I really like him. He makes me feel really smart and think about things like where air comes from and how come in every movie about Jesus he dies at the end."
Nor is she gonna give Santana the suspension of disbelief:
Brittany: "I know that you're not dating Elaine. She told me that you paid her with scratchers tickets and an Ani DiFranco t-shirt to pretend to be her girlfriend. And I also know that you dropped out of school."
Santana's like, whatever, I'm just gonna coach the Cheerios, and Brittany is like, you need to be somewhere "that's as big and as hot as you are." I don't know about you, but when I heard 'big and hot' I thought about this latte I had once at Not Another Cafe on South University & South Forest in 1994 (across the street from The Village Corner), because it was in an ENORMOUS cup. I could barely handle getting it back to the table! I think they were trying to be like Friends, which was all the rage at the time. Unfortunately Not Another Cafe shut down, as did the next 56 businesses who rented that retail spot. I just google-mapped it and it seems they've yet to attract a new tenant. Actually maybe the big cup incident happened at Sweetwaters. It's so hard to remember these things now that I'm an aging Diva like Taylor Swift.
Regardless, additional Big Hot ideas:
Anyhow, Santana's not buying it:
Santana: "No, Brittany, you have no idea what it's like out there in the real world. No one gives a damn about you."
Brittany: "Rachel found a new guy and I hear Kurt did too. Why shouldn't you get the chance to be around people who are like you, appreciate you? Be a part of a community? Why can't you have a real girlfriend? But not a best friend, because that part's already taken."
Okay, nothing in the universe feels worse than an ex who's moved on telling you that you deserve a new girlfriend, too, but Santana hugs her and calls her a genius and they kiss on the lips. Also by "a community" clearly she means The Lesbian Blogging Community, right? Santana just needs to come to A-Camp is all.
Santana then launches into a stunning rendition of Alicia Keys' "This Girl is On Fire," a song I really loved until that dickweed Citibank commercial about a guy who pretends like he's besties with Alicia Keys because he has a special plastic card in his douchewallet that gets him like 1% back on seats in my ass or something.
Santana's ponytail is bouncing like crazy!
http://youtu.be/O1DOYm2Xapc
Rapidly, Santana teleports to New York City, where it's really temperate for January, and gets out someplace that is definitely not Bushwick.  I think they did this on a greenscreen.
Then she shows up at the Barbie Bushwick Dream Loft, much to Kurt & Rachel's surprise! Yup, Santana is 'cause moving to New York City! Thank the gods.
In conclusion, Santana is moving to New York City! Isn't that fantastic? Also, so far I don't think any new bodies have been buried in my wall, but the upstairs neighbors have stolen my internet connection and are running around up there like it's fucking Gymboree. The shit I put up with in this world I swear.
Next week Will and Emma will get married… or will they? Regardless, Santana and Quinn are gonna be knocking boots:
Pages: 1 2 3See entire article on one page