It's Santana Lopez!
She's accompanied by the Yardbirds of Kentucky and will be performing "Nutbush City Limits," a famous song by Tina Turner and her asshole ex-husband Ike. The cheerleaders make quick movements with their asses, stomachs and groins.
Reactions are mostly positive.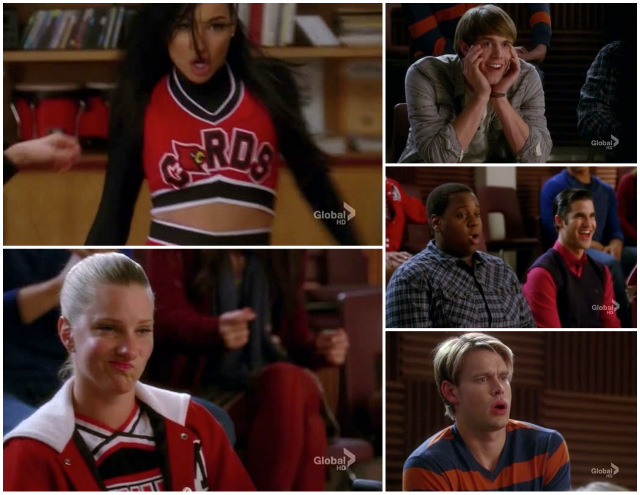 At the song's conclusion, Brittany wants to high-five Santana for "the greatest moment in show business history" and also wants to know why Santana didn't tell her she was gonna be in town. Santana wants to know why Brittany didn't tell her that she was dating Sam.
Santana: "I had just left a comment on my favorite Rizzoli & Isles lesbian subtext blog when I heard the news."
Turns out X-Tina made the call to let Santana know. So now, Santana would like to introduce her girlfriend/backup, Elaine, "and by girlfriend, I mean out and proud, lipstick-loving, AfterEllen-reading girlfriend." Mmmmhm.
This Lesbian Blogging Community namecheck is likely only the latest in a series of tactical moves administered by Admiral Ryan Murphy and his Show. Yes. They have a plan.
If anybody here reading this is under the age of 21, I want you to know that ten years ago, this situation would've made Fox lose all its advertisers:
---
If you're not already dizzy from all the traveling this episode, you better get your new LA Gears on and run 40 marathons back to Fake Julliard, where Geyerdean's explaining that Midnight Madness is like Fight Club, except without fighting, which really means it's nothing like Fight Club at all, but whatever.
Bitchy Gay Boys #1 and #2 swoop in to be bitchy and gay:
Bitchy Gay Boy #1: "Everyone knows the only reason Hummel got in is because he's Carmen's pet turtle-face."
Bitchy Gay Boy #2: "And signing up for Adam's Apples? He may as well wear a sign that says, 'I am a pathetic, please club me to death."
Rachel: "Kurt earned his place at NYADA, just like you two."
Kurt Hummel, he who Does Not Put Up With Your Bullshit, pops in to stand up for himself, declare he's dealt with much worse than bitchy gossip and that shit's gonna go down, Jackie Brown.
---
Back in Lima, Ohio, Finn's mourning losing The New Rachel to another man. Apparently she changed her "facebook status" to "shacked up," which must be a new Graph Search feature. Emma suggests he flirt with the 26-year-old math sub and Finn describes himself as a fingerling potato I MEAN as a "man-child." Accurate.
Ugh you guys, how do you feel about Finn not being annoying anymore? Now he's just a snoozeberry.
---
Elsewhere in this fine educational institution, Santana Lopez has lured Sam to the auditorium for a dressing-down. She tells Sam that she's not jealous, she just thinks Brittany can do better. Obviously she's lying to herself about that and I think, according to the 2-2-2 rule, that in two months she'll be like "nah I was totally jealous."
Santana: "She could've dated anyone, boy or girl. But no, she chose you. The one person she knew would send my brain straight to Lima Heights."
It's unclear why anybody would fight over Brittany, after her lackluster performance as Girlfriend during Santana Coming Out and Sam Failing the SATs, but whatever. Santana insists the relationship's got a short shelf life, like tuna salad, and that soon enough Brittany will figure out that he's boring and his impressions suck.
Sam's like, but then what? Are you gonna get back together with her? And she says she'll be taking it one episode at a time, just like the writers do.
Santana: "First, I'm gonna cut off the Sam-sized tumor on her heart, and then we can begin the long, slow process of cleaning the stink of your mediocrity off of her."
Sam: "I'm not letting her go without a fight."
Santana: "What do you think we're here for?"
Oh, a moody ballad Fight! Those are the worst kind of fights.
They sing "Make No Mistake, She's Mine," by Kim Carnes & Barbara Streisand. Then the scene is over, and all of us are the same people we've always been, and always will be.
---
X-Tina, still riding out her multi-episode arc as a Lovesick 'Fag Hag' Lunatic, is monologuing about Blaine's pound puppy eyes and how Diva Tina wouldn't call Mike or be afraid of going after what she wants. Like how the writers are afraid of giving her a storyline that isn't really stupid.
Anyhow, you know what she should be afraid of, though? Having a crush on a gay guy! Said gay guy tells her how sweet she is, and she's like:
X-Tina: "I don't wanna be sweet. I wanna be the girl that kicks in the door and makes demands and gets what she wants. But let's be honest, no one thinks "diva" and pictures me."
Blaine, apparently thinking this is a race issue, points out that there are heaps of "Asian Divas." He names Lucy Liu, Bai Ling (she's bisexual sidenote) and B.D. Wong (he's gay and one of my favorite humans ever, sidenote, BD WONG FOREVER ALL-AMERICAN GIRL FOREVER, L&OSVU FOREVER, OZ FOREVER, FOREVER AND EVER), and concludes that she should come over after school and he'll find her the right song to bring out her Inna Diva. Too bad they already sang "Diva." They should do a week where everybody has to sing the same song.
---
Later that evening at Chez Blaine, X-Tina cuts straight to the chase and asks if he's ever been with a lady. Nope, says Blaine, just that Rachel Berry kiss, which shouldn't count.
X-Tina: "We're young. We still have time to find ourselves."
Blaine has put together an old-school diva playlist for Tina, apparently Madonna and Cher are old school now, I'm going to choke on my dentures and die. Then Tina tells Blaine she's falling in love with him!
X-Tina: "Even if we end up having just a sexless relationship, which many Asian girls and gay men do, it'd be worth it."
Unfortch, Blaine's NyQuil kicked in pre-love-confession, so now he'll never know that X-Tina wants to crymasturbate forever and ever in exchange for his hand in marriage. Then Tina rubs Vabo Rub on Blaine's chest like a total creeper, while crying, and it's just overall really embarrassing and disturbing for everybody so let's move forward.
Just FTR if Finn was rubbing Vabo-Rub on Santana's breasts while she slept because he wanted her to be straight and have sex with him, I would probably fly to Ryan Murphy's house and throw eggs at his window for ~3-4 hours. I just wanted to um, throw that out there.
---
At Midnight Madness, a gaggle of well-behaved nicely-dressed extras sit cross-legged on the floor while Geyerdean explains the rules, which include multiple references to the allegedly savage nature of this event.
He actually calls it a "bloodbath." Reader: this little event is not a bloodbath. THIS is a bloodbath:
This is just Rachel Berry and Kurt Hummel performing "Bring Him Home" from the lengthy musical Les Miserables. 
Kurt wins! Because of the patriarchy, obviously.
---
Pages: 1 2 3See entire article on one page