Well, if there's anything I like more than sticking my foot into a lawnmower, it's the amount of whiskey I had to drink to finish this recap without having a panic attack about all the camp stuff on my to-do list!
Reader, this show has stumped me. It's just so wildly inconsistent and arbitrarily wacky while also being almost aggressively culturally relevant, especially to LGBTQs — I just get stumped sometimes!
Is there a term for this? What this show has done? It's not "jumping the shark." Maybe it's "throwing 45 sea lions into the ocean and seeing who comes out with a Sea World contract"? It's a mess, this show, and even the most dedicated recapper would have trouble identifying meaning or attributing success to anything that ever happens, ever, save the occasionally transcendent musical number. I'm at a loss to discuss The Artist Presently Known as Unique or the Lesbian Cheerleader Sex Tape with any kind of creative or intellectual authority. But I will forge forward, because Glee recaps get 'mad hits.'
All I ask of you, dear reader, that you give me the benefit of the doubt as we tread into these uncertain waters.

We open in one of McKinley High's many academically flexible classrooms where Blaine's traditionally laser-sharp focus on Whatever 101 is threatened by his phantom foot's desire to dance. It "should be dancing," so to speak!
This leads us to the episode's first dance number, "You Should Be Dancing," which's both terrible (the song) and amazing (because Brittany and Mike should always be dancing, it's true). The law of The Diminishing Returns of Disco designates that disco songs feature the lamest lyrics in the history of music, and this song lives up to that reputation with aplomb.
Time out: Initially, I'd suspected Blaine's purpose on The Show was to be Kurt's boyfriend and inspire the Mini-Warbler — turns out he's actually been brought in to cover terrible annoying songs I hate. Whether it be Katy Perry, that insufferable Train song, Maroon 5, whatever Robo-tripping fuckwad is responsible for "Cough Syrup," that unfortunate "Somebody Who I Used to Know" duet or this rotten disco situation, Blaine is to this show what Pacific Sunwear is to the mall — a guaranteed site of appalling aural 'entertainment.'
Anyhow — Santana's shooting Brittany some wild Sexy Lesbian Cheerleader Eyes throughout the routine, which seals the deal on this scene — it's a success. Besides, it's always great when Glee leads with a song because it delays Finn's first line and therefore delays my inevitable hatred towards the rest of the episode.

We move on to another productive meeting of Glee Club, where Will's angsting about the uncertain futures of his talented little squirrels, seeing as graduation's just 'round the river bend and therefore it's about six months too late to apply to college  — OH WAIT SORRY THIS IS GLEE ! — I mean, "this is the perfect time for a high school senior to apply to college."
Will monologues Finn as having "all this talent but no self-esteem," and although I think Will should strike that and reverse it, he does not, instead going on to add that "Mercedes is just as talented as Rachel and Kurt, but has none of the vision" and that our dear Santana Lopez has "all the ambition, but none of the focus."
Snap to Santana —
Santana: "Blaine's handsome brother said it best: college is a waste of time. I just wanna be famous, pure and simple. Don't even care how it happens, I just want everyone to know my name."
— after which Brittany nods like somebody who's about to launch a sex tape on YouTube, because could Santana have possibly set that up more explicitly? Only if she'd ended her last sentence with "because they heard Brittany yelling it mid-orgasm."
We then mosey over to Chez Sue for some Will/Sue banter that ends with Will selecting the "Saturday Night Fever" soundtrack for this week's thematic gimmick which Sue says'll fly with the anti-disco youth if they offer swag, like mattresses.

Meanwhile in the quasi-hallowed hallways of McKinley High, Kurt's generously extrapolating for us: "I'm thrillled you [Mercedes] got into Defiance College and Cleveland State, but what about NYU?"
What about NYU? Their application was due January 1st, numbskulls! AND it's essentially the most expensive college in the entire galaxy.
Before I can finish squirting Cetaphil into my eyeballs, this fantastic convo is interrupted by Wade Adams of Vocal Adrenaline, Kurt & Mercedes' biggest/only fan. Coincidentally, I'm Wade Adams' biggest fan at this moment!
After introductions, we smear into this semi-fabulous dream-sequence-ish thing as we hear how Wade would've preferred to meet Kurt & Mercedes — as her true self, "Unique," a sassy lady who would've marched into McKinley wearing the furry remains of ten dead black bears, thus attracting the Sartorial attentions of Her Idols immediately —
Unique: "Kurt Hummel and Mercedes Jones, Unique worships the red carpet you two walk on. If you two had a love child, it would be Unique. And Unique's grandparents would be Andre Leon Talley and Beyoncé, because only the best will do for Unique."
(Sidenote: I've been told that, alas, this brilliance wasn't precisely Team Glee's idea — Alex, the actor from The Glee Project playing this two-episode arc was called "Kurcedes" by fans who dubbed him the Kurt/Mercedes love-child. He often performed in drag on the show.)
Not only does her ensuing flashback about life in Vocal Adrenaline initiate our awareness of Jesse St. James' return to Glee (HURRAH MELCHIOR!), but she also injects the scene with choice homosexy show-choir banter, gives Kurt an opportunity to preen and apparently provides both Kurt and Mercedes with an excuse to blow off class for the rest of the day to talk to Wade about her feelings.
Wade/Unique: "Ever since I was a kid, I would play this game. Where I would pretend I was a different person. The person I dreamed of being. The real me. I even have a different name.  Unique."
Kurt kindly affirms Wade's description of Unique, adding that he hopes Wade'll have the courage to "be him" one day, which's when Wade redirects – "Unique is a 'her.'" Kurt offers a subtle "you GO girl" smile as Unique explains her visit's ultimate purpose —
Unique: "Our regionals are this Saturday, and I want to go on stage wearing a dress and heels. Because that's who I feel I am inside."
Kurt: "Unique."
Unique: "Yes. What would you do?"
Probably Kurt would don neon fishnet leggings stolen from a Dinah Shore go-go dancer, transform the skin of two purebread Dalmations into a skort set and top it off with a tank-top from Joe's Crab Shack and call it an "ensemble," but I don't think it's fashion advice Unique's looking for.
According to The Internet, Unique is Glee's "first transgender character," so there you have it: this week's groundbreaking gesture is a trans woman of color. Holy fucking shit! This is undeniably awesome.
Yet! I struggle writing about this because I suspect Murph's not particularly knowledgable about transgender people and as much as I love this character and this actor and wish he'd won the 9-episode arc granted to Irish Breakfast and Teen Jesus rather than the 2-episode guest spot he did win, I guess I'm not as sold on this representation quite yet. Of course, it seems to unfortunately fall in line with Glee's new strategy to distract us from their shark-jumping to BREAK ALL THE GROUNDS — gay teen suicide! girl in a wheelchair! developmentally disabled fetus! gay male teen sex! — and part of the problem with that compulsive ground-breaking is that the execution can be sloppy.
So how do we feel about this? I feel like we're set up in this scene to see Unique as Wade's female "alter-ego" or drag persona, as the language she uses suggests that, because although she refers to Unique as "the real me" she also refers to her as an entirely separate persona — "a different person," which's more in line with a cross-dressing persona than a transgender one… and if you've learned nothing, my dear puppies and kittens, it's that gender identity is a many-splendored thing with many elements and reducing it to a wardrobe choice or stage act isn't accurate or fair. It's not until later that she hints at being trans and it's not until I googled it that I was certain it was the show's intent. But again — I'm not sure! That's what drives me NUTS about this show! I stopped trusting it and when holes appear, I'm never sure if it's a clue or a sloppy mistake, you know?
I don't know what to think/say and so I turn to you. Discuss.


And when you're done discussing, let's cut to Glee Club, where the children marvel at Sue's just-implanted disco floor while Sue/Will wax poetic regarding "Saturday Night Fever," which Will describes as not just being a popular 70's movie about a guy who picks up girls with lines like "Are you a nice girl or are you a cunt?" but also a movie that encapsulates the dreams of the Glee Clubbers themselves. Yes, just like Tony Monero, the Glee kids are merely young people working at proverbial paint stores who can relate to Monero's dream to "get out of his old neighborhood in Brooklyn and get to New York City," which's gonna be a complicated dream to tackle considering BROOKLYN IS IN NEW YORK CITY.
Lest we dwell, let's cut to the glorious chase — a delightful dance-off! Winners will compete for a replica of John Travolta's suit as manufactured by Becky Jackson, tailor to the stars, which Kurt clearly wants to wear and Puck clearly wants to sell on eBay.
My notes for the dance-off are: "OMG A DANCE-OFF! this is so fun! I wish they never had lines."
Finn, thrilled to have the floor under any circumstance, stands square in the center doing that finger-to-hipbone-then-diagonally-pointing-at-the-air thing like a three-year-old who just marked his territory with urine, and the other kids are relatively fantastic with the exception of Puck, who needs to be told that gesturing towards his penis is not an actual dance move, it's just gesturing towards his penis.
The scene ends with a group dance-a-long (during which Quinn is conspicuously absent) which sufficiently highlights the collective sexiness of these hormonal adolescents. And SCENE.


Just a little timeout: to be honest, I enjoyed the first nine minutes of this episode as much as I've ever enjoyed Glee. It felt like old-school Glee, with its original cast, cute self-effacing humor, character-focused dance routines and quirky tightly-constructed personalities.
Will's flashback to his Glee Club winning Nationals with Disco and his confessed hobby of staging musical numbers with wooden dolls from IKEA remind me of the Will we once didn't-totally-hate. Remember when he was just an earnest dork, rather than the oft-creepy, arbitrarily-irresponsible, overly-sexualized dork we've come to know and loathe? I've never liked Will, but I've hated him less than I do now.
We had Rachel fantasizing about some obnoxiously specific theatrical outfit (far away from Finn, I might add) and Kurt & Mercedes relishing in the glow of the fandom they've always felt they deserved. We met a new character who came out with a bang and instantly exuded a compelling, specific and entertaining personality, rather than the apathetic thunk of silence heard world-wide when Irish Breakfast's melon first crowded our screens. We had some choice Sue Sylvester language and some Sue/Will jockeying that didn't go overboard. We had a dance-off! We had all of those things!
Unfortunately, the show didn't end there. So let's move forward.

Will crowns Santana, Finn and Mercedes Dance-Off Finalists but Finn's ascension is our first hint that something's amiss — clearly these accolades exist only to contrive a chance for Will to mentor his Three Admissions-Blind Mice regarding their collectively dismal futures.
Will's got a special assignment for these three — they've gotta perform a song from Saturday Night Fever and, following said performance, must then share their hopes/dreams for the future with the class, just like THEY ALREADY DID TWO EPISODES AGO.
Anyhow, Mercedes rejects Will's manipulative methods of inspiration, storming into the hallway while monologuing "Just because I don't wanna rush off to New York and star in a revival of Sister Act doesn't mean I don't know what I wanna do with my life."
Basically, Mercedes' ambition is hot. It's on fire, so to speak. It's like a forest fire even Smokey the Bear couldn't fight. If Mercedes were a housefire, she'd ignite the block. If Mercedes was a lubricant, she'd be KY Jelly's Fire & Ice. You follow? Mercedes is hot LIKE AN INFERNO. Just like the song DISCO INFERNO!
It's a fun, sexy, tight number peppered with heaps of lustful glances between the Girlfriends Brittana and god DAMN Amber Riley is looking good these days and dare I say, this would make a fine audition for the revival of Sister Act. 

Ah yes, but does our lady have a dream? Indeed she does. She'd like to be like Mariah Carey, Whitney Houston, and/or Aretha Franklin. However, Mercedes points out, her Dad the Dentist isn't like Berry's "two supportive parents," 'cause her Dad thinks her dream is insane and Berry's Dads just think her choice-of-life-partner-is-insane, and la la la Mercedes doesn't know "where to start" getting a recording contract and so on and Will assures her everything will work out because "the cream always rises to the top." Mercedes continues on the cream tip by assuring the class that her cream-status at McKinley may not carry over into Hollywood. There, she'd be "just skim milk" — in which case I'll have a glass with an ice cube. That's how I like my milk.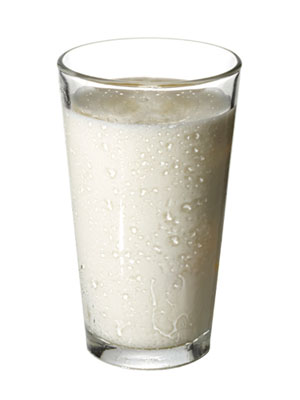 Of course, throughout the scene and musical number it's clear Rachel and Finn have somehow found a way to interpret Mercedes' emotional revelation as an opportunity for reckoning with their own insipid feelings about their idiotic dipshit relationship from hell which I am SO MONUMENTALLY SICK OF that I can no longer sit through their scenes, let alone recap them.
Whenever Rachel Berry returns to Glee to replace that whiney, severely-banged, lovestruck, Quiverfull moron they've stuck in her body, I'll return to recapping her words and scenes but until then I JUST CANNOT.




Following an invigorating commercial break during which I learned a lot about cars and allergies, we return to this fine disaster of a show vis-à-vis Sue's office, where she's summoned Kurt & Mercedes to condemn their consortium with the enemy, aka Unique from Vocal Adrenaline.
Kurt explains it wasn't LIKE THAT, they were just lending four clean ears to a fan's emotional turmoil regarding her Inferno's Hope/Dream to don a dress at regionals. They assure Sue they assured Unique it was a terrible idea, to which Sue counters that it's the best idea she's ever heard, or something.
"This is Ohio," Mercedes reminds all of us confused since last week's field trip to a Los Angeles theme park. "I don't think many people are gonna be down with that."
Sue, undaunted, retrieves these glorious size-13-wide shoes ("Janet Reno wore them the day they caught the Unabomber," says Sue) from her vagina and implores Kurcedes to deliver them unto Unique, which, in Sue's estimation, will cause Vocal Adrenaline to tank at regionals and ensure New Directions' success.
Kurt and Mercedes shoot one another weary looks but ENOUGH! Who wants to see Santana in a pantsuit? YOU DO!


Smear to Glee Club, where Santana's performing "If I Can't Have You" ostensibly for the class, but mostly for you, me, tumblr and Brittany S. Pierce.
Quinn's high on Vicodin and Santana's not wearing underwear but is wearing a gold lamé headwrap sex goddess situation and clutching a bedazzled microphone and Brittany is happy as a clam-diver, she truly is.
When it's all said and done, we've got two sexy lesbian cheerleaders in love on prime-time television and that's not for nothing — and this week is really the first time we've seen their relationship in action since it began existing, and it is truly sweet.
Santana wraps it up, Brittany adorably wipes tears from her eyes, and Will opens his piehole:
Will: "This was more than just a beautiful love song to Brittany. It was also a powerful way to convey your dream that marriage equality will some day be a reality for everyone, and you're off to law school to make it happen! Amazing!"
Santana: "Uh, of course I want marriage equality, and yeah Brittany will always be my girlfriend –"
Brittany: "Score."
Santana: "– but my mistress is fame. And that song was all about how I can't live withouts my fame."
Santana advises Will to save the Stuart Smalleyisms for "the theater nerds who are going to starve in New York while desperately trying to tap-dance their way into the chorus of Godspell." Santana's gonna be famous, and that's that, motherfuckers.

We then cut to the auditorium, where Rachel is explaining to Finn that despite dreaming her whole life about moving to New York to be a star amongst people who truly understand her, she's come to realize that home "isn't a place," "it's a person," and that person is Finn. Then Gloria Steinem punched her in the throat and I muted the television.
My notes for this scene:
11. UGH
a) seriously if i watched this scene my teeth would erode from all the vomiting
no seriously i can't recap this scene
seriously no finn scenes

Cut to the Sexily-Hallowed Hallways of McKinley High, where Santana's getting breast-implant levels of creepy sexual attention from her hormonal classsmates, including Artie:
Artie: "Santana, watching Two Girls One Cat was like staring into the face of God."
Santana: "Why is everyone staring at me like I'm Finn and I just won a butter-eating competition?"
Brittany: "It's because you're famous. Everybody's loving the sex tape of us I posted on the internet."
Santana: "What? Brittany, that sex tape was private. We made that for us.'

Silly Brittany, what goes on between girls is private, that's why WE NEVER SEE IT ON THIS SHOW.
Brittany: "No, I know, but I sliced it together with a video of Lord Tubbington performing everyday household chores."
Silly Brittany, …. no, that's it. Just Silly Brittany. Silly Brittany, you're cute and this is fun!
Santana's not as thrilled as Brit-Brit had hoped/dreamed, and since the only thing between this scene and the next scene is a Finn/Will scene, I'm gonna keep rolling with this like it's all the same scene, and say we're smearing to the library, where Santana's being targeted by additional lustful glances as Brittany attempts to rally enthusiasm for her earnest participation in dreaming Santana's impossible dream.
Brittany: "You say your dream and I help build your dream and that's what a partnership is about, right?"
Ultimately what makes this relationship work is how fully they accept and support one another, flaws and all, which I think can be a side-effect of falling in love with your best friend. Santana's fiercely independent, but the way Brittany helps Santana isn't threatening that because it comes from a genuine place of admiration and understanding, not a "I know you better than you do" place (which seems to be the place Rachel comes from when helping Finn). I admit it's difficult to buy this relationship 'cause it's difficult to buy Brittany's brainpower at all, but I buy it anyhow because it's on sale and I'll buy anything that's on sale, just look at my diagonally-seamed jeans. Nevertheless, this episode went a long way towards showing us how/why it works.
ANYHOW! After watching "One Night in Paris" and all the other sex tapes, Brittany's done some further channel-surfing and determined the best way to get Santana famous would be via Reality TV.
Before hurdling forward into Whoreders, let's address this sex tape thing: attempting to formulate relevant commentary on this particular Line of Story has left me muter than the Glee Club Jazz Ensemble. After at least four minutes of soul-searching I've concluded I'm not sure how to feel 'cause McKinley's staff and student body doesn't know how to feel either.
See, even in a Universe where May is a good time to apply to NYU, there's no way a lesbian sex tape would go over so quietly. Sex! Actual sex! Really? Teenagers having sex on the internet? Teenagers openly (and loudly, even in the library!) watching a "sex tape" on mobile devices during school hours? We've even got a class of kids once horrified by Sebastian's threat to photoshop Finn's face onto a naked person's body who don't even acknowledge their lady-classmates scissoring on the internet. Can I just restate that these are two teenagers, engaged in sexual activity on the internet?
Ultimately, how am I supposed to know how to feel when THEY WON'T SHOW ME THE SEX TAPE. Pictures or it didn't happen, asshats, pictures or it didn't happen.
I'd call this episode a cock-tease, but I think this episode and this show in general has plenty of cock in it already, so I'll call it a pussy-tease (despite hating the word "pussy" with a passion) and I think Lord Tubbington would support that decision.
So, Brittany's full of scatalogical ideas:
Brittany: "Number one: I see how you keep your car, so you could totally be on Hoarders. You just need to start storing your poops in the trunk and I'm sure they'll book you."
Santana: "No, Brittany, I can't do that."
Brittany: "Well, you have to, if you wanna be on the show."
Brittany even drove all the way to Spencerville to buy bull testicles in hopes of prepping her lady-love for Fear Factor, but that's not Santana's path, either, and we're left semi-smitten just the same.

Cut to a different Region's Regionals, where Kurt and Mercedes arrive to "support" their biggest fan, which means Kurt admitting that although he's often dressed like a Project Runway semi-semi-semi finalist, he's never "dressed up like a woman." However —
Unique: "That's because you identify yourself as a man. I thought you of all people would understand. I'm wearing them."
Yes, despite Kurt's desire to claim ALL THE OPPRESSIONS, he sees himself as a man, and Wade does not. So this is Wade coming out as trans.
This feels both predictable and inconsistent, however — because it does seem like Kurt, of all people, should understand. In addition to regularly donning women's clothing and dressing like a series of natural disasters, pirate queens and jungle animals, in Episode 220, Kurt campaigned for his right to wear a kilt to prom, citing his exemplary Good Gay behavior and prom being "about joy, not fear" as reasons why his boyfriend and father's concerned objections should be silenced.
And yes, yes, yes, dear reader, a kilt is not a dress and heels. But prom at a small-town Ohio high school is not Show Choir regionals, either, so I feel like it all evens out, you know?
But, much like Kurt re: Junior Prom, Unique refuses to stifle her true self to please the Cracker Barrel patrons of Ohio, particularly 'cause Jesse St.Melchior's the only audience member aware of her usual gender presentation anyhow so you know, THE SHOW MUST GO ON! Unique performs as Unique and Jesse St.Melchior turns 50 shades of Purple Summer:
… and thusly Jesse St. Melchior bounds stage-ward to remove Unique from the stage, which — if he'd been successful — would've been a profoundly idiotic move. He fails, obvi, and Unique kills the number, eats it, brings it back to life, kills it again and throws it all over the stage and it turns into glitter and tastes like freedom.
When she smiles and twirls, you kinda wanna smile and twirl too. You know… like you wanna do a little dance to the goddesses of self-acceptance?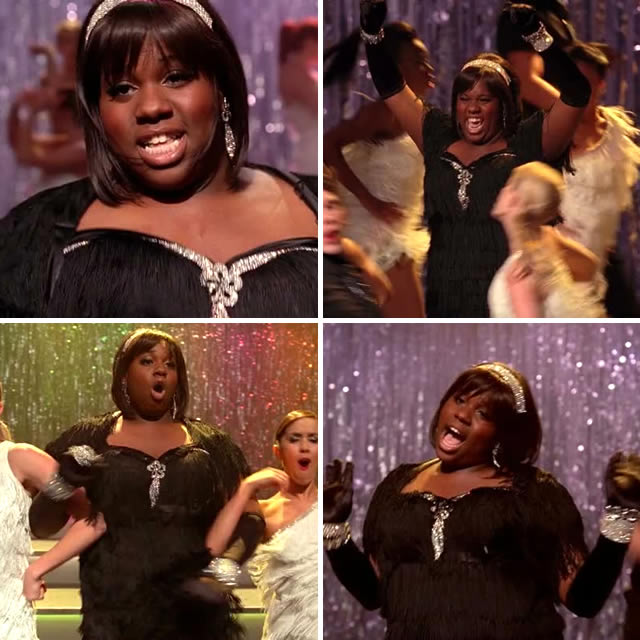 Backstage, Kurt & Mercedes exude actual glee (the feeling, not the disease) 'cause Unique's emotional debut overrides the fact that Jesus Christ these kids are gonna have some serious competition at Nationals.

We then cut to a Finn/Rachel scene which leads into a Finn/Rachel dance number, and as homosexuals re-appear on my screen I re-focus my eyes upon it, ignoring Finn's falsetto (which is actually much better than his whateverimtryingtobenormaletto) in favor of the view, which's notable 'cause what I see on my screen are two homosexual couples, one Asian-American couple and one union of Flour Sack and Replicant! So diverse!
Unfortunately my enjoyment of this scene was blocked by Finchel and also by my girlfriend, who thinks "More Than a Woman" is really misogynistic/insulting-to-women and expressed that opinion repeatedly throughout the number. If I wasn't a total exhausted weirdo right now I'd explain why/how she feels that way and why/how I agree, but alas, I am, and I think I need to go eat something.



Sam has also discovered The Tube Of You and posted Mercedes' Inferno upon the internet and it seems this is a special annal in The Tube Of You wherein commenters are not only nice but also not rapey, sizeist, racist, homophobic, sexist or monumentally stupid. Furthermore, this annal is so kind and this video so spectacular that everybody who sees it leaves a comment, apparently, because when Mercedes looks at the View count, Sam says "there are 485 positive comments!" and that's basically the equivalent of winning American Idol. Also, that video is really on the internet and has over 570k views.
485 positive comments on YouTube means she'll def make it in Los Angeles. "You're not skim milk, you're cream rising to the top," he says as if that's not totally sexual, and then kisses her right on the mouth.

Cut to Sue's Lair of Real Talk, where Santana's getting a brief and baffling talking-to regarding the "sex tape," for which Santana seems prepared to take complete responsibility, because you know, whatever, why not?
Much like "pushing up the wedding date," saying "I was just leaving" when one's nemesis enters the room, and attempting to "save" a show-choir performance by running on stage to extract the lead singer, "applying to college on somebody else's behalf " is a magical thing that only happens on television and it's happening here — Sweet Sweet Brit-Brit and Sue have conspired to get Santana a full cheerleading scholarship to the University of Louisville ("It's in Louisville!" Brittany adorably intones).
Sue jokes that this was Brittany's best idea of the last decade, the girls hug, and all is well in Whoville.
Santana: "I don't know that this is 100% the answer for me. But just knowing that I have somebody who believes in me as much as you do — I love you so much."
Brittany: "I love you too."
HUGGGGS! AWWWWWWWWW

Somebody or something somehow wins something la de dah and the entire Club is decked out in the John Travolta Suit and who can be mad at Santana in menswear, nobody, that's who.
We conclude this emotional rollercoaster with a group performance of Stayin' Alive, which is admittedly delightful because: 1) Fun Fact: as a dancing double, Sue Sylvester effectively neuters Will Schuster and makes him surprisingly bearable and 2) Santana strutting in a suit.
And that, my friends, is the end of this smashing episode! Next week is the Whitney Houston episode, there's a scene by the lockers with a Whitney shrine that reminds me of how we all decorated our lockers for Kurt Cobain. Also this number reminds me of why I still accidentally love this stupid show more often than I'd like to admit.
Pages: 1 2See entire article on one page