Following an invigorating commercial break during which I learned a lot about cars and allergies, we return to this fine disaster of a show vis-à-vis Sue's office, where she's summoned Kurt & Mercedes to condemn their consortium with the enemy, aka Unique from Vocal Adrenaline.
Kurt explains it wasn't LIKE THAT, they were just lending four clean ears to a fan's emotional turmoil regarding her Inferno's Hope/Dream to don a dress at regionals. They assure Sue they assured Unique it was a terrible idea, to which Sue counters that it's the best idea she's ever heard, or something.
"This is Ohio," Mercedes reminds all of us confused since last week's field trip to a Los Angeles theme park. "I don't think many people are gonna be down with that."
Sue, undaunted, retrieves these glorious size-13-wide shoes ("Janet Reno wore them the day they caught the Unabomber," says Sue) from her vagina and implores Kurcedes to deliver them unto Unique, which, in Sue's estimation, will cause Vocal Adrenaline to tank at regionals and ensure New Directions' success.
Kurt and Mercedes shoot one another weary looks but ENOUGH! Who wants to see Santana in a pantsuit? YOU DO!


Smear to Glee Club, where Santana's performing "If I Can't Have You" ostensibly for the class, but mostly for you, me, tumblr and Brittany S. Pierce.
Quinn's high on Vicodin and Santana's not wearing underwear but is wearing a gold lamé headwrap sex goddess situation and clutching a bedazzled microphone and Brittany is happy as a clam-diver, she truly is.
When it's all said and done, we've got two sexy lesbian cheerleaders in love on prime-time television and that's not for nothing — and this week is really the first time we've seen their relationship in action since it began existing, and it is truly sweet.
Santana wraps it up, Brittany adorably wipes tears from her eyes, and Will opens his piehole:
Will: "This was more than just a beautiful love song to Brittany. It was also a powerful way to convey your dream that marriage equality will some day be a reality for everyone, and you're off to law school to make it happen! Amazing!"
Santana: "Uh, of course I want marriage equality, and yeah Brittany will always be my girlfriend –"
Brittany: "Score."
Santana: "– but my mistress is fame. And that song was all about how I can't live withouts my fame."
Santana advises Will to save the Stuart Smalleyisms for "the theater nerds who are going to starve in New York while desperately trying to tap-dance their way into the chorus of Godspell." Santana's gonna be famous, and that's that, motherfuckers.

We then cut to the auditorium, where Rachel is explaining to Finn that despite dreaming her whole life about moving to New York to be a star amongst people who truly understand her, she's come to realize that home "isn't a place," "it's a person," and that person is Finn. Then Gloria Steinem punched her in the throat and I muted the television.
My notes for this scene:
11. UGH
a) seriously if i watched this scene my teeth would erode from all the vomiting
no seriously i can't recap this scene
seriously no finn scenes

Cut to the Sexily-Hallowed Hallways of McKinley High, where Santana's getting breast-implant levels of creepy sexual attention from her hormonal classsmates, including Artie:
Artie: "Santana, watching Two Girls One Cat was like staring into the face of God."
Santana: "Why is everyone staring at me like I'm Finn and I just won a butter-eating competition?"
Brittany: "It's because you're famous. Everybody's loving the sex tape of us I posted on the internet."
Santana: "What? Brittany, that sex tape was private. We made that for us.'

Silly Brittany, what goes on between girls is private, that's why WE NEVER SEE IT ON THIS SHOW.
Brittany: "No, I know, but I sliced it together with a video of Lord Tubbington performing everyday household chores."
Silly Brittany, …. no, that's it. Just Silly Brittany. Silly Brittany, you're cute and this is fun!
Santana's not as thrilled as Brit-Brit had hoped/dreamed, and since the only thing between this scene and the next scene is a Finn/Will scene, I'm gonna keep rolling with this like it's all the same scene, and say we're smearing to the library, where Santana's being targeted by additional lustful glances as Brittany attempts to rally enthusiasm for her earnest participation in dreaming Santana's impossible dream.
Brittany: "You say your dream and I help build your dream and that's what a partnership is about, right?"
Ultimately what makes this relationship work is how fully they accept and support one another, flaws and all, which I think can be a side-effect of falling in love with your best friend. Santana's fiercely independent, but the way Brittany helps Santana isn't threatening that because it comes from a genuine place of admiration and understanding, not a "I know you better than you do" place (which seems to be the place Rachel comes from when helping Finn). I admit it's difficult to buy this relationship 'cause it's difficult to buy Brittany's brainpower at all, but I buy it anyhow because it's on sale and I'll buy anything that's on sale, just look at my diagonally-seamed jeans. Nevertheless, this episode went a long way towards showing us how/why it works.
ANYHOW! After watching "One Night in Paris" and all the other sex tapes, Brittany's done some further channel-surfing and determined the best way to get Santana famous would be via Reality TV.
Before hurdling forward into Whoreders, let's address this sex tape thing: attempting to formulate relevant commentary on this particular Line of Story has left me muter than the Glee Club Jazz Ensemble. After at least four minutes of soul-searching I've concluded I'm not sure how to feel 'cause McKinley's staff and student body doesn't know how to feel either.
See, even in a Universe where May is a good time to apply to NYU, there's no way a lesbian sex tape would go over so quietly. Sex! Actual sex! Really? Teenagers having sex on the internet? Teenagers openly (and loudly, even in the library!) watching a "sex tape" on mobile devices during school hours? We've even got a class of kids once horrified by Sebastian's threat to photoshop Finn's face onto a naked person's body who don't even acknowledge their lady-classmates scissoring on the internet. Can I just restate that these are two teenagers, engaged in sexual activity on the internet?
Ultimately, how am I supposed to know how to feel when THEY WON'T SHOW ME THE SEX TAPE. Pictures or it didn't happen, asshats, pictures or it didn't happen.
I'd call this episode a cock-tease, but I think this episode and this show in general has plenty of cock in it already, so I'll call it a pussy-tease (despite hating the word "pussy" with a passion) and I think Lord Tubbington would support that decision.
So, Brittany's full of scatalogical ideas:
Brittany: "Number one: I see how you keep your car, so you could totally be on Hoarders. You just need to start storing your poops in the trunk and I'm sure they'll book you."
Santana: "No, Brittany, I can't do that."
Brittany: "Well, you have to, if you wanna be on the show."
Brittany even drove all the way to Spencerville to buy bull testicles in hopes of prepping her lady-love for Fear Factor, but that's not Santana's path, either, and we're left semi-smitten just the same.

Cut to a different Region's Regionals, where Kurt and Mercedes arrive to "support" their biggest fan, which means Kurt admitting that although he's often dressed like a Project Runway semi-semi-semi finalist, he's never "dressed up like a woman." However —
Unique: "That's because you identify yourself as a man. I thought you of all people would understand. I'm wearing them."
Yes, despite Kurt's desire to claim ALL THE OPPRESSIONS, he sees himself as a man, and Wade does not. So this is Wade coming out as trans.
This feels both predictable and inconsistent, however — because it does seem like Kurt, of all people, should understand. In addition to regularly donning women's clothing and dressing like a series of natural disasters, pirate queens and jungle animals, in Episode 220, Kurt campaigned for his right to wear a kilt to prom, citing his exemplary Good Gay behavior and prom being "about joy, not fear" as reasons why his boyfriend and father's concerned objections should be silenced.
And yes, yes, yes, dear reader, a kilt is not a dress and heels. But prom at a small-town Ohio high school is not Show Choir regionals, either, so I feel like it all evens out, you know?
But, much like Kurt re: Junior Prom, Unique refuses to stifle her true self to please the Cracker Barrel patrons of Ohio, particularly 'cause Jesse St.Melchior's the only audience member aware of her usual gender presentation anyhow so you know, THE SHOW MUST GO ON! Unique performs as Unique and Jesse St.Melchior turns 50 shades of Purple Summer:
… and thusly Jesse St. Melchior bounds stage-ward to remove Unique from the stage, which — if he'd been successful — would've been a profoundly idiotic move. He fails, obvi, and Unique kills the number, eats it, brings it back to life, kills it again and throws it all over the stage and it turns into glitter and tastes like freedom.
When she smiles and twirls, you kinda wanna smile and twirl too. You know… like you wanna do a little dance to the goddesses of self-acceptance?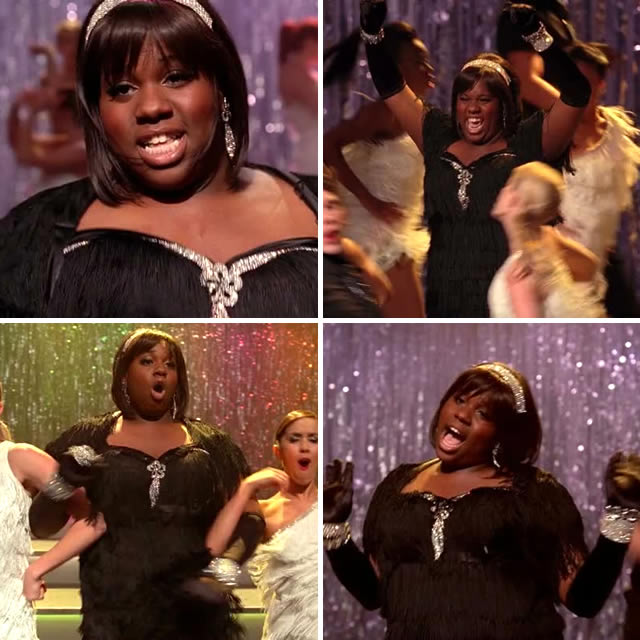 Backstage, Kurt & Mercedes exude actual glee (the feeling, not the disease) 'cause Unique's emotional debut overrides the fact that Jesus Christ these kids are gonna have some serious competition at Nationals.

We then cut to a Finn/Rachel scene which leads into a Finn/Rachel dance number, and as homosexuals re-appear on my screen I re-focus my eyes upon it, ignoring Finn's falsetto (which is actually much better than his whateverimtryingtobenormaletto) in favor of the view, which's notable 'cause what I see on my screen are two homosexual couples, one Asian-American couple and one union of Flour Sack and Replicant! So diverse!
Unfortunately my enjoyment of this scene was blocked by Finchel and also by my girlfriend, who thinks "More Than a Woman" is really misogynistic/insulting-to-women and expressed that opinion repeatedly throughout the number. If I wasn't a total exhausted weirdo right now I'd explain why/how she feels that way and why/how I agree, but alas, I am, and I think I need to go eat something.



Sam has also discovered The Tube Of You and posted Mercedes' Inferno upon the internet and it seems this is a special annal in The Tube Of You wherein commenters are not only nice but also not rapey, sizeist, racist, homophobic, sexist or monumentally stupid. Furthermore, this annal is so kind and this video so spectacular that everybody who sees it leaves a comment, apparently, because when Mercedes looks at the View count, Sam says "there are 485 positive comments!" and that's basically the equivalent of winning American Idol. Also, that video is really on the internet and has over 570k views.
485 positive comments on YouTube means she'll def make it in Los Angeles. "You're not skim milk, you're cream rising to the top," he says as if that's not totally sexual, and then kisses her right on the mouth.

Cut to Sue's Lair of Real Talk, where Santana's getting a brief and baffling talking-to regarding the "sex tape," for which Santana seems prepared to take complete responsibility, because you know, whatever, why not?
Much like "pushing up the wedding date," saying "I was just leaving" when one's nemesis enters the room, and attempting to "save" a show-choir performance by running on stage to extract the lead singer, "applying to college on somebody else's behalf " is a magical thing that only happens on television and it's happening here — Sweet Sweet Brit-Brit and Sue have conspired to get Santana a full cheerleading scholarship to the University of Louisville ("It's in Louisville!" Brittany adorably intones).
Sue jokes that this was Brittany's best idea of the last decade, the girls hug, and all is well in Whoville.
Santana: "I don't know that this is 100% the answer for me. But just knowing that I have somebody who believes in me as much as you do — I love you so much."
Brittany: "I love you too."
HUGGGGS! AWWWWWWWWW

Somebody or something somehow wins something la de dah and the entire Club is decked out in the John Travolta Suit and who can be mad at Santana in menswear, nobody, that's who.
We conclude this emotional rollercoaster with a group performance of Stayin' Alive, which is admittedly delightful because: 1) Fun Fact: as a dancing double, Sue Sylvester effectively neuters Will Schuster and makes him surprisingly bearable and 2) Santana strutting in a suit.
And that, my friends, is the end of this smashing episode! Next week is the Whitney Houston episode, there's a scene by the lockers with a Whitney shrine that reminds me of how we all decorated our lockers for Kurt Cobain. Also this number reminds me of why I still accidentally love this stupid show more often than I'd like to admit.
Pages: 1 2See entire article on one page