Oh hey, what's up there AUTUMN. All of the pumpkins are on sale now, I think, which means it's the perfect time to try Stef's Roasted Pumpkin Soup or Sarah's Vegan Pumpkin Pie. I'm not even going to make the easy joke about Sarah and her pie. It's too easy. I have some dignity. Also I'm cold, so.
OH MY GOD LAURA'S MOM MADE PUMPKIN SQUARES YOU GUYS OH MY GOD THERE'S EVEN A PICTURE TO PROVE IT OH MY GOD LAURA'S MOM.
Ok I think this is maybe the cuddliest Get Baked we've ever done. I just want to cuddle with everyone and eat all of these foods and then get back to cuddling. I can't even do the dishes. I CAN'T DO THE DISHES I AM TOO BUSY CUDDLING.
———————–
1. Pumpkin Squares
by Laura
These babies blow cupcakes out of the water. Not only are they as dense as brownies, they're BARS. Bars means you can cut one giant piece and no one can get mad at you for having too much because you only had one. In the interest of international friendship, I'm including metric measurements. American measurements are in bold just so no one gets confused and accidentally adds 480 cups of sugar.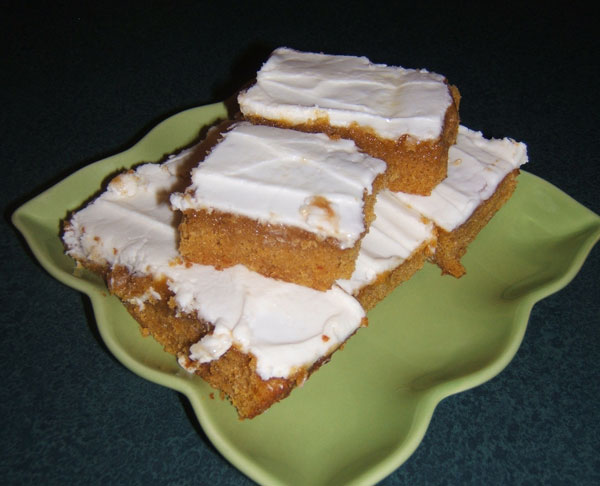 Bars
4 eggs
vegetable oil: 1 cup / 210g
sugar: 2 1/2 cups / 480g
canned pumpkin*: 16 ounces / 455g
cinnamon: 1 1/2 teaspoons / 4g
flour: 2 cups / 200 grams
salt : 1/2 teaspoon / 2.5g
baking soda: 1 teaspoon / 4.4g
Icing
cream cheese: 3 ounces / 85g
butter: 6 tablespoons / 86g
vanilla: 1 teaspoon / 5ml
powdered sugar: 2 cups / 260g
half and half: 1 teaspoon / 5ml
*According to the Internet and 3 non-American sources, canned pumpkin is one of those things that only exist in North America, kind of like refrigerated eggs. If you can't find it in your grocery, there are plenty of ways to make it from a fresh pumpkin, just make sure you follow all the instructions and strain out the liquid because fresh pumpkins contain way more water than canned pumpkin; the puree should have a consistency somewhere between mashed potatoes and apple sauce.
Mix the eggs, oil, and sugar in one bowl. Combine the flour, salt, baking soda, and cinnamon in another. Add the pumpkin to the wet ingredients, mix, and then fold in the flour mixture. Bake in a 1 inch deep jelly roll pan for 20-30 minutes at 350F/180C. Alternatively, you can take my little red hen route and send your mum an email and ask her to bake pumpkin squares for you. Don't do this though! You will end up with culinary blueballs when she send you pictures but no actual food.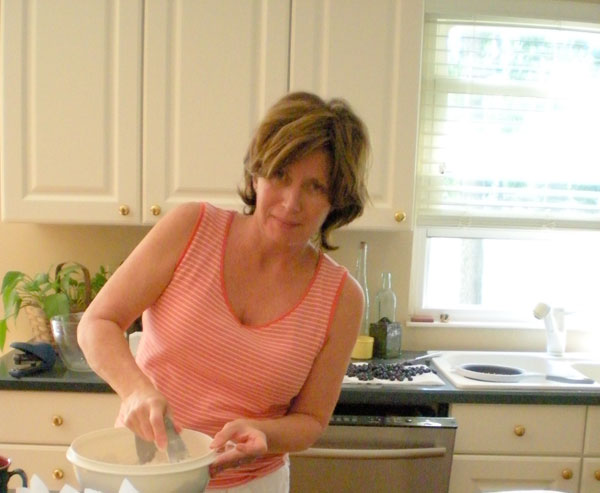 Anyway. Let the cream cheese and butter come to room temperature and then cream together. Add the vanilla and half and half (or just milk if you don't have any) and then slowly mix in the powdered sugar until the icing is spreadable. Don't forget to wait until the bars are completely cool until you starting icing them! I've ripped the tops off of many pans because I was too impatient. Like most desserts worth eating, these are better if you put them in a plastic bag or plastic container and wait until the next day to try them.
————————-
2. Pumpkin Granola
5 cups rolled oats
1 teaspoon pumpkin pie spice*
1 teaspoon cinnamon
1/4 teaspoon nutmeg
¾ tsp. salt
¾ cup brown sugar*
½ cup pumpkin puree
¼ cup applesauce*
¼ cup maple syrup
1 teaspoon vanilla extract
3/4 cup dried cranberries (these are expensive, I used golden raisins)
1/2 cup pepitas (I bought them raw and toasted them in a hot skillet)
*things that were in the original recipe but I omitted because I didn't have any/didn't want to because I don't like my granola very sweet, and everything still turned out really good
1. Preheat the oven to 325° F. In a large bowl, mix oats, spices, and salt. (The recipe doesn't call for it, but I added a pinch of cayenne because I like spicy/sweet better than just sweet.)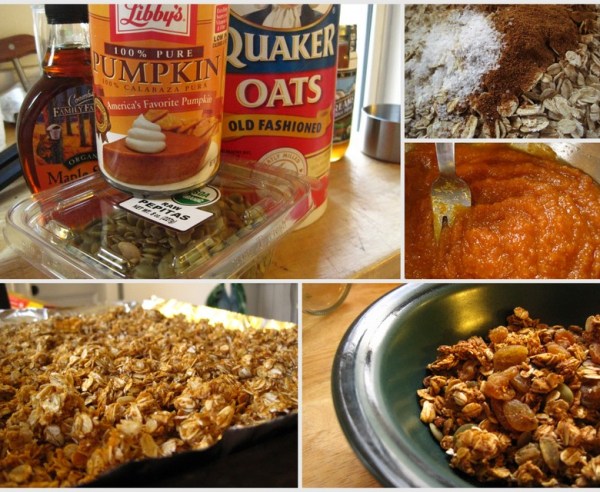 3. In a medium bowl, whisk together brown sugar, pumpkin puree, applesauce, maple syrup and vanilla extract. Whisk until smooth. Pour wet ingredients into oat mixture and stir until the oats are evenly coated. At first it will seem like there is not enough wet ingredient and you will panic but it will be totally fine in the end. You don't have to overmix it, because then you'll get these big clumps that turn into delicious clusters when it's done. It will be damp and wet and kind of weird but these things are also fine.
4. Pour the oat mixture onto a pan lined with foil or parchment paper. Use the largest pan you have – preferably a cookie sheet – and spread the granola thinly, or else it won't all get crispy. Use several pans if you need to.
4. Bake for 20 minutes. Remove pan from the oven and stir with a wooden spoon. Bake for an additional 15-20 minutes or until the granola is golden and crisp and fucking delicious. The house will smell really good at this point, and this will be awesome. If you need to toast your pepitas, do that now. Remove from the oven and stir in dried cranberries and pepitas. Let cool completely. Store in an airtight container. Eat with yogurt, milk, soymilk, or on its own.
————————————-
3. Pumpkin Soup
By Stef
Hello! It is cold outside and this soup is warm and tasty. It's hard to take cute pictures of yourself cooking soup.
6 cups low-sodium vegetable stock
1 1/2 cans cannellini/white beans
6 cloves garlic, peeled and diced
1/4 tsp cayenne pepper
olive oil
1 cup pumpkin, peeled and diced into 1/2″ cubes
1 tbsp thyme
1 cup carrot, diced
1 bay leaf
1 medium onion, diced
1 cup grape tomatoes, halved
salt
black pepper
1 bunch kale, washed, stemmed and cut into 1/2 inch pieces
1) Preheat your oven to 400°F. Drizzle a baking sheet with olive oil and lay out your pumpkin, carrot, tomato and onion. Sprinkle with more olive oil and some salt and pepper, and place inside the oven to cook for 20-30 minutes. Stir occasionally to prevent burning.
2) Remove vegetables from oven and set aside. You're gonna use all of it, trust me. If anything gets stuck to the pan, loosen it up with a little vegetable stock.
3) Get your soup pot OMGGGGGG. Add your diced garlic, onion and grape tomato and cook on medium heat until the onions are translucent.
4) Add kale, thyme, the bay leaf and about 4 cups of vegetable stock. Bring to a boil and then turn the heat down to low and simmer for 15 minutes, stirring occasionally. The kale should be getting tender, like your little heart.
5) Add white beans, simmer for another 20-30 minutes. I know you want to eat this soup right now but THERE'S MORE.
6) Add your pumpkin, carrots, leftover vegetable stock, cayenne pepper (to taste) and 1/2 tbsp salt. Cook another 30 minutes, stirring occasionally.
7) Add more black pepper, let it cool and then EAT IT.
————————————
4. Vegan Spiced Pumpkin Pie
By Sarah Croce
For some reason, I find that the general public often tries to make pumpkin pie and 90% of the time fails miserably. Yet they still bring their failed ventures to family functions, assholes.
This is a no-fail (and vegan!) recipe for those clueless cooks.
Crust:
1/2 cup unbleached flour
7 TB whole wheat pastry flour
1/2 tsp. salt
1/2 TB sugar
1/2 tsp. baking powder
3 TB canola oil
3 TB soymilk plus
1/2 tsp. white vinegar
3 to 4 TB water
Filling:
1 Small pumpkin (the small ones have all the flavor)
1 Cup soymilk
1 Cup granulated sugar
1/3 Cup cornstarch
2 TB Molasses
2 tsp. Vanilla extract
2 TB ground cinnamon
1 TB ground ginger
1 TB nutmeg
1/2 TB ground cloves
1/2 TB allspice
Slice the pumpkin up into fourths and scoop out all of the gucky insides along with the seeds. Then oil that sucker up and put it on a baking sheet and pop it into a 400 (why is there no degree symbol on this laptop!!!) degree oven for about 40 minutes or until a fork easily pierces it.
While it's baking you should make the crust. Mix the soy milk and the vinegar together separately and let it sit while you mix both flours, the salt, the sugar, and the baking powder together in a chic ceramic bowl. Then mix the oil and water into the soymilk/vinegar mixture (it should be slightly curdled and thicker). Pour most of that over the dry mix and stir it all around until everything is all wet, if you need more liquid then pour the rest over it as needed).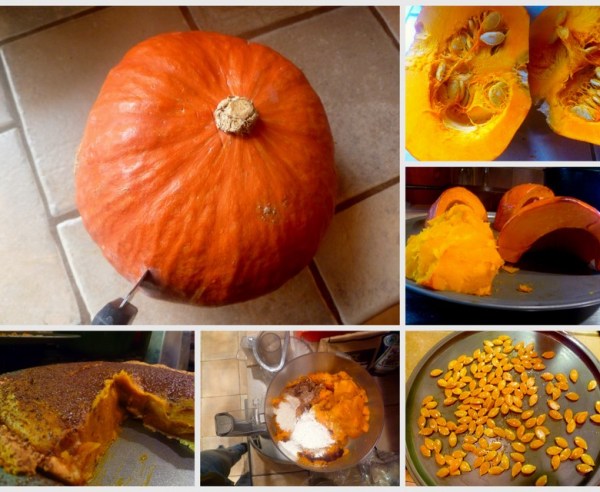 Mash that crust into a pie tin and make the edges as pumpkin-pie-like as your little heart desires. Throw that into the oven with the pumpkin for about fifteen minutes or until it browns lightly. It will rise unless you put baking marbles on it while it bakes. I personally like to let it rise then pat it down with a spatula when it comes out of the oven. Lez be honest, no one is ever going to see the crust except under all your delicious pie so who cares, amirite?
When the pumpkin is cooked throw it into a food processor with the soy milk, sugar, cornstarch, molasses, vanilla extract, and all the spices. Blend that baby up good! I like to grind my own spices when I am able to because it makes the pie so much more fresh and honest. But that's just me. What can I say, I like an honest pie.
After the grinding session pour that mixture into the pie crust and bake that at 350 degrees for about 50 minutes until the filling is set and the crust is browned. Let it cool off on the counter then refrigerate it overnight. You can eat it warm if you can't wait, but the pie really sets once it's cooled and that's when the majority of the flavor really comes out too.