I don't know if you've heard, but apparently Chick-fil-A doesn't like gay people. In fact, they dislike gay people SO much that they actually donate significant chunks of money to anti-LGBT causes and, when confronted about these donations in a recent interview, Chick-fil-A COO Dan Cathy replied: "guilty as charged." Guilty as charged!
Oh, but it gets worse! It gets so much worse. See, in a follow-up interview on The Ken Coleman Show, Cathy offered the following:
"I think we are inviting God's judgment on our nation when we shake our fist at Him and say, 'We know better than you as to what constitutes a marriage. I pray God's mercy on our generation that has such a prideful, arrogant attitude to think that we have the audacity to define what marriage is about."
"We are very much supportive of the family — the biblical definition of the family unit. We are a family-owned business, a family-led business, and we are married to our first wives. We give God thanks for that … We want to do anything we possibly can to strengthen families. We are very much committed to that."
"We need to be more faithful to depend on a God who does love us and wants to have a relationship with us, and wants to give us the desires of our hearts … We intend to stay the course."
"We know that it might not be popular with everyone, but thank the Lord, we live in a country where we can share our values and operate on biblical principles."
Equality Matters reports that between 2003 and 2009, the company donated more than $3 million to anti-gay Christian groups and nearly $2 million in 2010. These groups include scourges of the earth like the Gay Conversion Mega-Camp Company "Exodus International" and "Family Research Council," a group devoted entirely to driving us crazy. They've thrown over a million dollars this year in the direction of the Marriage & Family Foundation, an advocacy group which promotes the idea that marriage is "a lifelong union between one man and one woman, an institution of God and a foundation for civil society." Their current initiatives are focused on opposing domestic partner benefits, making divorce harder for everybody, and "opposing homosexual behavior as a protected class."
The response from the LGBT community and their allies has been deafening, and yesterday Chick-fil-A responded to the backlash by volunteering to "leave the policy debate over same-sex marriage to the government and political arena." According to The Los Angeles Times, Chick-fil-A spokesman Dan Perry told the press that "leaving the debate" means "not proactively being engaged in dialogue" about same-sex marriage, but it does not mean that the company will stop donating to anti-gay marriage causes. However, they claim that "the tradition in our restaurants is to treat every person with honor, dignity and respect – regardless of their belief, race, creed, sexual orientation or gender."
According to a July 9th TIME Magazine article, Chick-fil-A is one of the nation's fastest-growing retailers and perhaps owes some of its succcess to its notorious religiosity.  The company was founded by  S. Truett Cathy on explicitly "biblical principals," which include closing on Sundays and "operating debt-free." They're also extremely picky about who can operate a store but bankroll almost the entire startup cost for new franchisees and therefore take a much bigger cut of each store's revenue/profits. It's a strategy that has made S. Truett Cathy a billionaire. Presently there are 1600 Chick-fil-A stores in the U.S, exceeding $4 billion dollars in sales for 2011. Also, Chick-fil-A maintains vigilant ownership over their brand, recently pulling stunts like suing a Vermont folk artist who was selling screen-printed t-shirts reading "Eat More Kale" (Chick-fil-A's slogan is "eat mor chick'n").
The HRC has a pledge you can sign to tell Chick-fil-A to stop targeting LGBT Americans, which seems like a long shot, and they also encourage you to boycott the restaurant, if you haven't already been doing so. Support is coming in from all over  — Boston Mayor Thomas Menino told the Boston Herald that he won't let Chick-Fil-A build a store in his city and actor Ed Helms tweeted his decision to stop patronizing Chick-Fil-A.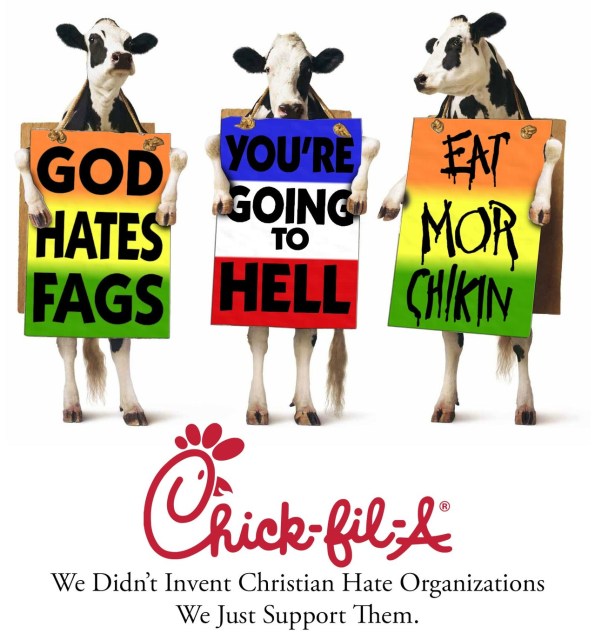 It is important to stand up and say "this is wrong." It's important to attack any perceived cultural acceptance of aggressive anti-gay spending in the corporate sector because that acceptance can corrupt our own friends and family and will empower other bigots. In this economy, it's more important than ever to ensure that LGBT people feel comfortable not only eating at stores like Chick-fil-A but also applying to work there especially when in many areas, fast food restaurants and big-box retailers are often the only companies hiring. 
But it's also important to question this cause's present prominence on the national stage. Is this where queer activist groups should be focusing their attention? On demanding a corporate food chain take back the mean things they said about us and the money they gave to people who say mean things about us? So we can eat their shitty food and die of heart disease? Isn't this a bit of a lose-lose?
The problematic aspect of the discourse around Chick-fil-A is that it isolates the anti-gay rhetoric and investments as its sole transgression — sign a petition to make him apologize for what he said so we can all go eat chicken sandwiches again! Yeah — not so fast.
It's more or less impossible to eat any kind of fast food ethically. It's not a secret that fast food remains an incredibly lucrative business, and that the corporations who supply food to the stores and the stores themselves spend a lot of money in the political arena to maintain their wealth and dominance, very little of which goes towards anything in your best interest. I mean really, where do we begin?
The food service industry loves Republicans, a party that generally supports the industry's policies of paying workers minimum wage with few benefits and eschewing nutritional and food safety standards. (Chick-fil-A's store operators pull in an average of $190,000 a year, its employees — not so much.) Of the nearly five million dollars spent by Food & Beverage industry PACS in the 2010 election, 67% of that went to Republican candidates and 32% to Democrats. (Of course not all Democrats are on our side and not all Republicans are against us, but it's safe to say that generally, Republicans tend to be against us.) [Full disclosure: I've personally worked for both Darden Restaurants (The Olive Garden) and Brinker International (The Macaroni Grill) and I spent most of my fetal months in McDonalds, where my Mom was a manager. Love it or hate it, this is the way that we live.]
So far in the 2012 election cycle, 73% of Food & Beverage PAC contributions to Federal Candidates have gone to Republicans and this year, the fast food industry has given more money to Mitt Romney's campaign than to any other candidate.
What about Chick-fil-A's assertion that they "treat every person with honor, dignity and respect – regardless of their belief, race, creed, sexual orientation or gender"? While that may seem superficially true, that doesn't mean people of all beliefs, races, creeds, sexual orientations or genders would feel comfortable in the environment fostered by Chick-fil-A.
A 2007 Forbes article on "The Cult of Chick-fil-A" exposed a company which makes its religious leanings plainly apparent, from a corporate mission to "glorify God" to featuring prayer sessions at corporate retreats and meetings to encouraging franchisees to market their restaurants through church groups. CEO S.Truett Cathy, an evangelical Southern Baptist, told Forbes that "you don't have to be a Christian to work at Chick-fil-A, but we ask you to base your business on biblical principles because they work." Furthermore:
They screen prospective operators for their loyalty, wholesome values and willingness to buy into Chick-fil-A's in-your-face Christian credo, espoused often by Cathy, an evangelical Southern Baptist who says "the Lord has never spoken to me, but I feel Chick-fil-A has been His gift."
The article also notes that Cathy prefers married workers and that one in three of company operators have attended Christian-based relationship-building retreats offered through Chick-fil-A's charitable arm, WinShape. Cathy also claimed that he'd be inclined to fire an employee who "has been sinful." In 2005, Chick-fil-A even distributed religious software from Focus on the Family in its Kid's meals.
Because Chick-fil-A operates on a franchise system, their stores aren't always subject to Federal Employee Discrimination laws, and the corporate parent Chick-fil-A has been sued at least 12 times between 1988 and 2007 for employment discrimination, including a 2002 lawsuit from a Muslim franchisee who claims he lost his job for refusing to participate in a prayer session durng training.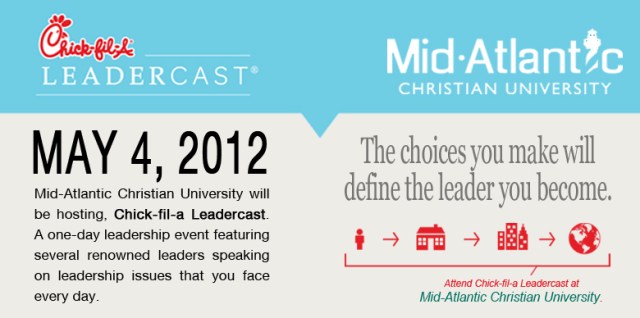 Chick-fil-A actively recruits employees from Christian groups, promising employees that "To glorify God by being a faithful steward of all that has been entrusted to us and to have a positive influence upon all who come in contact with Chick-fil-A."
Interesting, then, that Chick-fil-A dabbles so carelessly in its treatment of G-d's creatures such as, you know, CHICKENS. Like other fast food restaurants, Chick-fil-A gets its meat from factory farms, which pump their poultry with chemicals, harvest their animals in appalling conditions and damage the environment.
You're probably aware that fast food is literally killing us, and the allegedly healthier Chick-fil-A is not exempt from that assessment. One of the main ingredients of Chick-Fil-A's chicken nuggets is Monosodium Glutamate, a.k.a. MSG, an excitotoxin that can cause severe reactions in certain people and isn't "good for" anybody. 18 preservatives are among the 100 ingredients in their "fresh" chicken sandwich. Chick-fil-A is one of many restaurants included in a lawsuit from the Physicians Committee for Responsible Medicine for its policy of cooking certain meats at temperatures which cause them to contain the chemical PhIP, a possible carcinogen. For a complete breakdown of the alleged "healthy" factor of their products, check out Food Babe.
So, what do we do with all this information? Well, part of what distinguishes queer politics from mainstream politics is our position outside of the mainstream, a position which enables us to question dominant culture and fight for the rights of all outsiders and disenfranchised or mistreated citizens. The fast food industry is an inexorable element of that dominant culture. For many of us, giving up fast food altogether is impractical and expensive, but it's silly to act like there's anything exalted about patronizing fast food restaurants in the first place. If Chick-fil-A does back down from its anti-gay stance, there's still plenty of issues for it to reckon with, and although I'm ambivalent about anybody's choice to eat there, I'd be disappointed to see the restaurant applauded by Gay Inc in any context. Fast food will never be ripe for the queering.