True story: yesterday my boss gave me a lift home from our Boston office, and as we were driving down Commonwealth Avenue, we noticed a brigade of lit-up cop cars. "Right, I forgot," my boss said, "Mitt Romney's in town for the weekend." "Oh my gosh!" I replied. "He's finally getting arrested!"
Nice try, brain. Several more seconds of rational thought revealed that misrepresenting your views before you take office, wielding political power to take rights away from your constituents, and using your hair as a barrier against the tide of progress aren't technically illegal (yet). But they're still not exactly best practices, and if you want an arsenal of examples of ways in which Romney has reneged on promises he's made to the LGBT community, you'll want to check out Mitt Gets Worse.
Mitt Gets Worse is, in its own words, "an oral history of Mitt Romney's efforts to diminish the rights and the freedoms of LGBT Americans, told by supporters, activists, and LGBT advocates that have personally been impacted by Mitt's anti-equality agenda." So far, the website's main page contains video testimonials from four high-profile impactees, dressed up with the dramatic camera angles and foreboding piano music we've come to expect from negative campaign ads. Look past the trappings, though, and the stories are frightening enough on their own. Julie Goodridge, one of the plaintiffs in the case that brought same-sex marriage to Massachusetts, recalls hoping that meeting Romney in person would help him reverse his position on her case, and having those hopes dramatically dashed:
"I looked him in the eye as we were leaving the meeting, and I said in exasperation, Governor Romney, tell me, what would you suggest I say to my eight-year-old daughter about why her mommy and her ma can't get married, because you, the governor of her state, is going to block our marriage. He looked over my shoulder with this blank stare and said "I don't really care what you tell your adopted daughter. Why don't you just tell her what you've been telling her for the last eight years."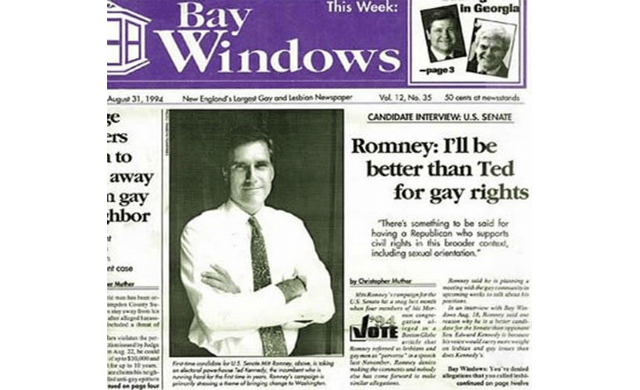 Each video is a perfect example of the political getting personal — Goodridge goes through so much pain and anger when she tells her story that it's difficult to watch, and Adam Bink, a political organizer, can barely conceal his frustration as he recalls the enormous gap between what Romney promised during his 1994 gubernatorial run and the actual decisions he made while in office ( "retroactively retiring" from his previous statements, you might say). It's powerful stuff, the kind you might want to send to your Republican friends and relatives (hint hint). The site is filled out by a fantastic piece of archival reporting, a CSPAN-clip timeline that traces Romney's topsy-turvy positions on everything from Don't Ask, Don't Tell to discrimination in the Boy Scouts (it also reveals Romney's repeated and disconcerting desire to "preserve" traditional marriage, as though it were a mummy, or a type of fruit).
The phrase "Mitt Gets Worse" is a cynical riff on the name of Dan Savage's "It Gets Better" campaign, and, so far, the project does seem sort of like that campaign's jaded older sister. All four video testifiers are particularly afraid of what a Romney presidency would mean for young people – legislatively, but also on a more philosophical level. Goodridge hates remembering how her partner wasn't allowed to visit her or their daughter in the hospital, but it's Romney's blank stare and "I don't care" that make her blood run visibly cold. "I could think of nothing worse than four years of having my kids have to witness him as president," shudders Jennifer Chrisler, the executive director of the Family Equality Council, whose organization deals with pretty terrible things every day. And after providing a litany of examples of bad Romney policies, Bink drives the last nail into the coffin by scowling "Is it any surprise that Mitt Romney couldn't even be bothered to make an It Gets Better video?"
I think this is why the LGBT community is so horrified at the prospect of a Romney White House – his stated positions are bad enough, but even worse is the creeping sense that behind those positions is a man who is not making any attempt to care or understand. Romney is often criticized for seeming calculated and emotionally distant (most recently by Luke Skywalker, who knows about these sorts of things), but he takes it to a new level when it comes to gay rights. His rhetoric surrounding gay marriage and parenting seems canned more than calculated and is completely baseless, and when it comes to LGBT issues, his much-touted logic is often nothing of the sort ("I didn't think Don't Ask, Don't Tell would work," he told poor Anderson Cooper in 2007, "but it's been there now for what, fifteen years? So it seems to have worked." Someone please tell this man that the logic of capitalism is not the only logic). It's becoming increasingly clear that, in his race to drive America into his "ideal" and "preserved" version of the future, Romney very well might put the LGBT community on top of the car and forget all about us. By marshalling all of this evidence, Mitt Gets Worse will hopefully help to ensure that he doesn't get that chance.