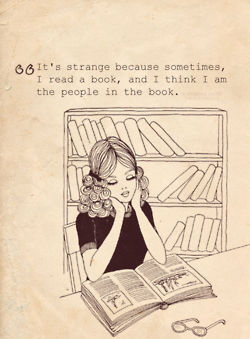 HELLO and welcome to the 34th installment of Things I Read That I Love, wherein I share with you some of the longer-form journalism/essays I've read recently so that you can read them too and we can all know more about sex in the Olympic village and Mormons! This "column" is less feminist/queer focused than the rest of the site because when something is feminist/queer focused, I put it on the rest of the site. Here is where the other things are.
The title of this feature is inspired by the title of Emily Gould's tumblr, Things I Ate That I Love.
Unmasking Horror: A special report, Japan Confronting Gruesome War Atrocity (March 1995), by Nicholas Kristoff for The New York Times – "Half a century after the end of the war, a rush of books, documentaries and exhibitions are unlocking the past and helping arouse interest in Japan in the atrocities committed by some of Japan's most distinguished doctors. Scholars and former members of the unit say that at least 3,000 people — by some accounts several times as many — were killed in the medical experiments; none survived."
You're Addicted To What? (July 2012), by Marty Klein for The Humanist – Sex addiction: not actually a thing.
How The Mormons Make Money (July 2012), by Caroline Winter for Bloomsburg Businessweek – You know, whomever thought up the "prosperity gospel" idea, like the idea of preaching to all your followers that making lots and lots of money is doing the Lord's work, and then made it into a religion and got people to follow it is a very wise entrepreneur.
Related: What's So Effective About Stephen Covey? (December 2004), by Timothy K Smith for Fortune – About the (Mormon) guy who wrote the best-selling book "7 Habits Of Highly Effective People."
The Chickens and The Bull (July 2012), by William McGowan for Slate – This is really something –> "The rise and incredible fall of a vicious extortion ring that preyed on prominent gay men in the 1960s."
On Ladyblogs (July 2012), by Molly Fischer for n+1 – The article this girl wrote in February sent us all into a tizzy, mostly because our website is a primo example of what she was talking about yet we weren't in the article because we never are in articles about lady-blogs or feminist blogs, because we're gay. Anyhow, I found her second piece really, really interesting, with lots of stuff to think about!
Nan Goldin Interview (Fall 1991), by Stephen Westfall for BOMB Magazine – "But that was a lot of the power of the work; that I was in the exact same state that I was recording. These were the people I lived with, these were my friends, these were my family, this was myself. I'd photograph people dancing while I was dancing. Or people having sex while I was having sex. Or people drinking while I was drinking. There was no separation between me and what I was photographing."
A Fine Balance (June 2011), by Emily Gould for Intelligent Life – This is book review of a memoir about yoga, but it's really interesting even if you don't want to read the book about yoga.
War is Betrayal (July 2012), by Chris Hedges for The Boston Review – "The disillusionment comes swiftly. It is not the war of the movies. It is not the glory promised by the recruiters. The mythology fed to you by the church, the press, the school, the state, and the entertainment industry is exposed as a lie. We are not a virtuous nation. God has not blessed America. Victory is not assured. And we can be as evil, even more evil, than those we oppose. War is venal, noisy, frightening, and dirty. The military is a vast bureaucratic machine fueled by hyper-masculine fantasies and arcane and mind-numbing rules. War is always about betrayal—betrayal of the young by the old, of idealists by cynics, and of soldiers and Marines by politicians."
Will You Still Medal In the Morning? (July 2012), by Sam Alipour for ESPN – In the Olympic Village, all the athletes party and have sex, etc.
An Interview With A Person Who Has Been to Disney Parks 40 Times (July 2012), by Claire Zulkey for The Awl – I love Disneyworld, and also am somewhat constantly fascinated and intrigued by regular people whose lives revolve around a commercialized entity.